Now, more than ever, food delivery businesses are an important part of the U.S. economy. They're playing a critical role in helping restaurants and food service professionals reach new customers in a constantly changing landscape for their businesses.
Companies, such as DoorDash, Postmates, Blue Apron, and Uber Eats, have become go-to options for diners who eat at home. However, there's still an opportunity for aspiring entrepreneurs to carve out a niche in their communities by starting a food delivery business.
In this article, we'll cover:
The different types of food delivery businesses
The benefits of starting a food delivery business
Specific steps for starting a food delivery business
How to protect your business
The different types of food delivery businesses
There are two different types of food delivery services — restaurant delivery services and meal delivery services.
A restaurant delivery service makes money by charging the restaurants it works with a commission for working with them and charging customers a service/delivery fee.
A meal delivery service involves a chef or cook, often based out of their home or a rented kitchen, providing pre-made meals or home meal prep ingredients that are delivered to homes or businesses.
The benefits of starting a food delivery business
Starting a food delivery business is an opportunity to make an impact in your community by supporting small food businesses and providing residents with flexible dining options at home.
Food delivery businesses help restaurants expand their reach beyond foot traffic. They can also help restaurateurs who no longer have a physical space available to customers, and those who are looking to confirm a proof-of-concept for a new restaurant idea.

You'll be competing against some established players in the space, such as Uber Eats, GrubHub, and DoorDash. However, your local connections and partnerships could create a competitive advantage with more appealing commission and delivery fees. (Many restaurant owners are struggling with existing service fees imposed by food delivery companies, according to an article by WIRED.)
4 Steps for starting a food delivery business
So, what do you need to start a food delivery business from home? Here are some clear and easy steps to get you started:
1. Determine how much money is needed to start a business
Creating a food delivery business plan and securing funding are the two biggest steps to getting your business up and running.
When writing a business plan, you'll want to consider your target customer base, your startup and ongoing costs, and how long it will take to be profitable.
This is also a great time to pick your business name and develop an initial plan to market it.
To start a food delivery business, your startup costs can range from $3,000 to $25,000. Your investment will need to include:
A workspace: The costs of where you operate your business can vary greatly depending on where it's located. Many entrepreneurs choose to begin this journey out of their home, which can reduce expenses.
Technology costs: Most small businesses need a computer, phone systems, internet access, and possibly a printer or scanner. You can use your personal devices at first, but plan to invest in technology after your initial startup costs.
Business license and insurance: Making sure your business is properly covered is of utmost importance. Most small businesses will need liability insurance and, for a food delivery business, commercial auto insurance is also necessary. In most states you'll need worker's compensation insurance as soon as you hire an employee.
Marketing materials and a website: You will need to promote your business to gain clients with local restaurants and the customers you plan to serve with food deliveries. Also consider branded napkins, cutlery, and other ways to provide a seamless customer experience.
Take the time to develop a marketing plan that includes online promotion with social media and a website, and explore other tactics, such as flyers and advertising. Review platforms, such as Yelp and Facebook, can help to instill trust in your business.
Delivery-specific vehicles and tools: Most delivery businesses provide transportation for their drivers, as well as food service bags and/or food trays designed to maintain freshness and temperature. This is where commercial auto service comes into play – your personal auto policy most likely won't cover business-related accidents or other claims.
2. Research your target market
Knowing your audience increases the chance of success for any business. Look at the area around where your business will operate — are you surrounded by a university, business park, suburban families?
The demographics of your audience can help determine what you name your business, your marketing strategy, and the meals that you offer.
You can research your area with local business bureaus to see where there might be a need in your community, or you can conduct research on your own by going into the community and asking/observing what people need.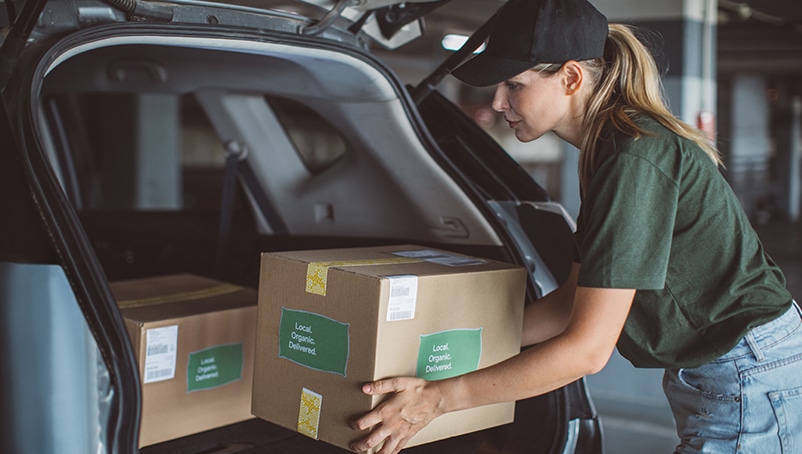 3. Plan your food delivery menu and services
Once you understand your target market, you can begin to plan your menu and service offerings. This will vary depending on if you are working with a meal-prep service or local restaurants in your community.
Will you focus on quick meals, easy snacks, lunch, dinner, meals for families or singles? A clear theme will help you as you get started with your delivery service.
If you are planning on partnering with local restaurants, strategically approach them with your research and business plan.
4. Cover your legal and financial requirements
There are a few things every small business needs:
Form a legal entity: Setting up a business structure can protect your personal assets. You can choose from many different types, such as an LLC, Corporation, or DBA.
Register for taxes: Apply for an employer identification number at the IRS website. Check your state and federal tax requirements to make sure you register before you open your doors.
Open a business bank account: By opening separate banking and credit lines for your business, you protect your personal assets. It also makes filing your taxes easier. Also, be sure to set up an accounting system to understand your finances and be ready to file taxes annually.
Get permits and licenses: Check with local, state, and federal small business agencies to make sure you have all of the permits and licenses required for a food delivery service in your community.
Get food delivery business insurance: Find small business insurance coverage to protect yourself from liability risks and unexpected out-of-pocket expenses.
How to protect your food delivery business from risks
Once you decide to start a food delivery business, you'll have to pay close attention to business risks. Small business insurance can cover many of the most common accidents that occur with delivery service.
For example, general liability insurance for food delivery businesses can cover:
Third-party injury and medical payments
This can cover expenses if you are found liable for delivering food that makes a customer ill and they sue you for medical costs. You would also have financial protection if you leave a food delivery outside of a home and someone trips over the package and gets injured.
Third-party property damage
General liability also covers property that you do not own. For example, if a delivery person accidentally breaks a sprinkler outside a customer's home and it causes significant water damage, the customer could decide to sue you. Your liability insurance would cover the associated legal costs up to your policy limit.
Personal & advertising injury
A general liability policy covers personal and advertising injury, such as invasion of privacy, libel, or slander. For example, a customer could sue you for invasion of privacy if you share their image on social media without permission.  
Other policies to consider are commercial auto insurance, which can protect you while you are driving for business purposes, and workers' compensation insurance, which is required in most states as soon as you hire your first employee.
Next Insurance offers small business insurance that is 100% online, simple, and affordable. Learn more about business insurance and get an instant quote online.