If you've been dreaming about owning your own food business and have the passion and drive it takes to succeed, opening a restaurant may be for you.
The question is: How can you make this dream a reality? Understanding the challenges and opportunities in owning a restaurant is the first step. This guide will cover:
Restaurant industry facts1
90% of restaurants have fewer than 50 employees

70% of restaurants are single-unit operations
80% of restaurant owners started their industry careers in entry-level positions
90% or restaurant managers started in entry-level positions
What you need to know about opening a restaurant
Despite labor shortages and inflation affecting restaurant owners and patrons, food experiences keep Americans returning to brick-and-mortar dining. Today's restaurant consumer is looking for something new — something they can't get at home — when they leave their house at mealtime.
But there are still many hurdles.
Inflation has increased food costs with full-service menu prices rising year-over-year. And supply chain disruptions have meant that substitutions are the order of the day — 81% of restaurants have changed menus due to supply delays or shortages4.
Addressing these challenges head-on can help you succeed in following your dream. Here are our seven steps to help it a reality.
7 steps to opening a restaurant
1. Carve out your niche
Focus on creating a niche unique to the area where you live to stand out in the competitive restaurant market.
A niche can center around cuisine, who will eat at your restaurant (teenagers, families or young adults) or unique customer service. It can be about serving regional food like the best Southern fried chicken or partnering with local farmers for a farm-to-table experience.
Narrowing down your concept and focusing on a niche allows you to be the expert and fine-tune the service you offer.
2. Write a business plan
A restaurant business plan can serve as a guide for you and as a document to show potential investors. It should include the following information:
Executive summary. Think elevator pitch. You want to engage investors and get them as excited as you are about your business.
Company description. Include the restaurant's name, location and details about the owner(s). Also, include some of the restaurant's goals so you can show a possible investor how you plan to succeed in your market.
Definition of your niche/concept and the design of your space. You should know why your restaurant's concept will work and be able to tell others the story. What will your restaurant look like? How will the space support the theme and enhance the neighborhood?
Management and ownership structure. Briefly introduce the owners and staff. Those reading your plan should feel confident in who's running the show. Include a section on the anticipated number of employees and how you'll train them.
Menu items and pricing. Even if you don't have the exact dishes, create a mock menu that includes your logo. Keep in mind all the factors that go into pricing, i.e., overhead plus your costs.
Market analysis. This comprises three areas:

Industry analysis. Define your target market and why you think they'll visit your restaurant.
Competition analysis. Describe what other established places are doing in terms of pricing, menus, and interior design. Show how your restaurant will differ.
Market overview. Combine your industry and competition analysis to detail how and why your restaurant will fit into and enhance the local scene.

Marketing. Explain how you'll reach your target market and how your marketing might differ from your competition. Specify how you're going to let the world know you have arrived. Do you have a grand opening planned? What about an ongoing marketing plan? Will you use social media or local radio and TV spots? The more specific you can be, the better.
Financials. Include the amount of capital you have and where it's from. This section is the most important part of your plan, so consider hiring an accountant to help you. Bottom line: you need to show your planning, pricing and promotional efforts will lead to profits.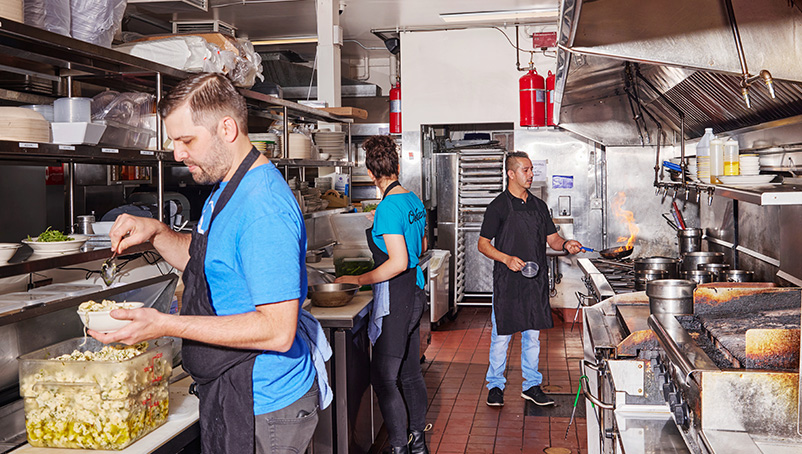 3. Establish foundational elements
You've got your concept, you know where you're headed and you have a good idea on how you'll get there. Now it's time to make some business decisions, many of which require lots of paperwork and signatures. Be patient. You can't do business without accomplishing the following:
Pick a name. Once you select the name of your restaurant, you need to file a "Doing Business As" (DBA) form with the appropriate state or local agencies. The process differs by state, so consider hiring a professional agency if you need assistance.
Choose a legal structure. There are several options for legally organizing your restaurant's business and ownership structure. Selecting the right one will depend on how you want to scale in the future. Here are the options:
Sole proprietorship: Chosen by those who want to establish an unincorporated business by themselves.
Partnership: Established between two or more people who contribute to the business and share profits and losses.
Limited Liability Corporation (LLC): Limits your liability because you don't directly connect your personal finances to your business; the business will be its own separate legal entity. Regulations for establishing an LLC may differ by state, so check your state's LLC requirements.
Obtain a tax ID. Also called an Employer Identification Number (EIN), you'll need an EIN to pay taxes, hire employees, open a bank account and apply for business licenses and permits. You can apply online via the IRS website, by mail or fax.
Register with your state and local government. There's no getting around state and local income and employment taxes for your restaurant. Some states require workers' compensation and unemployment insurance. Every state is different. Check out the IRS website for information on doing business in each state.
Get permits, licenses and insurance. Securing the appropriate food service licenses, permits and business insurance needed to start a restaurant will be one of your most important tasks. Check the Federal Food and Drug Administration's Food Code website6 and your state's health department for more information.
You also must comply with the Americans with Disabilities Act to ensure that your restaurant can accommodate all individuals regardless of their abilities.
TIP: You may need to renew these items annually. Setting up reminders in your calendar can automate the process.
Create accounting documents. Keeping track of revenue and expenses, applying for financing and filing your taxes require the correct documentation. Here are the three most important financial statements you'll need:
Balance sheet, which shows your assets and liabilities
Income statement, which includes revenue details, including how much you spend to earn that revenue
Cash flow statement, which details all your cash in and cash out for a certain period
Consider hiring a bookkeeper or accountant to ensure you're complying with federal and local laws in all your restaurant accounting.
4. Purchase equipment and secure suppliers
Time to stock up. You'll need refrigerators, ovens, stoves, cooking equipment, storage racks, tables, chairs and more before you can open a restaurant.
Much of what you purchase will depend on your concept and the size of your restaurant.
Find knowledgeable kitchen and food suppliers. You can also form partnerships with local restaurants to share supplies, consider leasing equipment and reach out to local grocery stores for last-minute needs.
Consider the current economy and any supply chain issues when finding and working with suppliers. For example, in 2021, 96% of restaurant operators said they experienced supply delays or shortages of food or beverage items, and that it's likely to continue throughout 2022.7
TIP: Consider diversifying your supply cohort. Find businesses that are at least 51% owned and operated by a traditionally underrepresented group. Not only does it expand your pool of suppliers, but it can boost your reputation as a moral and ethical company and also be a draw for new hires.8
5. Hire employees
This could prove to be your greatest hurdle.
About 50% of restaurant operators in the full-service, quick-service and fast-casual segments expect recruiting and retaining employees to be their top challenge.9
Many restaurant and hospitality workers were laid off during the pandemic, and many have not returned. The quit rate for the food service industry went from 4.8% to 7% between November 2020 and November 2021.10
Many restaurants are turning to take-out and delivery options rather than in-house seating, and there is more use of technology and automation.
Finding great employees can be tough, but it's doable. First, make sure you're willing to pay for qualified and more experienced workers. Some restaurants are offering hiring bonuses to fill open positions.11
When seeking employees, broaden your scope from the usual methods of referrals and online applications. You may want to consider working with organizations that help people with special needs or circumstances get hired.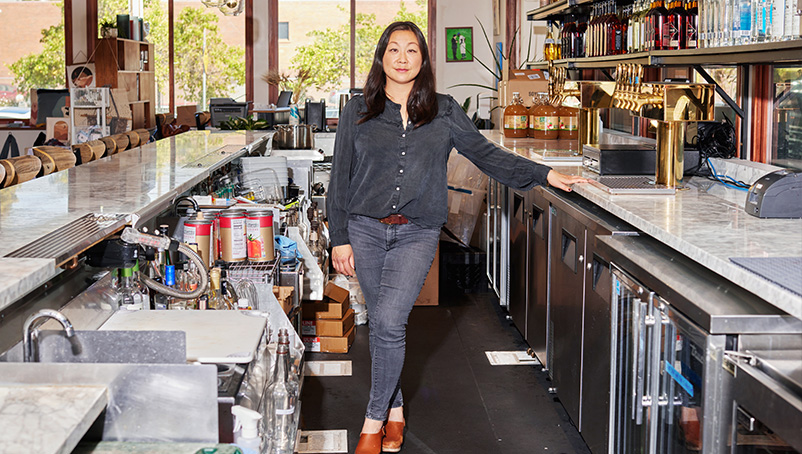 6. Understand your costs
There are numerous cost factors to think about when you consider opening your own restaurant. To understand those costs as well as your profit margin, think about these expenses when putting together your business plan:
Major expenses:
Rent. Your rent or lease should be about 5% to 8% of your total revenue. So, if you project $800,000 in sales, you'd pay between $40,000 and $64,000 a year. You can ask your landlord for a "percentage deal," where you'd pay a baseline rent, but if your gross sales go above a specified marker, you will pay a percentage of every additional dollar.
Utilities. Combined utilities should cost about $3.75 per square foot annually. For example, if you're renting a 4,000-square-foot facility, expect to pay over $1,000 per month on gas and electricity. But keep in mind: national average rates for electricity have risen 8% since January 2021, the biggest annual increase in more than a decade.12
Food costs. Food cost ratio is usually around 25% to 40% of your projected revenue.13
Staff salaries. Labor should be between 25% and 35% of your total sales. A high-end white tablecloth full-service restaurant will fall at the higher end of that scale. About 10% of the labor ratio will go to management. Note that with the recent labor shortage, many restaurants have increased wages to entice prospective employees. Hourly workers in leisure and hospitality rose to an average of $16.60 by August 2021.14
Smaller and one-time expenses include business registration fees, construction and renovation costs, equipment and furniture costs, licenses and permits fees, technology and point-of-sale systems.
After calculating anticipated expenses, your profit margin should be 4% to 10% of your projected sales.
7. Make sure you're covered with business insurance
Your chef gets burned by hot oil in the kitchen and needs medical attention. An intoxicated customer accidentally knocks another patron to the ground on the way to the bathroom. A waiter spills soup on a customer's designer purse.
Workplace accidents will happen, and the restaurant industry is typically full of younger, less experienced workers (average age 24).15 Make sure you have the right restaurant business insurance to help protect your business from unexpected financial losses.
Here are some common coverages you'll want to consider:
General Liability. Liability protection helps cover accidents related to slip and fall accidents involving customers and damage to property that doesn't belong to you.
Commercial Property. Commercial property insurance will help protect your equipment, inventory and furnishing. It also helps cover business interruptions if, for example, a grease fire means you have to shut down for a few weeks during repairs.
Workers' Compensation. Nearly every state requires workers' comp insurance, which can help cover medical expenses, lost wages and lawsuits after a workplace injury or illness.
Congrats, you're ready to open your restaurant!
A restaurant is a bit like a team sport. And with any team sport, there will be jittery players for the first game of the season, despite all the planning and training.
Instead of starting out with a "grand opening" full of all the bells and whistles, consider starting with a soft opening with friends and family to try out certain menu items and see how the staff works together.
Take notes during the service and do a post-mortem with the staff the next day. Discuss what went right or wrong and how the team can improve things.
A soft opening can prepare you for your big day: The grand opening to the public.
Depending on your concept, location and weather, decide if you want to offer some entertainment (indoors or out). Set a budget so you don't overextend yourself before getting off the ground. Many restaurants put 20% of their first year's marketing budget toward a grand opening event.
Finally, choose a style of service. Pick your menu items and decide if you're going to offer your regular service, buffet or family style. Make sure to promote widely in print, on the radio and on social media — wherever your customers are.
This is the culmination of your dream. It's an exciting day for you and your staff. Make the most of it!
Short on cash but still have a passion for food and people?
Depending on your concept and location, it might cost anywhere from $175,000 to $750,000 to open a full-service restaurant.16 Here are some more cost-effective options:
Food truck. Your concept on wheels could cost you much less to open (anywhere from $25,000 to $125,00017) than a storefront would. Think lower utilities and staffing costs.
Ghost kitchen. Renting a commercial kitchen, for example, and then delivering is a cost-effective option that many chefs explore. As of 2019, ghost kitchens had a global market size valued at about $43 billion.19 The market is expected to grow and is predicted to take 50% of the drive-through and takeaway food service markets by 2030.20
Home catering. No need for a customer-facing space. You could start a catering business from your own kitchen — but only if you've got the proper commercial cooking permits and licenses. Check your state's regulations to determine if this is an option.
Funding the restaurant of your dreams
You may have your own savings and you can ask friends and family for start-up funds, but there are other options for funding:
Grants. These may be difficult to qualify for, and the competition is stiff, but it's money you won't have to pay back. Search Grants.gov as a starting point to learn more about finding grants and then research grant options.
Business loans. Banks and credit unions often provide small business loans. There are also Small Business Administration (SBA) backed loans, such as the 504 loan22, which offers long-term fixed-rate financing of up to $5 million for major fixed assets.
Private investors. These can be people who are active partners in your business or "angel investors," who are more hands-off. But everyone will get a share of the profits.
Want to learn more? Read our full guide to finding the right restaurant funding.
NEXT helps small business restaurants thrive
NEXT offers customized food and beverage business insurance designed to protect local restaurants from accidents and unexpected events.
Running a small business can be a 24/7 job. That's why NEXT gives you 24/7 DIY access to manage your coverage on your schedule.
You can get a free quote, browse your options and get covered in just 10 minutes online.
Start your quote online today.

---
Sources
1 National Restaurant Association "Facts at a Glance."
6 U.S. Food & Drug Administration "FDA Food Code."
22 U.S. Small Business Administration "504 loans."