A survey by NEXT found that 64% of restaurant-goers have intentionally chosen local restaurants over chain restaurants since the pandemic began.
71% of diners had been out to eat and were seated inside at a restaurant within three months of the survey.
And consumers are making a conscious effort to support their neighborhood small businesses. 43% said they have tried to help out by eating at local restaurants even if they don't have to.
The survey, conducted in April, included more than 1,000 restaurant customers in April 2022.*
People feel connected to small business restaurants
The survey found restaurant customers are drawn to local, small business eateries for these reasons:
They like supporting local businesses (87%)
They prefer the food (71%)
They thought the flavors of the food are more interesting/tastier (70%)
They like the atmosphere (69%)
They know the people who work there (69%)
Customers also appreciate that some neighborhood restaurants source their ingredients locally, which means fresher, healthier and more environmentally sustainable meals.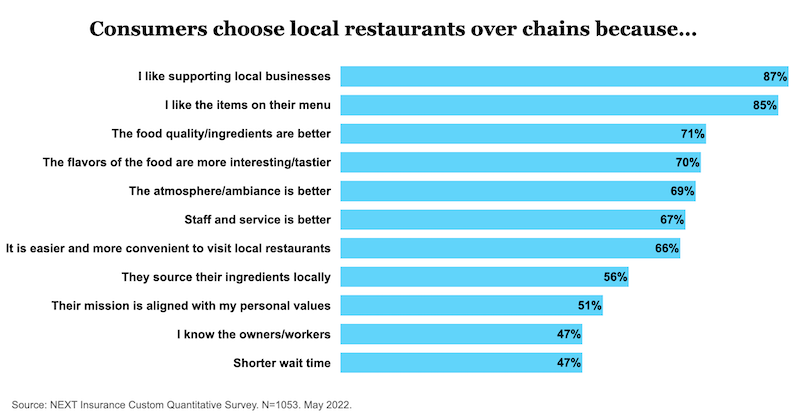 That might explain why about two-thirds of consumers said they feel better buying from a local restaurant over a chain restaurant. And why more than 40% said they have recently eaten at a local restaurant not because they had to — but because they wanted to help out.
Delivery has become less appealing
When the pandemic first hit, food delivery services saw a boom. But with restaurants back open, many people are eager to get out of their homes to see and try something new.
It doesn't help that delivery services have gotten pricier.
After years of struggling with profitability, platforms like UberEats, DoorDash and Grubhub are increasing their fees.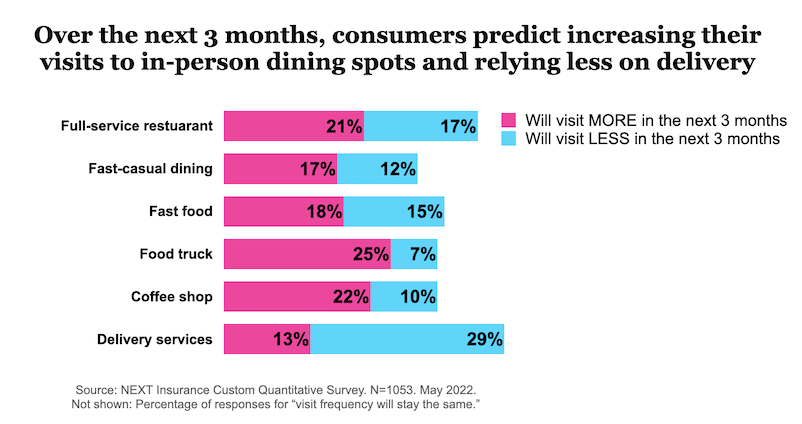 The survey asked consumers how they think their eating habits will change in the next three months. Just 13% said they'll order more food delivery, compared to 29% who plan to reduce it.
On the flipside, significantly more people plan to increase their visits to restaurants, coffee shops and food trucks than the number of people who say they'll cut back.
Cost-cutting means setting priorities. It's clear that if people are going to be spending money on restaurant food, they want it to be in-person.
People want dining out to be an experience
Think back to the last memorable meal that you had eating out.
We're willing to bet it was at a small business restaurant — not a nationwide chain. When it comes to providing a special experience, neighborhood restaurants just can't be beat.
When deciding what local restaurants to visit, the four biggest things on people's minds are:
Food quality and ingredients (83%)
Interesting flavors (80%)
Quality of staff and service
Convenience (tied at 78%)

While some people may be going out to eat less often due to rising costs, when they do, they prefer a sit-down meal.
In the last three months, more diners visited local full-service, casual or fast-food restaurants than local food trucks and coffee shops.
In particular, restaurant customers told us that they're still willing to splurge on alcoholic beverages and desserts — and make sure to leave a good tip.
Local business restaurants are surviving
The pandemic has tested even the most successful small restaurants.
Whether they've worked in a restaurant before or not, the vast majority of consumers understand that restaurant jobs have gotten more difficult (73%) vs. consumers who feel it's gotten easier (8%) or stayed the same (20%).
But while just over half of consumers have noticed local restaurants closing in the last six months, 40% have also noticed new neighborhood restaurants opening.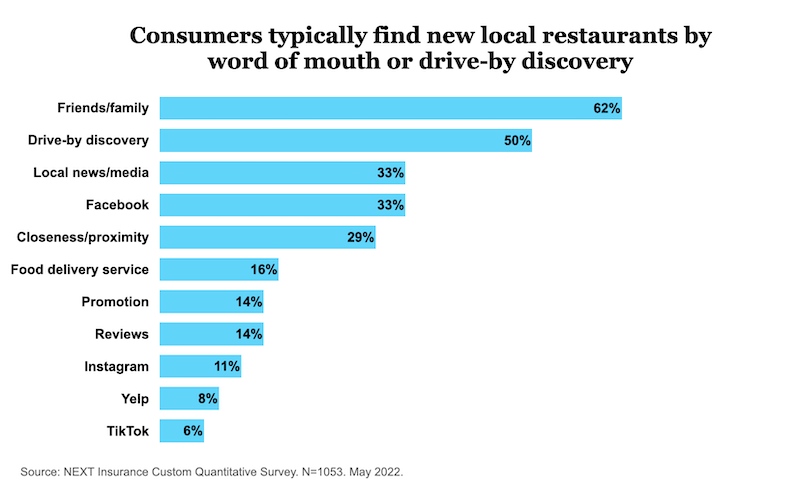 And most people are still finding out about restaurants the old-fashioned way: driving by.
One thing is clear to us: Even through the toughest times, small restaurants have never stopped being important to communities across the country, and people are willing to spend their money to show it.
NEXT helps small business restaurants thrive
NEXT offers customized food and beverage business insurance designed to protect local restaurants from accidents and unexpected events.
Running a small business can be a 24/7 job. That's why NEXT gives you 24/7 DIY access to manage your coverage on your schedule.
You can get a free quote, browse your options and get covered in just 10 minutes online
Start your quote online today.
*The survey was designed by NEXT. We partnered with Rep Data to recruit a nationally representative survey of 1,053 consumers.