When the temperature drops and snow is in the air, winter construction jobs can be hard to come by. If you're a general contractor who relies on warm weather to keep your business going, winter can be an unwelcome time of year. But it doesn't have to be with preparedness.
Winter factors that can affect construction projects
Seasonal conditions can affect construction work, forcing contractors to adapt or wait. Here are some common challenges of winter construction.
Environmental effects of weather
Winter weather conditions have the potential to cause severe damage or injuries. High winds cause debris and equipment to blow around, creating hazards. Something as simple as opening or closing a door becomes more difficult, causing accidents in windy conditions — especially if they aren't latched properly.
Inclement weather, like winter rain and snow, can make a construction site more dangerous. Muddy conditions and snow and ice forming on walkways, roofs and scaffolding can create hazards such as slips and falls, less traction leading to skidding, and overturned equipment. Additionally, rain that freezes can expand and thaw, creating warping or cracking in materials that affect stability.
And if you've ever had to manually dig into the frozen ground, you know that it can be harder than concrete. Frozen ground can lead to various problems, from concrete not setting properly to becoming a slipping hazard.
The additional moisture in the ground also causes difficulties in compacting the earth. Thawing ice leaves unfilled pockets in the ground, leading to uneven grading or causing foundations to shift.
Construction materials not working as they should
The extra moisture and freezing temperatures can lead to construction materials not functioning the same as in dry conditions.
For example, concrete's strength and durability often depend on how quickly it dries, but cold weather slows that down. If concrete is exposed to cold temperatures and freezes before it dries, it may lose a significant amount of strength and have to be poured again.
Similarly, fluctuating cold temperatures can cause cracking, gaps, and problems with joint compounds (drywall mud) in drywall installations. Same with other types of bonding adhesives like grout, mortar and glue — their chemical makeup and bonding ability are affected by moisture.
Delays
Ultimately, these challenges — safety, damage, structural and material integrity — translate to construction delays, sometimes increasing costs. In some cases, general contractors and subcontractors can do nothing but wait or redo work.
But with some planning and the use of equipment like heaters and thermal coverings, contractors can minimize the impact of winter weather.
6 tips for keeping busy doing winter construction
There are things you can do to help keep a steady stream of clients coming your way year-round. Here are a few ideas to help you stay busy when the temperature starts falling.
1. Schedule accordingly
The time to start preparing for winter is in the summer, says Tyler Milyard, Vice President at Western Constructors, a family-owned construction company in Colorado.
"As we're leading up to winter or building a construction schedule, we may be building in accelerated timeframes…to make sure we get the concrete in the ground [before the cold weather hits]," he says.
Then, you can continue through the winter with jobs inside a closed structure, so you don't have to rely on the weather to keep the project moving forward.
"[But] even the best plans don't always work out," Milyard says. "Everything seems to be harder to get done [these days]." Especially in the current environment with supply chain issues sometimes making it difficult to keep projects on track.
2. Focus on the interior
If you find yourself facing a tough winter because your best-laid plans didn't work out, it's good to have a backup plan.
Milyard recommends diversifying your services, so if things slow down in new construction, you have other services to offer your clients, such as remodels or repairs — even if they're smaller jobs you wouldn't usually take on.
"There's plenty of work if you need it or want it — is what we've noticed," says Milyard.
3. Learn new skills
Many contractors are swamped when the weather's warm and the sun is shining, making it challenging to find time to learn new skills that can help them grow their business. If things slow down in the winter, that can be a good time to expand your expertise in different areas to offer your clients additional services.
Here are a few to consider. And you don't have to wait until the next winter storm to get started.
Note: If you offer specialized services, you may need to obtain additional licenses, certificates, and business insurance. Rules and requirements vary by state and local jurisdiction. Be sure to check them out before offering new services to your clients.
Electrical
As an electrician, you can help clients stay safe and keep the lights on by learning how to inspect and repair electrical systems, install overhead lighting and replace old wiring.
See the electrician licensing requirements in your state.
Plumbing
When a pipe springs a leak, home and business owners need it fixed right away. You can help if you know plumbing skills, such as installing and repairing pipes, fixtures and other systems that transport water, gas and other materials through buildings.
But you don't have to wait for something to go wrong to lend a helping hand. Help prevent back-ups and other problems by cleaning out drains and pipes before issues arise.
See the plumbing licensing requirements in your state.
HVAC
Help clients stay warm in the winter and cool in the summer by learning to install, repair and maintain heating, air conditioning, ventilation and refrigeration systems. As a certified HVAC technician, you can keep HVAC systems functioning properly when you know how to test piping, tubing and electrical circuits, change filters and clean ducts.
See the HVAC licensing requirements in your state.
Carpentry
Keep your clients' cabinets, furniture, wood flooring, staircases, door frames and other structures made of wood, plastic, fiberglass and drywall in tip-top shape by enhancing your carpentry skills.
See the carpentry licensing requirements in your state.
4. Build relationships
Even when you're fully booked, marketing continually can help keep your pipeline of potential new business full, so you have somewhere to turn when your construction schedule slows down during winter. One of the best ways to do that is through referrals.
As you build your business, you'll likely get referrals from previous clients who were happy with your work. If you're just getting started or need to take a more proactive approach, consider joining a local networking group to help you get leads.
5. Get into winter-based work
You already have trucks to tote your supplies and equipment back and forth between job sites when the weather's warm. Consider getting into snow removal when the winter weather rolls in.
Adding winter-based work to your offerings can help keep your business profitable and your clients happy during the winter months.
6. Take cold weather construction safety precautions
Construction in cold weather is more difficult than working in warm weather. But it may still be possible. However, you'll need to take extra precautions to stay safe.
If there's snow or ice on the ground, the risk of slips and falls increases. Keep work areas and walkways as dry as you can to prevent injuries. Having portable lights on your worksite also increases visibility during shorter daylight hours and in case of snowfall.
Low temperatures bring the risk of frostbite, hypothermia and burns from the cold. Having a heated area where you and your construction workers can take breaks and warm up reduces these risks and helps with finger and toe mobility.
Wearing proper clothing, including weatherproof jackets, winter gloves, hats, good socks and dressing in layers, is important for staying warm. It's also vital to find waterproof, insulating, and slip-resistant winter work boots.
If the ground is frozen, you'll need special ground thaw machines before you can get to work. And you'll need electricity and a heat source so the materials you're working with dry properly.
It's essential to monitor your fuel sources so you don't burn the building down while trying to heat it, Milyard says. Be sure to follow all hoses and extension cords guidelines and keep heat sources away from flammable objects.
"I would not say it's ideal by any stretch," says Milyard, who analyzes the risks and benefits of starting a new construction project during the winter with his clients. Depending on the situation, it may be better to wait until spring to start.
But that's a decision you'll need to make on a project-by-project basis.
How cold is too cold for construction?
There's no straightforward answer to this question, as it depends on the project, location, weather conditions, and where you are in the construction process.
Generally, to avoid cold stress, OSHA advises that nonemergency work should stop when temperatures hit -25º to -35ºF or below with more than 10-20 mph winds.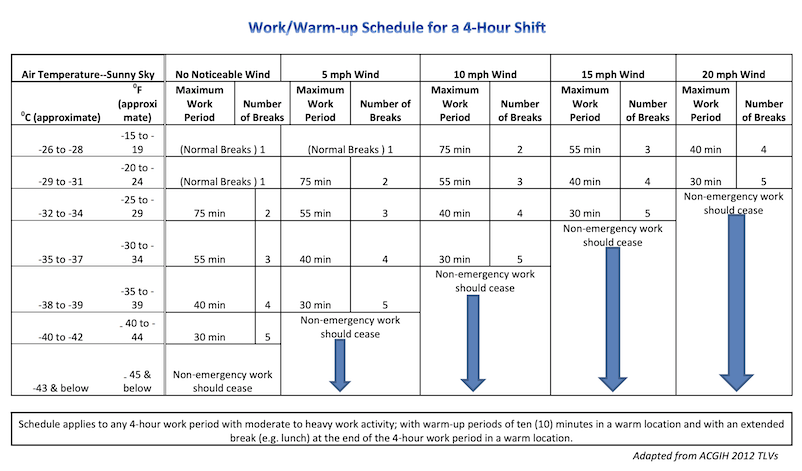 How NEXT helps protect general contractors — any season
Many states require contractors to maintain adequate insurance coverage to get and keep their general contractor license. At NEXT, we create specialized contractor insurance packages to meet the unique needs of your business, subject to the policies terms and conditions.
Choose from general liability, workers' compensation, commercial auto and errors and omissions policies to get just the right amount of coverage.
With our online application, you can see policy options, get a quote and purchase coverage — all in less than 10 minutes. After you pay your premium, your certificate of insurance will be available online.
Our licensed, U.S.-based insurance professionals are ready and waiting to help if you have questions.