The plumbing industry is booming, and there's a need for skilled plumbers. It offers job security and the opportunity to be your own boss. Plus, you can make a decent living — plumbers are one of the highest paid construction jobs in the U.S.
However, the certification process can be lengthy. Before you sign up to become a certified plumber, you need to know what it takes.
This complete guide to plumbing certification will help you get started on your journey to becoming a licensed plumber. It includes details on training, requirements and the most common types of plumbing certifications available today. Let's jump right in!
Quick links:
Is certification required to become a plumber?
Being a plumber is a professional trade that deals with installing and repairing pipes and fittings. You might work on lines that carry water or gas for heat or sanitation systems.
Before working as a plumber, all states require plumber licensing or certification. A plumbing certification puts a gold stamp of approval on your profession as a plumber. It doesn't last forever — most states require you to renew your license every few years.
What are your options for plumbing certification?
Plumbing involves a multi-step process and can take years to complete. The road to working as a plumber generally follows a specific career path:
Pursue a plumbing apprenticeship
Become a journeyman plumber
Get a master plumber certification
You can choose to pursue specialty license types. The specialty option isn't available in all states, but it can help you focus on one area of work. For example, plumbers in North Carolina can pursue specific expertise in detached dwellings or exterior building piping.
How to get plumbing certification?
To become a certified plumber, you need a combination of education and experience before sitting for the exam. Plumber licensing requirements can vary, so always check with your state and local laws to make sure you're following the right steps.
Education
Math is an essential skill to working as a plumber. Although it isn't required, it helps to have a strong background in algebra, geometry, metric units of measure or thermodynamics.
A college degree or formal training program isn't required to get a plumbing apprenticeship. However, going the education route can give you a leg up in the trade and help you stand out from other applicants.
Plumbing certification programs are typically available at community colleges and trade schools. You can find classes for plumber certification online and in-person in most areas.
Apprenticeship
To become a plumber, you must first become a plumbing apprentice. An apprenticeship provides on-the-job training, which means you'll get paid as you learn.
You'll learn about Occupational Safety and Health Administration (OSHA) safety, state codes, and blueprint reading. You'll also learn how to do many common daily jobs and complete classroom instruction for technical topics related to the profession.
You must complete a certain number of hours as an apprentice before you can take the license exam. It varies by state, but you'll generally work as an apprentice for two to five years before advancing to the next step.
Plumbing certification exam
After meeting the apprenticeship requirements, you can sit for the plumbing certification exam. Your apprenticeship will include classes and training on what you need to know to pass the exam.
Exams are handled at the state or local level, so there isn't one standardized plumber certification course.
For example, the Iowa Plumbing and Mechanical Systems Board issues plumbing licenses in Iowa. But to get a plumber license in Michigan, you'd contact the Department of Licensing and Regulatory Affairs Plumbing Division to schedule your exam.
A few states don't have an exam at the state level, but local laws can still require you to have a license before working independently as a plumber.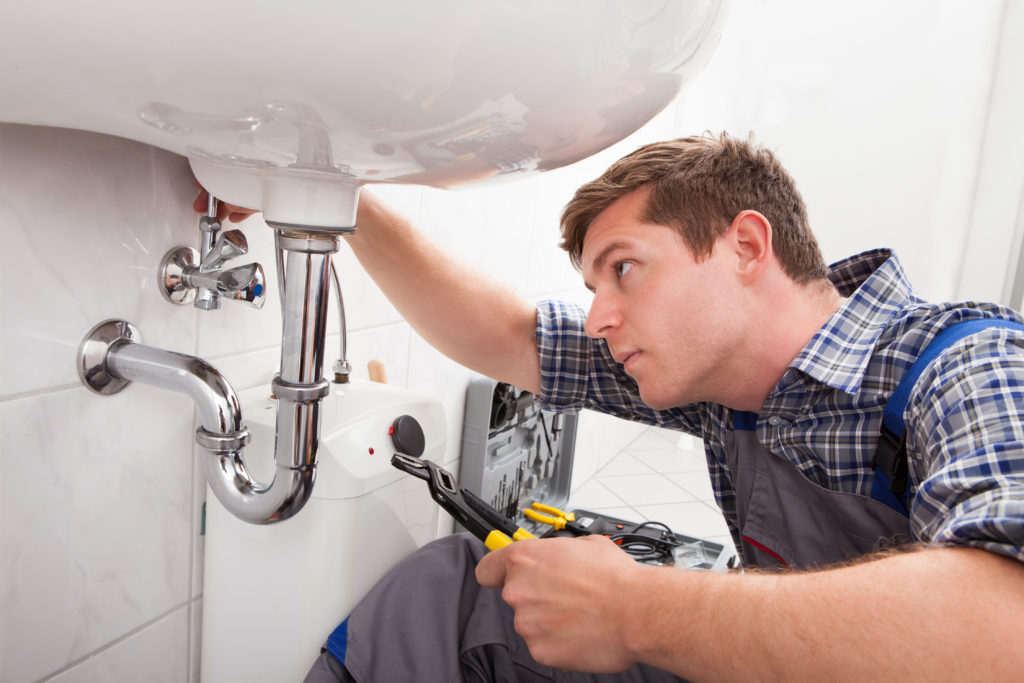 How much does plumber certification cost?
One of the perks of becoming a plumber is being paid to learn the trade. On-the-job training as an apprentice is all most states require to sit for the plumber certification exam.
You will pay a fee to take the plumbing certification exam. The cost can range from $35 to $100 or more.
Renewing your plumber certification
Your plumber certification isn't a one-and-done license. States require you to renew it every few years. The exact interval varies by location.
For example, Massachusetts requires you to renew every two years. In Michigan, your license might be valid for one year or three years — it depends on your status as a plumbing apprentice or plumbing master.
You'll also pay a fee to renew your license. How much it costs depends on your location. Generally, it's cheaper to renew your plumber certification than to sit for the initial exam, so maintaining your plumbing certification is affordable.
Your next steps as a certified plumber
Plumbing certification is a worthwhile goal for many people. If you like working with your hands, are good at math and work well with others, the profession could be a good fit.
But there's a certain degree of risk involved when working as a plumber. That's why getting plumbers insurance is as essential as completing the apprenticeship and passing your certification exam — it's required by law in some states to operate independently
Having your own business insurance shows that you're a professional. Plus, if something goes wrong, plumbers insurance can help pay to repair the damage and cover medical costs and legal fees if you end up in court.
NEXT Insurance specializes in coverage for small businesses and self-employed individuals. We've helped thousands of contractors get affordable insurance packages customized to meet their unique needs. The application process is 100% online, so you can get a quote and a live certificate of insurance in just minutes from any computer or mobile device.