If you love music, nothing can seem better than building a career in music by becoming a DJ. With the right equipment, attitude and insurance, you can become a successful DJ quickly.
Why Become a DJ?
Being a DJ is about more than loving music, although that definitely helps. DJs are usually sociable and enjoy getting to meet new people. More pros to being a DJ include:
Being creative about choosing and mixing music

A sense of achievement when you see everyone dancing

A job that doesn't usually make you get up early

Helping create special memories at weddings or other events
The Challenges to Being a DJ
Although being a DJ is a fun and rewarding job, there are some challenges as well:
You might have to play music that you really don't like

Working late hours at events can be bad for your own social and family life

You may need to deal with clients who are rude and inconsiderate
How to Become a DJ
You don't need any certification or qualifications to be a DJ, but you do need to be willing to keep on learning and improving as you go. To start working as a DJ, you'll need:
DJ equipment: Although you could spend many thousands of dollars on this, you can get a basic DJ mixer deck, a CDJ and speakers for a few thousand dollars, often between $3,000 and $7,000.

A van or other vehicle to drive all your equipment to each event.

Music: You need to legally own every piece of music you play, whether it's a CD, vinyl record or a downloaded track. Get music from across a range of genres and eras, as well as the most popular new hits.

Licenses: Depending on your state or municipality, you might need to get a business license to work as a DJ. You shouldn't need

to buy a license for the music

you play – the owner of the venue is responsible for that.

DJ insurance: Most cities require every business to have

liability insurance

, and you might want to get other insurance too.

Standard contracts: It's a good idea to sign a contract for every gig or event. You can buy contract templates online or at an office supplies store.

Marketing

such as poster, flyers, ads in your local newspaper or a stand at a wedding or event fair. You should also make sure that you're listed in your local business directory so that people know that you're available.

Plenty of

energy and enthusiasm

to create a buzz in the crowd and deal with last-minute changes
Why You Need DJ Insurance
Despite your best efforts, sometimes things can go wrong in your quest to become a successful DJ. Here are some cases where you will want to make sure to have DJ insurance:
A guest at a corporate event who had too much to drink trips and falls over your deck cable and breaks his wrist

Someone dances into one of your speakers, knocks it over and it falls on the wedding cake

The bride and groom don't like your music choices and sue you for ruining their big day

A client comes to discuss an event with you and slips in your office, spraining his ankle

Your mixer stand scratches the hardwood floors at a corporate event and you're asked to pay for fixing and repolishing the floor
DJ insurance also shows your clients that you are a responsible and reliable business owner. It encourages venue owners and clients to work with you because they see that you take your job seriously.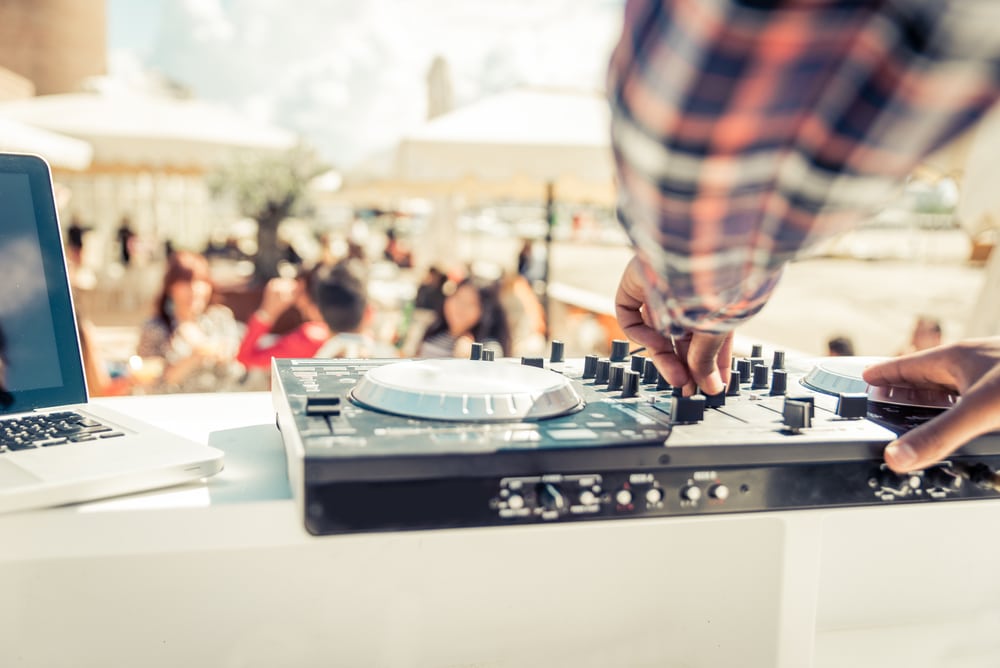 DJ Business Tips
Here are a few more business tips to help you become a successful DJ:
Back up your music. You don't realize how much your MP3s are worth until they all get wiped off your hard drive and you have to buy each one again.

Buy some fancy lighting and special effects items to help create the right atmosphere at your gigs

Always arrive early to your gig to check the area and discover any last-minute changes

Make sure your contracts include issues like how long your performance will be, music choices, what equipment you have to bring and what happens in case of cancellation

At weddings, remember that the bride and groom are relying on you to make their day. Ask about their music preferences and the order of the wedding beforehand, and give it your all when you begin.