With winter just around the corner, starting a snow removal business can be a great way to keep your construction or landscaping business profitable when the cold weather rolls in. But there's more to starting this type of business than attaching a plow to your truck when the snow starts to fall.
If you're thinking about launching your snow removal business this winter, here are a few steps to help you get started.
Licensing or permitting requirements for snow removal
The licenses and permits you need to operate your business legally vary based on your location, so it's important to check with your city, town or state. Here are some common ones you may need to have.
Business license. Nearly every business in the United States must have a business license. You can usually get one from the city or county where you plan to operate.
Commercial driver's license (CDL). Driving a snowplow isn't like driving your personal car. In many states, you need a commercial driver's license to operate one.
Snow removal permits. Although your clients may not mind if you don't have a permit, the city, town or state might. You may need a snow removal permit before you start clearing snow away. In some states, you'll get your snow removal permit when you get your CDL.
Tax forms and business structure setup
When starting a snow removal business, you need to decide how you want to structure it. Your business structure will affect how you file your taxes and your personal liability. Here are four common ways to set up a business.
Sole proprietor. This is the simplest way to structure your business if you're a one-person shop. Unlike the other alternatives on this list, you don't need to file any special paperwork to establish your business as a sole proprietorship. (However, you still need the appropriate licenses and permits.) The downside of this structure is that there's no distinction between your business and personal finances. If someone sues you, your personal assets could be at risk.

Partnership. If you're working with one or more people who have a stake in the business, you could set it up as a partnership. Partners contribute money and labor, and they share the profits and losses the business generates. Partnerships must file an annual information return to report their income, but the business doesn't pay taxes. Instead, the business's profits or losses are passed onto the partners, and they report it on their personal tax returns.

Limited Liability Corporation (LLC). In an LLC, the business owner(s) are known as members. LLCs are popular for small businesses and solopreneurs because they limit you from the debts of the company itself, which can help protect your personal assets. The business's profits or losses are passed through to the members and taxed at their personal income tax rate. An LLC is typically more expensive to set up than a sole proprietorship or partnership. You must pay an initial filing fee when you establish the LLC, plus an annual filing fee and taxes to the state.

S Corporation. This structure has the most formula requirements. Forming an S Corp allows small businesses to become incorporated and avoid paying taxes twice the way larger corporations do. Because of how income is reported with an S Corp, forming one may have tax advantages other business structures don't, depending on your income.
Setting up your snow removal business properly from day one is important. If you need help navigating your options, consider speaking with a tax professional or attorney before you get started.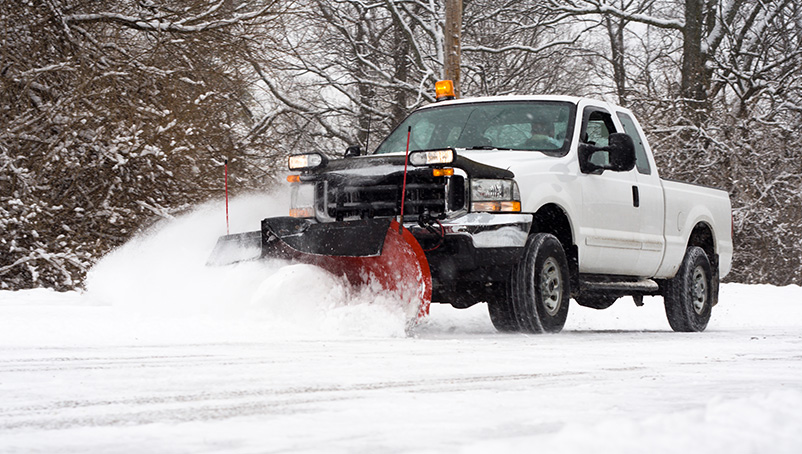 Snow removal insurance coverage
Even with careful planning and preparation, mistakes happen. Having adequate snow plowing insurance can help protect you from a financial loss if the unexpected occurs. Before you head out to clear the roads, here are four types of business insurance to consider.
Business plan and marketing
Before you get started, it's a good idea to know where you want to go. A business plan is like a roadmap to get you there. There are several key components, including:
Executive summary. This section describes your snow removal business, the type of services you will provide and whom you will provide them to.

Market analysis. It's important to understand what similar businesses are doing and how they're doing it. By identifying their strengths and weaknesses, you may find areas of opportunity for your business. You'll also want to identify your ideal clients in this section to make sure there's enough of a demand for your services.

Expenses. At a minimum, you'll need plow-ready trucks, snow plows, shovels, ice melt and snow blowers. If you don't already have this equipment, create a budget and decide how you will pay for it.

Income projections. It's important to understand your income potential, including when you'll reach your "break-even" point. If your business isn't financially sustainable, you may want to reconsider.
Now that you have a plan, it's time to look for clients. Here are some tips to help you market your business.
Word of mouth. Tell your friends, family and neighbors about your new business, so they can spread the word.

Flyers. Post flyers on community bulletin boards in your area.

Website. In the digital age, having a website that explains your services is a must. DIY options like Wix and Squarespace make it easy and affordable to create a professional-looking site.

Facebook, Twitter and Instagram. Social media is a simple and inexpensive way to get the word out about your business. Be sure to use channels that are popular with potential clients.

Cold calling. Businesses typically award snow removal contracts before the snow starts falling. If you want to land commercial contracts, start calling businesses in the early fall to pitch your snow removal services.
NEXT helps protect your new snow removal business
At NEXT, we make it easy to get the insurance you need to protect your business. Our customized insurance packages are tailored to meet your specific business needs, so you don't pay for unnecessary coverage.
With our online application, you can see policy options and purchase coverage in less than 10 minutes.
Get started with an instant quote today.