Contracts aren't the most interesting thing to discuss, but it's essential if you have a professional snow removal business. A detailed snow removal contract will keep clients happy and help you grow every season.
For starters, a solid snow removal contract documents your policies. It helps you avoid misunderstandings on the job or not getting paid on time.
Here's what you need to know about snow removal contracts and how they can help grow your business:
What should your snow removal contract include?
Comprehensive snow removal or snow plowing contracts include a detailed mention of the work included:
Payment structures
A guarantee of performance and standards
Insurance coverage
Mention of the work should show specifics on sanding, salting and removing snow. The snow removal contract should also talk about the type of equipment used and the crew members provided.
It's essential to be clear on each section as this will strengthen your relationship with clients.
Payments
Your contract should serve as a blueprint for the kind of business you want to run — whether that means work per inch, per event, per push, time or seasonal agreement.
Make it clear in your contract how you charge, when you will bill and any payment terms.
Performance
The contract establishes the scope of work and the overall performance of your snow removal business. It tells your clients how you will handle their needs.
After the written agreement is signed, your response times to snow removal should be consistent for each snowstorm and based on your contract terms.
Insurance
Snow removal businesses are often required to have insurance due to the risk of injury and property damage.
For example, you damage a client's mailbox while shoveling snow. General liability insurance could help pay for repairs or replacements of the driveway.
Having reliable business insurance can build trust with your client by protecting everyone involved throughout your partnership. You may want to document your coverage in the contract to reassure clients.
The different types of snow removal contracts
There are various contracts to consider for your snow removal business.
Seasonal: A seasonal contract makes it easier to plan a budget. Clients pay your snow removal service a fixed fee no matter how many times it snows. These contracts are usually three to five years to save time and eliminate a long vetting process every season. If winter is particularly mild one year, it could balance out a heavier winter in the future—a win for both you and your client.

Pay per push: If pay-as-you-go is the kind of contract your client seeks, this is a better option. This contract is beneficial if the location has a constant amount of snow and you have to pay more than one visit per day. As a snow plowing business, you would charge for each visit.

Per inch: This kind of snow plowing contract relies on brackets of snowfall (i.e., 1-3 inches, 6 inches and under or 3-6 inches). Local weather stations determine the inches to avoid disagreements between you and your client. However, it's harder to budget under this contract.

Per event: You would charge a flat rate per snowstorm. This could be a beneficial one-time charge in areas that are not as active, but it can be less profitable in areas with constant snow events.

Time-based: As a professional, this can be highly profitable as you charge for every event and push by the hour. You can easily manage your budget as you will be the one to set the contract price. You could also charge by the hour in this type of snow removal contract, which could be lucrative for larger properties. However, certain clients may pressure you to work quickly, which could be dangerous for everyone.
Each contract has its own unique set of advantages and disadvantages. When you have a snow removal company, you have to consider various elements such as time and location.
TIP: You don't always need to stick to one type of contract. It may be best to use one contract for a specific client and another for a different one to ensure you're always getting the best deal.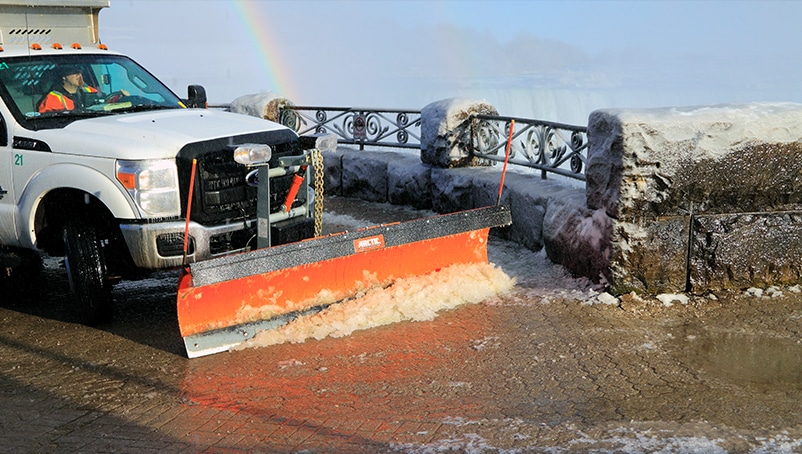 Commercial vs. residential snow removal services
Commercial and residential snow removal contracts can offer the same services, but there are large differences in how you should set up payments and the tools you need.
Commercial snow plowing contracts
These contracts can include apartment buildings, large parking lots, restaurants or grocery stores. There is more liability tied with these contracts as these commercial properties are liable for the many people who step in and out of their premises, along with more vehicle traffic. You will certainly need more trucks, loaders and staffing, which equals a higher cost.
A seasonal contract may be the best fit for commercial snow removal to create a fair exchange between you and your client. Since seasonal contracts are typically signed for a few years, both parties can benefit at different points due to the overall average of snowfall across time.
Residential snow removal contracts
There's less pressure with these contracts on both sides, which leads to a bit more flexibility. Typically, residential snow removal contracts include a homeowner's property. They will determine if you need to go to their house several times a day or just a few times a week.
Residential work could translate well with a seasonal, per push or even a per event contract. A seasonal contract would ensure that you're paid even if there are only a couple of snowstorms throughout the season.
Or, a per push contract would require them to pay you a set amount each time you visit, which may work best if the location is too sporadic in the amount of snowfall.
A per event contract may work best for areas with low volume but often recurring events.
How NEXT Insurance protects snow plowing services
As a seasonal business owner, it's essential to plan to gain opportunities and make the most of your busy period. Having snow removal coverage can protect you year-round, and managing your coverage doesn't have to be difficult.
NEXT Insurance makes it simple to design the type of insurance coverage you need in just a few clicks. Choose from general liability, workers' compensation, professional liability, tools & equipment, commercial auto and commercial property to get the coverage you need at a price you can afford.
We make it easy to get a quote, customize your coverage and get insured; the whole process takes about 10 minutes.
You can easily update coverage and file claims online, which means you can focus on building success rather than getting snowed-in with paperwork. For instance, if your clients want a certificate of insurance or want to be added as an additional insured, you can access your certificate and make changes immediately online.