The restaurant industry was hit hard by the coronavirus pandemic. In the spring of 2021, the National Restaurant Association estimated 90,000 restaurants — whether upscale or chain restaurants, diners or cafes, or bars or taverns — had closed permanently or temporarily.
The association reported that by mid-2021, there were 1.7 million job openings, the highest number in its 20-year history of data collection. About half of the restaurants said hiring and keeping staff would be a top challenge for 2022, and supply problems forced 4 in 5 full-service restaurants to change their menus.
But the picture is changing. The industry adapted during the pandemic, shifting to outdoor dining and focusing on food deliveries. Still, almost three years later, a National Restaurant Association survey from November 2022 found that only 16% of the country's restaurants anticipated their 2023 profits would rise over 2022. Half expected to make less because their expenses were growing. Chief among the costs? Labor, food and energy.
To compensate, more than one-third of restaurant owners and operators said they put off expanding. More than 1 in 10 sought to save money by discontinuing third-party delivery services.
But by February, the outlook had brightened, according to the National Restaurant Associations' 2023 State of the Restaurant Industry report. Three in 4 restaurant owners and operators declared business was close to normal or well on its way. The food service industry is expected to grow by 500,000 jobs, totaling 15.5 million in 2023, more than before the coronavirus pandemic. Still, nearly half thought the competition would be tougher than last year.
Restaurant customers' preferences also returned to pre-pandemic levels: 84% of those surveyed preferred eating at a restaurant to cooking themselves and cleaning up afterward. What does it all mean for the state of restaurant employment?
Using data from the Bureau of Labor Statistics (BLS) and reporting from the National Restaurant Association and news organizations, NEXT analyzed the job changes in 2023 so far at restaurants, bars, cafes and other spots to eat and drink.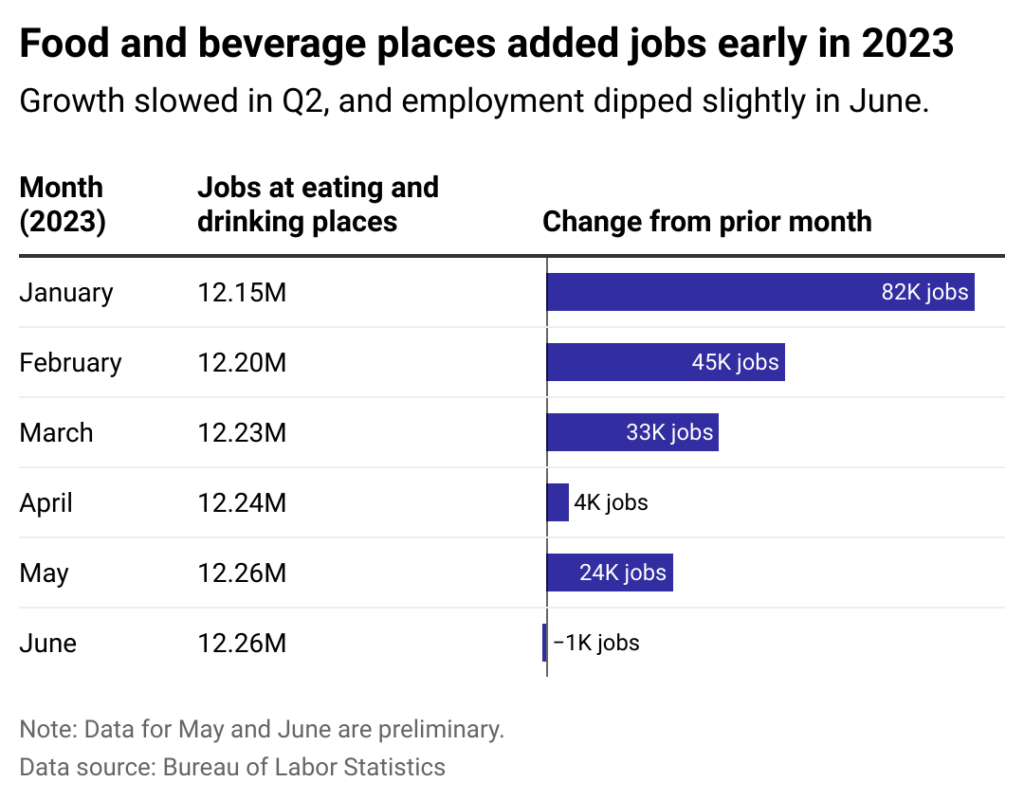 Jobs at restaurants fell slightly in June after months of growth
Following 29 consecutive months of job growth, the restaurant industry saw a drop in June. Employment gains stopped after adding more than 2.5 million jobs, according to research from the National Restaurant Association.
The association also revised its estimates of job gains in April and May. In the year's second quarter, the industry added 27,300 jobs, fewer than first thought.
All of this adds up to fewer jobs than before the coronavirus pandemic. But restaurants are still looking to hire.
At the end of May, there were nearly 1.2 million job openings in the restaurants and accommodations industries, according to the BLS. It was the 26th consecutive month when there were at least 1 million openings. That compares to an average of 875,000 job openings each month pre-pandemic.
The National Restaurant Association noted that retailers, which typically compete with restaurants for employees, had more than 800,000 openings in May.
Restaurants' June sales were unchanged from May's. But June 2023 sales rose 8.4% over June 2022, largely due to higher menu prices. When adjusted for inflation, sales rose only 0.7% in that period, as calculated by the National Restaurant Association.
Steeper menu prices are expected to help the food service industry gain $997 billion in sales by the end of 2023. A restaurant meal was 7.7% more expensive in June 2023 than a year earlier.
As for restaurant employment, the National Restaurant Association predicts it will continue to grow for 2023, outpacing 2022, to meet the demand.
NEXT helps your food service business
NEXT makes it easy to get the right insurance for your food business, including restaurants, caterers, bakeries, cafes/coffee shops and more. 
Our customized business insurance can help protect your food business from a variety of risks, including:
Foodborne illness
Equipment malfunction
Property damage
Injuries
Workplace accidents
Temporary business closures
Auto accidents
Pay only for the coverage you need, and you get policy options in less than 10 minutes. A certificate of insurance, along with 24/7 access to your policy, is available as soon as you make a payment.
Get a free instant quote with NEXT.