There's no denying it: mobile device accessibility has allowed anyone with a phone in their pocket to snap a virtually infinite number of pictures, anywhere and anytime, some with decent quality. And yet, despite some occasional musings to the contrary, mobile phone cameras do not come close to the quality, speed, and versatility of DSLR cameras and other professional photography tools and equipment. Luckily for professional photographers, the huge uptick in mobile phone camera usage has driven down prices on high quality photography equipment which just a few years ago was prohibitively expensive for amateurs and professionals alike. Today, there is a wide range of excellent DSLR cameras and all sorts of gear and accessories available to fit virtually any photographer's equipment budget. Here are some quick tips on how to choose the best tools and gear for your needs and budget if you've decided to start a new photography business and are looking to increase your professional tools.
Know Your Photography Needs
The type of camera and gear suited to different photography types can vary. For example, a nature photographer should be looking for a sturdy but lightweight camera casing with dust/weather sealing, sports photographers like lots of super long lenses and memory cards, wedding photographers need great low-light features and tend to carry an extra camera just in case, and macro photographers use cameras with super high megapixel count and specialized lenses for maximum sharpness. Before you buy, make sure you've identified your prime purpose and done the research on the type of gear that's right for you and the business you're building.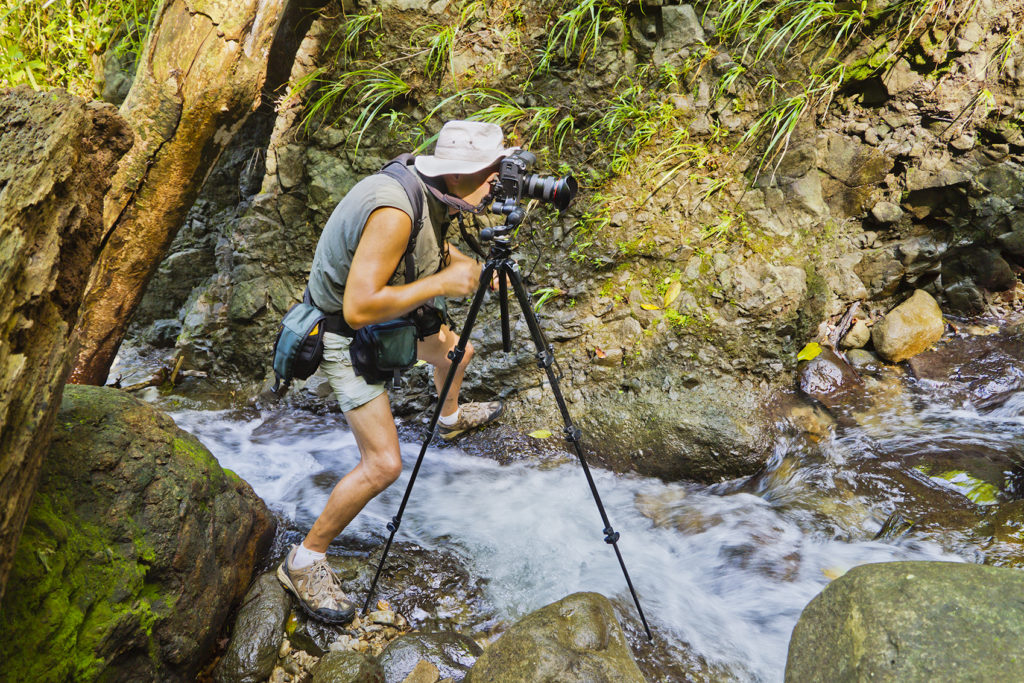 Brands, Bargains, and Buying
The basic items on the serious photographer's equipment list are camera, lens filters, tripod, and other accessories such as memory cartridges and extra batteries (leaving aside for now the vast world of lighting gear). There are plenty of excellent options out there, and prices vary with quality, brand, and the time of year you'll be purchasing. Some important points to remember:
Newer cameras, photography tools and equipment come out every year. The absolute latest model is not necessarily the best bang for your buck. As a general rule, previous versions going back a year or two are usually very similar to current models - and are offered at drastically lower prices.
To find the best deals, keep your ear to the grindstone. For the committed bargain hunter, consider joining the email lists of the top online photography supplies sellers so that you can be alerted to any flash sales or super deals they may be offering. In many cases, these deals will easily beat out the big dogs like Amazon or eBay. Definitely stay tuned during the Black Friday and Cyber Monday sales period.
As mobile camera phone marketers are only too aware, megapixel count has become the quantitative standard by which many average consumers determine overall camera quality. When shopping for serious gear, ignore the hype! Unless you know exactly how megapixel count figures with your other specs and needs, image stabilization, autofocus, and other performance points are more important.
As is true in many specialized equipment industries, well known brands like Canon and Nikon more often than not do represent higher quality standards. But don't limit yourself to flashy top brands exclusively. Especially where accessories like filters and tripods are concerned, checking out lesser known manufacturers with excellent ratings and feedback could save you a serious bundle.
Editing and Enhancing
In today's digitized world, properly utilized post-production and editing software can be almost as important as the camera itself. Dozens of excellent programs are available with a wide range of specialities and one-time or subscription costs. When choosing the best editing software for your needs, try to keep the amount of platforms you use to a minimum and deeply familiarize yourself with just one or two, ideally. Editing platforms can be pretty in-depth and complex, such that using them well is a skill unto itself. If you'll be editing on your mobile or tablet while on the go, consider editing software with accompanying mobile apps so that you can stay within familiar terrain as much as possible.
Long-Term Security
While choosing and purchasing your photography supplies and accessories, don't forget the importance of strong protection! After spending all that time and money, the next most important thing to have is strong, durable casing for transporting and storing your gear. And, far beyond manufacturer warranty, the most important protection a pro photographer can have is comprehensive photographer's insurance coverage for injury, gear theft or breakage, or other unforeseen scenarios. Best of luck with your photography tools and equipment search!