Being a personal trainer can be a highly rewarding career.
You get to help others become the best version of themselves while staying healthy and fit yourself, and very little of your time is spent sitting a desk. At tax time, though, you may start to feel like you are trapped in your office. Personal trainer tax deductions can be confusing, but they are worth the trouble, as they translate into real dollars in your pocket.
Here's what you should know:
What Can Personal Trainers Claim on Taxes?
Note that if you are an employee, new tax laws prevent you from writing off any business expenses at all. But if you are a self-employed personal trainer, taxes can be reduced by a variety of deductions.
Everyone's situation is different, so it's important to check with your own tax professional before filing your personal trainer tax return. In general, though, here are some common personal trainer tax write offs.
Home Office and Utilities
A home office is one of the most common, and potentially among the most profitable, fitness instructor tax deductions.
There are a number of IRS guidelines you must follow to claim this deduction, including regular and exclusive use of the space as your office. You may also be able to claim a portion of your monthly utility bills, cell phone bill, and so forth.
Equipment & Supplies
In general, any gear that you use exclusively for personal training is tax-deductible.
Free weights, machines, exercise mats, water fountains, and even sound systems may qualify as long as you use them solely for your clients. Workout DVDs, paid music streaming services and the like are also eligible, again provided that they are used in your business and not by you during your off time.
Car Expenses and Mileage
If you have a vehicle that you use exclusively for your personal training business, you can generally write off its entire cost of use.
If you use your personal car for business, though, you will need to calculate your business use. For that portion of your car expenses, you can choose to deduct either actual expenses or a mileage rate. The IRS guidelines are fairly extensive but reasonably easy to follow.
There are apps you can use to track your business mileage.
Insurance
Personal trainer insurance includes general business insurance as well as an optional nutrition/dietary supplement. 
Other coverages may also be rolled in as needed. The premiums you pay are generally tax-deductible as long as they meet IRS guidelines. You may also be able to deduct your health, dental, and long term care insurance premiums.
Marketing Expenses
Personal trainer marketing comes in many forms, from branded clothing to flyers to paid social media ads. Marketing expenses are generally tax-deductible, though costs related to lobbying (trying to influence legislation) are not.
Travel Costs
Travel costs are generally tax-deductible if they are necessary for your business.
You will need to separately account for your transportation, lodging, and meals and incidentals using one of the IRS approved methods. There are also a variety of IRS guidelines and regulations surrounding travel deductions, some of which are quite complex.
Legal Fees
The costs of filing personal trainer legal forms, as well as other legal fees that are directly related to your business, are generally tax-deductible. Personal legal fees, such as the cost of drawing up a will, generally are not.
Other Expenses
In general, you can deduct miscellaneous business expenses from your self-employment taxes.
Office supplies such as paper clips and printer ink cartridges, classes you take to improve your personal trainer skills, your business license, facility rental fees, and virtually any other cost you incur in doing business may be deductible. Note that special guidelines may apply to depreciable property, such as computers and office furniture.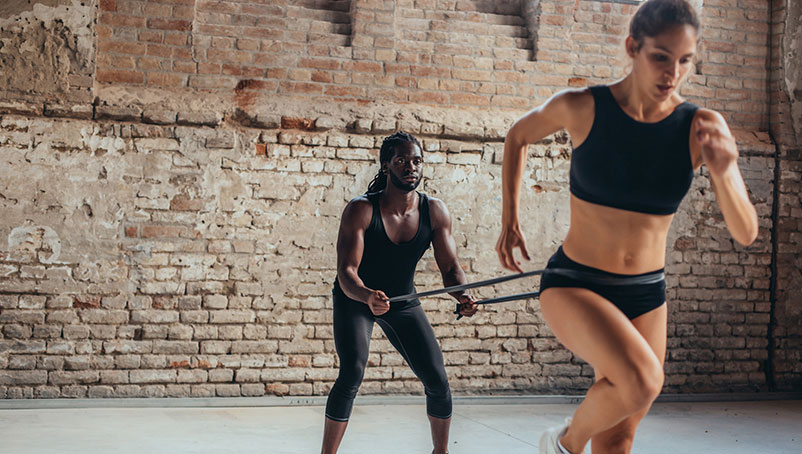 How to Claim Personal Trainer Tax Deductions
When claiming personal trainer tax deductions, keep in mind that the IRS looks for two basic things: Can you prove you actually incurred the expense, and was the expense an ordinary and necessary cost of doing business?
Although receipts are not necessarily required for certain small purchases, it's best to get in the habit of saving and filing all receipts. To claim a deduction for car expenses based on mileage, you'll need to keep a mileage log for your business use of the vehicle. To claim a home office deduction, you'll need to know the exact square footage of your house and the exact square footage of the space you use exclusively as a home office.
If you choose to file your taxes through a tax software solution such as TurboTax or TaxAct, the software will walk you through every step of the process. It will help you understand each deduction and the rules for claiming it. Just be sure to choose the software version that meets your needs (typically Self-Employed or Small Business). But this solution is not right for everyone.
If you aren't financially or technologically savvy, if it's your first year in business, or if your tax situation is complicated, it may be better to use a tax professional to handle your personal trainer tax return. Even if you use a software solution, it's a good idea to have a CPA or tax attorney look over your financial records once a year.
Putting It All Together
Taking responsibility for your own taxes is one of the more frustrating aspects of running your own personal training business.
Unlike when you worked for someone else, no taxes are withheld from your paychecks, and you will be responsible for self-employment tax as well as your personal tax liability. Fortunately, there are a variety of fitness instructor tax deductions that can reduce the amount you have to pay. Check with your tax professional to determine which deductions apply to you, and carefully follow all of the relevant IRS regulations and guidelines to reduce the risk of an audit when filing your personal trainer tax return.
Ready for a Better Insurance Solution?
At Next Insurance, we specialize in simple, affordable small business insurance plans that are tailored to the needs of specific types of small businesses. We offer 100% online, easy to use services and premier customer support. Get your instant quote today or give us a call at 1-855-222-5919 to learn how we can help!