Personal training is a competitive business. How to be a successful personal trainer is a good question, and one we hear a lot. It takes time to build a client-base, and keep customers coming back for you. While there are a number of reasons why getting clients as a personal trainer can be difficult, there are also plenty of strategies to help. That's why, whether you're just starting out, or have been working in the business for decades, you need to do some personal trainer marketing.
Start with the basics of your fitness business
Before we get to fitness marketing ideas, you need make sure you have your fitness business basics covered. This means you need to do things like:
Get proper certification – You need to be certified in order to work in the fitness industry. Take a course, if you haven't yet. You can explore any number of options, including our partners, NASM, AFPA, and others. (We even have a whole series of articles of the most popular personal trainer certifications.)
Write a business plan – Your business won't run itself. If you want to succeed, it's a good idea to create a personal trainer business plan. This will cover things like your services, fees, hours you intend to work, expenses, and goals. You can write a short list in a few pages. Then make sure to check it every few months, to see how your plan is going.
Register your business – Once you're working for money, you need to register your fitness services as a business. That means you need to keep on top of the personal trainer paperwork. Make sure to check your local laws, so you get this right.
Get a business license – Although you do not need a personal training license in order to operate, you will likely need a business license.
Create a contract – It is a good idea to have a lawyer draw up a short contract for you. Have clients sign this document before you begin working together. If you're working with a gym, they'll likely ask you to sign a standard contract that they've already prepared.
Purchase insurance – You absolutely must protect yourself with proper liability insurance. First of all, you are working in a very physical field, and if someone is injured, you can be sued. Second, most gyms require insurance for personal trainers, and will request that you show proof of insurance to work on their premises.
How to market personal training
To become a successful personal trainer, you need a steady client base. If you're working in a gym, fitness marketing is often easier, as the gym will bring you clients. In return, however, you'll have to pay them a hefty amount of money, which may or may not be a percentage of what you charge.
In order to get around without paying a gym to bring you clients, you need to explore different personal training marketing strategies to help you build a client base. While not all personal training marketing ideas will be for you, it's often worth trying different things, until you find the right combination. Here are some personal training advertising ideas: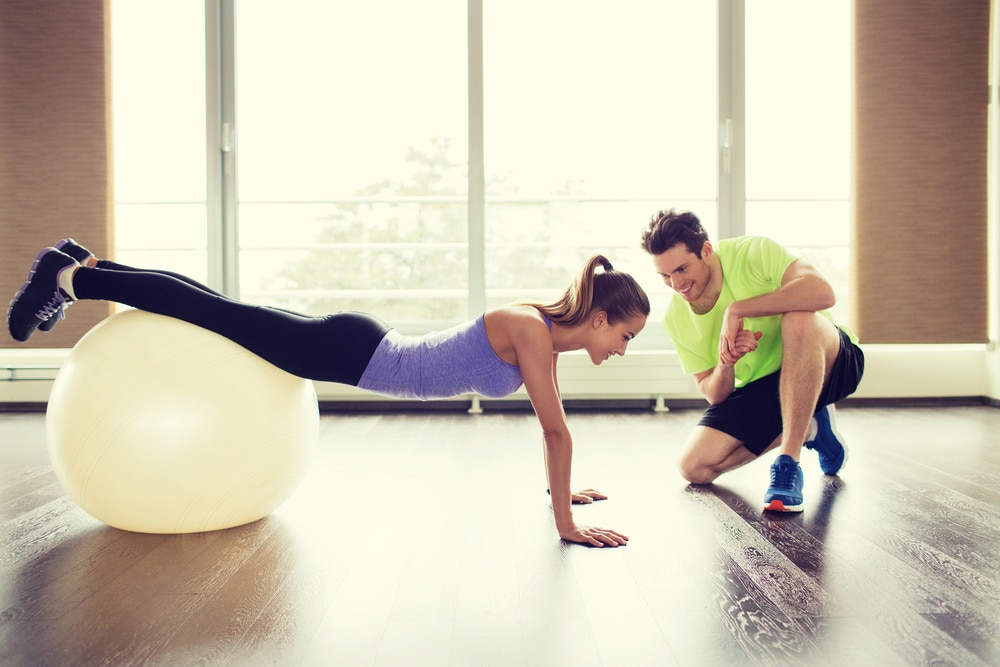 Brand yourself – As a personal trainer, you are a walking advertisement of your services. Always look like the awesome trainer you are. That means your physical appearance should reflect what you do. People will look at you and want your abs, your arms, your posture. Equally so, you should be living the benefits of an active lifestyle. Show people how energetic, and enthusiastic you are, by being, well energetic and enthusiastic. It can also help to dress the part. That means running errands in your yoga pants, or even with a branded t-shirt. Wear trendy running shoes. Look sporty. Give off that overall fitness vibe, and help people find you!
Word of mouth – Similarly, one of the easiest (and cheapest) forms of personal training advertising is word of mouth. Many people choose their trainer based on a recommendation from a friend or family member. So make sure to keep customers satisfied. Be punctual, professional and polite. And of course, always thank people when they make a recommendation that sticks. Better yet, you can set up some sort of word of mouth promo. For example, give people a free session when their referral buys a package of sessions from you.
Free classes – Speaking of free, you may want to offer a free fitness class now and then to attract new business. Maybe not a one-on-one session, as that could get costly and time consuming. Instead you could do something like set up a free intro session in the park. Make sure to have forms with you, so you can at least get the names and emails of people who stop by.
Get involved in your community – Volunteer work is a great way to give back to your community, and meet people along the way. For example, if your market is senior fitness, you can volunteer to give a class in a retirement community. If you prefer not to give away your services, volunteer to help out during art hour. Either way gives you an opportunity to show your presence, meet people, and discuss what you do.
Use the internet – Effective personal trainer marketing must include an online presence. You can create a website if you like, but it's not 100% mandatory. If you do create a website, make sure it has a lot of pictures – of yourself, of your customers, of the activities you offer, and the results achieved. In this industry, pictures speak more than words. That being said, don't forget to write out things like your contact details, specialties, and unique qualifications.
Social media – Creating a social media account is always a good idea. Which types of accounts should you create? Facebook, Instagram and even Pinterest are good choices. Just remember to keep your account active with updates, and always respond to comments and messages.
Parallel businesses – If you're looking for customers, a good place to look is places where people want to get in shape. What does that mean? Think of people getting married, beach season, or even class reunions. Now go out and advertise accordingly in local school letters or flyers. Or, if possible, partner with other vendors like local sports stores, bathing suit stores or even a family physician; they can help with your personal trainer marketing.
Create an incentive program – One of the best gifts for personal training clients is a discount. While you certainly don't want to undersell yourself, consider things like an introductory package for new customers, with 25% off on their first few sessions. Or you can sell 10 session passes, with the 11th session free, or at a discount.
So what's the bottom-line on personal trainer marketing?
Remember that over the course of your career as a personal trainer, customers will come and go. That's the nature of the business, so don't feel down about that. Your job, instead, is to focus on ways to attract new customers, and keep them coming back as often and as long as possible.
Of course, the above ideas are not exhaustive. You can also do things like create business cards, or volunteer in a local youth movement, or create a weekly newsletter.
When it comes to effective personal trainer marketing, the ideas are virtually endless. Try one, or try them all. Whichever works for you is, at the end of the day, your personal recipe for success.