You probably started your fitness business because you wanted to help your clients stay healthy, fit and strong. You imagined giving them practical nutrition advice and tried-and-true workout regimens, right?
But there's more to running your business than teaching clients the proper way to do an overhead press. If you don't plan for some of the potential pitfalls you might experience, it could lead to a financial loss.
Here are five of the most common types of fitness insurance claims and what you can do to help avoid them.
Slips and falls
Slippery exercise studio floors, improperly secured gym mats and wet locker rooms can lead to slips, falls and injuries. If the hurt person is an employee, it can result in a workers' compensation claim. If it's a client, you could have a general liability claim or a potential lawsuits on your hands. Either way, it could cost you.
Here are some tips to help you prevent injuries from falls.
Wipe up spills as soon as you spot them and clean floors during non-peak times. Set up a sign to mark wet floors, so people know to be careful if they're walking by.
Use slip-resistant flooring, secure mats and exposed cords, and limit the height difference between different flooring surfaces to one-half inch or less.
Make sure employees put equipment back as soon as they're finished using it. If a customer leaves a dumbbell, medicine ball or another item out, put it away, so no one trips on it. Have employees conduct routine visual inspections of the space for items that are out of place so that they can be returned to their proper location.
Create a checklist of each preventative measure you and your employees perform every day. Assign employees times throughout the day to complete each item on the list and have them sign it when they're finished. Documenting your process will help show you are taking proper precautions if someone gets hurt and files a claim.
Broken/faulty equipment
Broken or faulty equipment can cause serious injuries to the person using it. And serious injuries can result in expensive claims for your business. Make sure you inspect all equipment regularly and are following the manufacturer's recommendation for routine maintenance.
Set up an inspection schedule for each piece of equipment you own. Have one of your employees document the day and time they inspected it and what they saw during the inspection.
The information the manufacturer provides when you buy a piece of equipment typically tells you how long an item should last when it's properly maintained. To keep track of the lifespan of each piece of equipment you own, record this information where you track routine equipment maintenance.
When it reaches the end of its lifespan, replace it before it has a chance to break and hurt someone.
Sexual harassment
Sexual harassment is one of the most common complaints within the fitness industry. Most claims occur because of the physical closeness between personal trainers and their clients.
To help prevent sexual harassment claims, conduct employee background checks, make sexual harassment training mandatory and teach employees best practices for working with clients.
Personal trainers may need to touch clients to demonstrate how to perform specific exercises to help prevent workout injuries. But if they do, they must explain to the client what they're going to do and ask for consent before touching them.
Bodily injury claims
As a fitness professional, you and your employees routinely give your clients nutrition advice, instructions on using equipment, workout plans and more. If someone gets injured or sick because of something you told them — or forgot to tell them — you could be held responsible.
To help prevent illness or injuries, it's important to:
Make sure you and your employees provide clear instruction when explaining how to use the equipment. Follow established techniques when teaching a client how to perform specific exercises.
Hire employees and subcontractors who are licensed to provide nutrition and fitness advice.
Work only with subcontractors who have adequate insurance coverage. Be sure to ask for their certificates of insurance to confirm coverages and policy limits before they begin working with clients.
Provide employee training on the most up-to-date safety and nutrition best practices. Keep detailed records of the training you provide and each person who completes it.
While general liability insurance can protect you from financial losses related to bodily injuries, professional liability insurance can help you if someone accuses you of making a professional mistake that causes an injury.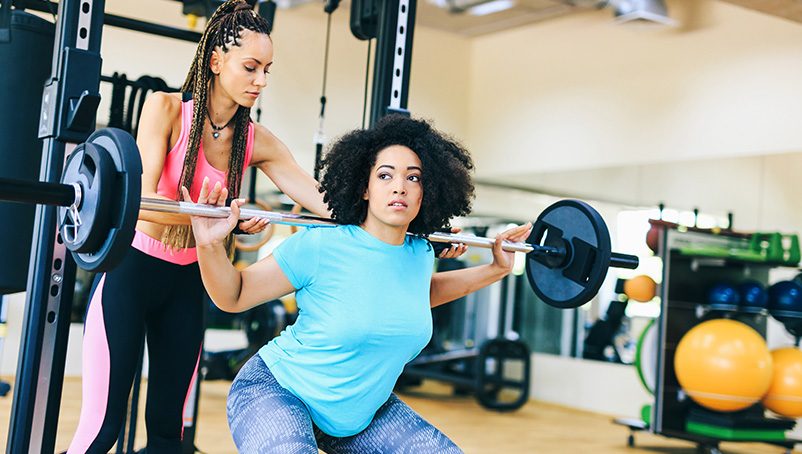 Theft
Exercise equipment may seem like an unusual and cumbersome thing to steal. But because it's so expensive, it's often the target of thieves — both employees and non-employees. The good news is there are steps you can take to help prevent theft in your business.
Install floodlights, alarms and security cameras to discourage someone from breaking in. Or employees from walking off with cash or smaller pieces of equipment that are easier to steal.
It's probably not practical for you to be present every minute of every day your business is open. But that doesn't mean each employee needs a key. Limit access to one or two people you trust.
Keep detailed records of the inventory. If you're diligent about tracking your inventory, it'll be easier to spot a problem if items start disappearing, so you can address it before it escalates.
If your training equipment is stolen from the gym under a covered event, commercial property insurance can help pay for a replacement
How NEXT helps you get fitness insurance for your business
At NEXT, you can mix and match policies to get just the right amount of fitness insurance you need to protect your business.
Our online application makes it easy to see your coverage options, check rates and buy insurance — all in less than 10 minutes. As soon as you pay your premium, you can access your certificate of insurance online.
If you have questions, our licensed U.S.-based insurance professionals are ready to help.
Get started today with your free online quote.