If you're great with children, love organizing activities and have the perfect space, then running a daycare business can be an excellent career path for you. However, while all these things are a key starting point, as you likely already know, you'll need more. At the end of the day, no matter how awesome you are, you'll need daycare marketing to grow your business.
Starting Your Own Childcare Business
There is a lot of thought and planning that goes into setting up a daycare business plan. You'll need to tend to a number of things before you get started, including:
Education – While you don't necessarily need a degree to open a daycare business, it will certainly help in terms of your daycare marketing, as many parents are looking for an educated caregiver. You'll also need to take a CPR course and first aid training, both of which you should refresh from time-to-time.
Choosing a space – Next on your home daycare business plan is choosing a space. Do you want to work from home and take care of a handful of kids, or do you aim to build a mega center with multiple locations in the long-run?
Licensing – As a daycare provider, you absolutely must have proper licensing. The exact demands vary based on your state, but will include things like a safety inspection of your premises, a particular staff-to-child ratio, staff background checks, and a licensing fee.
Hiring staff – You can't hire just anyone for a daycare. You will need to find warm and capable staff to take care of the kids, help prepare food and clean up, and yes, deal with parents.
Contracts – Besides a contract to use with staff, you'll need one for parents to sign. It should include your fees, hours of operation, late penalties (if you want one for late pickups), and possibly even safety procedures. Since you are dealing with kids, it is highly advisable that you work with an experienced lawyer to write this up.
Supplies – To get started you'll need essentials like toys, books, sleeping mats or cribs, eating utensils, and even wet wipes. The list is long, but you can easily add as you grow.
Insurance – We can't recommend highly enough that you get general liability insurance. Even better, get daycare business insurance that covers your particular needs at a price tailored to your.
Marketing Plan and Strategies for Daycare
Once your daycare is setup, it's time to get down to business with child care marketing. You can do this in a number of ways, but always remember, childcare is a sensitive field.
Whichever paths you choose in your daycare marketing plan, you will need to be careful of how you present yourself, and the services you provide. Do you want to come across as a warm, family-like space? Or are you emphasizing education, like adding foreign language instruction or early reading skills to the curriculum?
Also remember, while the kids themselves are your best child care advertising, you can't use their images freely. If you use a child's picture in a flyer or ad, make sure to get the parents' permission first.
Child Care Marketing Ideas
There are a number of ways to go about building your daycare business. In time you'll find the ones that work best for you. To get you started, consider things like:
Direct referrals – Happy parents, like the kids themselves, are your best form of daycare advertisement. Many people turn to friends and neighbors for daycare recommendations, and their honest reactions are your best foot in the door.
Open house – Most parents will want to check out your facilities before committing to sending their kids there. You can have an open house event once or twice a year during hours in which the facilities are closed. Alternatively, you can have some sort of arrangement in which interested parents can schedule a visit to see your daycare in action.
Website – Setting up a website for your business is always a good idea. There are actually daycare website templates out there you can customize at a reasonable cost. Besides an attractive homepage, you'll want an "about us" section highlighting your background and educational philosophy, details on the different programs offered, and your full contact information.
Social media – Child care marketing ideas have in recent years moved more and more to the social media space. Whether this is something you want is up to you. Facebook, Twitter and Instagram are of course top choices. You can have your own account for your daycare with lots of updates. Equally important, get active in different online parenting groups. You'll just need to be careful what you share, especially in terms of pictures, as mentioned above, or details about children.
Brochures and business cards – While pretty much everyone's online these days, it's often nice to have a physical reminder around. If you have the budget, print up a short brochure or a cute magnet for interested parents to take home.
Giveaways – Similarly, to stay in people's minds, you may want to offer branded giveaways. These can be distributed either after an open house, or to your kids at the end of the year. Examples include a cute calendar, mug, or t-shirt. The key is to give something that's creative, useful and if possible, relates to your audience.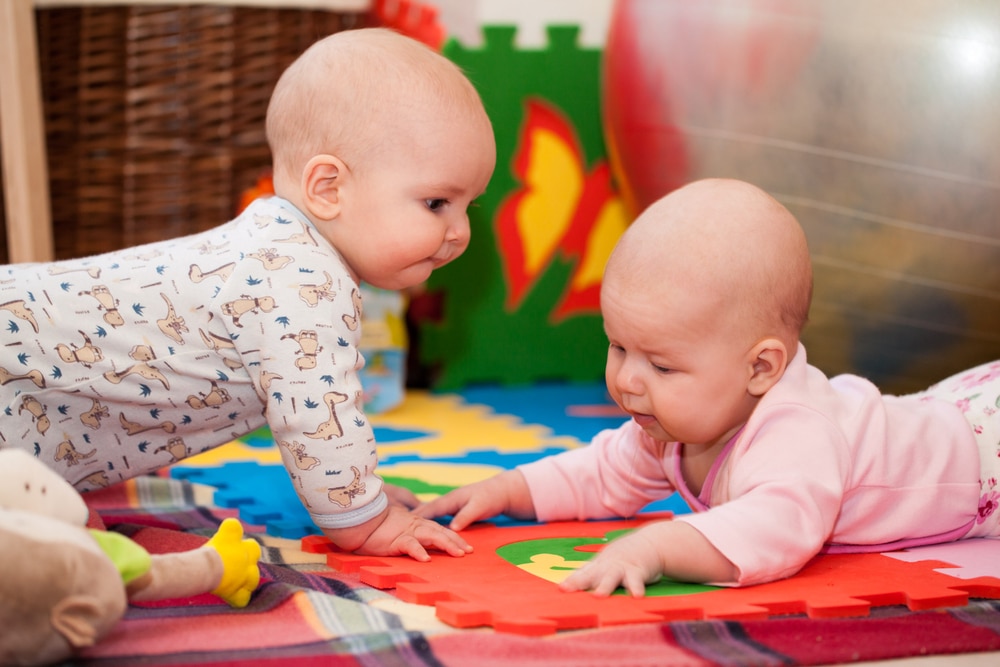 The Verdict on Daycare Marketing
While daycare marketing is an important factor in your long-term success, at the end of the day, there are many ways to build your daycare business. It will likely take a lot of work and dedication, but if you are good at what you do, deal honestly with parents and staff, and provide a reliable service, you're off to a good start.