Working in childcare can be personally fulfilling.
People who enjoy working with children can run a successful business while providing an invaluable service to parents and families. Because this work is so important, it is highly regulated. Each state requires childcare providers, with some exceptions, to be properly licensed.
Childcare licensing usually means meeting specific standards of education, training, and -- in the case of a home-based business -- the set-up of your residence.
General Licensing Requirements
In compliance with licensing standards, home-based and commercial providers have to undergo a thorough application process. Most licensing authorities want to review several aspects of your childcare business. These may include:
You as the childcare provider: Expect a criminal record check and request for other details about your background.
Other adults in your household and employees of the business: They may have to be fingerprinted and also subject to the same background analysis as the facility owner.
Your home and proposed childcare center: The authorities will want to ensure your space is safe for children. They may inspect your residence as well as any outdoor spaces for potential hazards. If you are renting a commercial space, it may be subject to a walk-through before you receive a permit to operate.
Number of children: There are rules about how many children you can supervise as a home-based childcare provider. Even if you operate outside of your home, your state may have specific rules about the staff-to-children ratio and place a cap on the number of kids you can look after at any one time.
In addition, some states may require that you undergo certain educational training. That may include how to keep the area sanitary, understanding child nutrition, and how to spot the signs of abuse against a child. You may also have to complete emergency preparedness and first aid training.
As an example, the state of New York requires anyone operating a daycare for 3 or more children, for 3 or more hours a day, to get a license. These individuals must also attend the state's orientation program. In addition, they must take 30 hours of education every 2 years, covering nine specific topic areas. Fifteen of those hours must take place within the first six months of operation.
Your state's online materials can tell prospective applicants how to obtain child care license education.
How to Get Child Care Provider Training
State authorities offer a number of different ways to fulfill training requirements.
Typically, these are offered through third parties, such as professional or community organizations, colleges and universities. The state of New York, for example, has a list of links to acceptable places to find training opportunities. Not all of these are in offline settings; some are online or distance education.
In order to prove you've met the education requirements in your state, you may have to submit your grade reports, transcripts, certificates of completion, or other documentation. In other cases, you may only have to keep this information available in case the state wants to audit your work files.
Some non-government bodies, like the Red Cross, offer child care courses. However, these do not automatically fulfill the child care licensing regulations. You must contact the state administrative body where you live to find out how to become a licensed childcare provider. They can also give you the information you need to know how to get your child care license, whether or not you plan to operate a home-based business.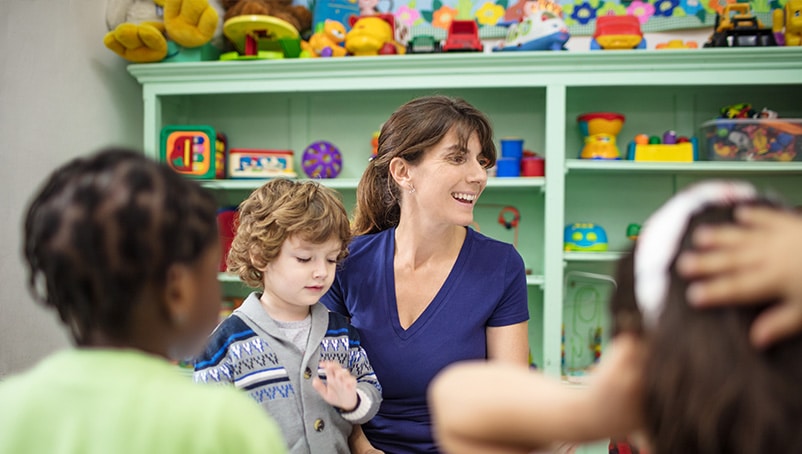 Finding the Requirements for Your State
The government body that takes care of home child care licensing depends on your state.
In New York, it's the Office of Children and Family Services. In Minnesota, it's the Department of Human Services. Regardless of where you live, it's important to know what kind of day care you will be providing. The rules are different for home-based child care businesses versus those that operate out of a separate facility.
The federal government has a central database that allows you to look up the website and contact information of your state's family child care licensing administrators. You can find the relevant link on the Department of Health and Human Services' National Database of Child Care Licensing Regulations.
Who Doesn't Have to Be Licensed
It is sometimes possible to run a home child care without a license. The exceptions vary from state to state, but in general, here are some of the reasons why licensing rules for child care centers may not apply to you:
You are related to the children you care for;
You take care of only a small number of children; or
You operate for only a few hours per day.
In order to make sure you don't need to follow childcare licensing guidelines, double-check the requirements where you live. These authorities can answer how long does it take to get a childcare license and other questions you may have.
While it's true not everyone has to have a license, it's important to obtain the right certification if you do. The penalties for failing to have the right paperwork may be significant. In New York state, for example, operating a day care without a license can incur fines of up to $500 per day. Home child care licensing is not only a good idea, therefore, but also essential to protect yourself, your clients, and your employees.
Next Business Steps
Once you have fulfilled the child care licensing requirements, you can take the next steps to build your business. Start with some general operational matters such as:
Write a business plan: Include the number of staff you plan to hire, a protected budget, and what will set you apart from other child care businesses.
Lease space or renovate your home: The set up of your facility may be directly connected to what is required by state authorities.
Purchase supplies: You'll need equipment to run the "back office" of the day care, like computer and office software. You'll also need items to entertain and safely care for children. That can include everything from toys to a first aid kid.
Among the steps you should take is to make sure your operation is protected. Consider the following:
Then it's essential to let people know you are ready to take new clients. Research "daycare marketing" so you know how to reach your target market. After all, you may focus on different things than other child care providers. Perhaps you want to focus on educational and enrichment activities. Other centers may just want to show they are a safe, warm place for their children to receive supervision.
There are many steps to starting and growing your childcare business. The end result is likely worth it: the chance to make a difference in the lives of children and families in your community.