Working from home can be a significant change for those who are used to being in an office environment. Some who make the transition to may find it challenging to stay productive and focused.
However, if you can create a plan for your workweek and utilize techniques for maximizing your time, working from home can be a successful — even enjoyable — process.
Don't let a new, unfamiliar routine slow you down. Here are 7 tips on how you can be productive when you WFH:


1. Define your boundaries
Your new workspace requires boundaries. Clearly define them so that you can be productive with your time.
You may be tempted to crawl out of bed five minutes before your workday starts — after all, there's no commute or dress code. However, many people have found that getting out of cozy pajamas and dressing the part helps to get into a work mindset and having a productive day.
Rather than bringing the laptop into bed with you, find a nice space at home that gives you the feeling of being in work mode. Also, if you are accustomed to a morning routine, it is important that you stick to it daily. This means making a cup of coffee, checking your email, handling any calls you need to make, eating light breakfast, etc.
Don't risk a productive day because you had no morning meetings and lingered in bed or ate cereal in front of your TV. Recreate your usual workflow as much as possible.


2. Set up your workspace
Your home is your office, so it is imperative to your workflow that you treat it as such.
If you don't already have a place in mind for your workspace, such as a home desk or table, then test the efficiency of various areas until you find the one that suits your needs.
Make sure other members of your household are aware of your hours of operation, so you can avoid distractions and have productive workdays. If possible, choose a room with a door so that you can close it when you begin your workday.
To set yourself up for success, ensure that you have all the equipment your work requires, such as multiple computer screens, a keyboard, mouse, headphones, charger, etc. Don't get caught in the middle of an important phone call and suddenly be pressed to find a charger.


3. Set your intentions
Define your goals daily at the start of each workday.
Even the most robust home offices can be affected by natural diversions that occur in the home. This is why it is important to start your workday with clear intentions.
List your goals for the day and stay focused on achieving them. Clearly defined objectives can lead to a productive WFH career.


4. Be task-oriented
When you WFH, you have to be task-oriented, self-motivated, and organized.
You no longer have the motivation of your co-workers to keep you inspired. Then again, if you find relief in the silence, then being task-oriented should come naturally. If you need some inspiration to stay on task, here are a few tips:
Write a daily to-do list
Have an ongoing projects list
Use online workflow organization tools
Give yourself deadlines
Prioritize tasks
Audit your time use periodically
You are now in charge of your time management and progress reports, so stay focused and hold yourself accountable.


5. Embrace video meetings
Communication via virtual platforms can be detached and informal. It's advantageous to learn best practices for video meetings, which can allow for a more personal connection with visual cues from your co-workers, partners, and clients.
If you are in a group meeting, leave some space between comments so each person has an opportunity to contribute in a back-and-forth conversation. Once you master the art of video meetings, it will translate into better communication with your team members and clients, which in turn boosts your success.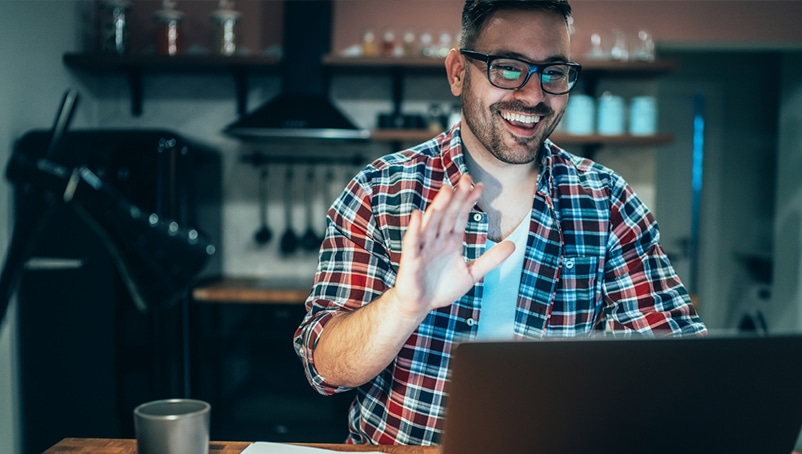 6. Communicate effectively
It's easy to feel isolated and disconnected from your co-workers when you are working from home.
Effective communication is the key to all great relationships, and without constant in-person interactions, this is the time to hone in on your communication skills.
You can use several platforms to communicate: Zoom, Google Hangouts, Slack, Email, Asana..etc. These applications can help you check in with your clients and colleagues regularly.
Communication is your strongest tool to be efficient when WFH. Stay on top of your emails and conversations to ensure that everyone is on the same page at all times.


7. Make healthy choices
Your home office is bound to make you feel like you haven't moved enough throughout the day, so try your best to make healthy choices whenever possible.
Satisfy all of your basic needs: sleep well, maintain a nutritious diet, and get out of your office for a bit. Your body may be used to a certain amount of physical activity, which is naturally lessened when you WFH and your personal and professional spaces are intertwined.
Find a physical activity that you like and write it into your schedule. You can run, walk, ride a bike, or follow a workout video in your living room.
The healthy choices you make should translate into a more productive workday.

Protecting yourself at home during the coronavirus crisis
You may find yourself completely panicked on certain days and too busy with work to care on other days, but it is important to be informed and keep a level head about COVID-19 as you continue to work.
With so much new information every day, it is hard to keep up, but do what you can to prevent the spread of coronavirus to protect yourself, your family, and others.
Next Insurance is committed to helping small business owners throughout the crisis. Learn more about ways to protect your business and financial resources that are available in response to COVID-19