How much does Commercial Auto insurance cost?
NEXT offers customized commercial auto insurance that's tailored to your line of work. It can cost as little as $12.50 monthly or $150 annually for businesses such as yoga instructors and accountants, but the exact commercial auto insurance cost per month depends on your particular circumstances. We break down the variables that factor into how much you'll pay and what you can do to mitigate your costs.
What most of our customers pay for Commercial Auto insurance
49% of our customers pay less than $200 per month on commercial auto business insurance. Here is the breakdown of what our customers pay for this type of coverage.
Monthly Commercial Auto insurance costs 
What factors influence the cost of Commercial Auto insurance?
The exact commercial vehicle insurance cost is determined by several factors, including:
The type of work you do
If you're a mortgage broker, your insurance is going to be less than a roofing contractor because the nature of your work involves less driving for work. 
The cost for carpenters, who drive to work on other people's property, face more risks on a daily basis than many other professions. 
In general, jobs that include driving to get to job sites often have higher insurance costs.  
How many vehicles you have
If you own a cleaning company and own three cars, your insurance is going to cost more than if you're a cleaner with only one car. 
How often you drive, how many miles you drive and the make, model and year of your car all factor into the cost as well. 
The state where you work 
If you're a small business owner in Miami you're probably going to pay more for insurance than if you worked in a small town in Minnesota. This is partly due to the increased threat of natural disasters like hurricanes along the gulf coast. It's also partly due to more populated areas having higher property prices and more crime. 
Your claims history 
Your record of losses and claims has an impact on your insurance fees. 
For example, if you run a debris removal company and your employees have backed over a few too many mailboxes, you may see an increase in your premium at renewal time.
How high you set your limits
If you want to be covered for more incidents, you can select higher coverage limits on your insurance policy. Higher coverage limits will almost always increase the cost of your policy. 
Your driving history 
The number of years you've driven without an incident impacts your insurance rates. 
For example, if you've been a property manager who has driven to work sites for nine years with no claims, you can expect to pay less than one who's been in business for two years because you have a clean driving record. 
Note: It's important to provide the most accurate information about your business when you get a quote for insurance to make sure you get the coverage that is right for you and any claims are processed without delays.
How is the premium of a Commercial Auto insurance policy calculated?
An insurance premium is the amount you pay on a monthly or annual basis for your coverage. An insurance company, such as NEXT, calculates your premium by taking into consideration all of the factors listed above, as well as the make, model, year and number of vehicles. 
NEXT customizes your coverage to fit your exact business needs. After you answer a few questions with our instant quote process, we'll share options with pricing for your business. 
We operate entirely online to make the process streamlined and easy. You can get completely covered in a matter of minutes and licensed advisors are ready to help if you need them.
What is the cost of Commercial Auto insurance for your profession?
There are multiple variables that factor into the cost of commercial auto insurance, including the make and age of the car, how far and often it's driven as well as your driving history. If we take everything into account, what is the average cost of commercial auto insurance? Here are the median monthly premiums of commercial auto insurance in popular professions: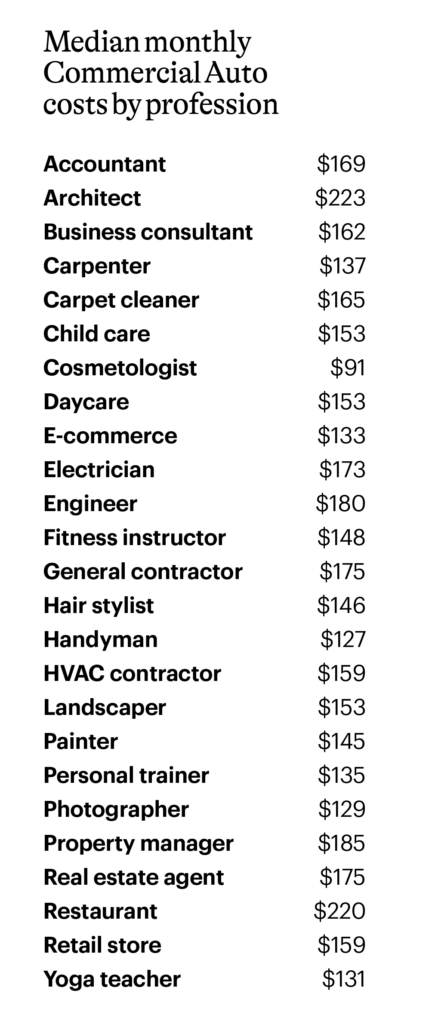 How do limits impact the cost of Commercial Auto insurance?
A policy limit is the maximum amount of money an insurance company will pay for a claim during the policy period (usually one year). Once you've reached that limit, you're responsible for paying whatever's left over. 
For example, let's say you have a commercial auto policy with a $1 million limit. You have a single-occurrence claim for medical fees caused by a car crash that will cost $1.2 million. This means that you would have to pay $200,000 out of pocket. 
If you want to be covered for more incidents, you'll need higher coverage limits on your insurance policy. Which means that you'll also pay more for that policy. 
The majority of commercial auto customers choose a policy with at least $1 million limits. 
The right amount of coverage for your business depends on your individual needs and how comfortable you are with your exposure to financial risks.
How can you reduce Commercial Auto insurance costs?
You can take several steps to reduce your commercial auto insurance costs and lower your premium rates: 
Keep your risk level low
A reliable vehicle and solid driving skills can help to limit the likelihood of filing insurance claims and raising your insurance costs, particularly if your small business involves driving for work.
For example, you might:
Give your employees extra driving training

Invest in more reliable work vehicles 

Conduct regular vehicle inspections
Learn from previous claims
Analyze your previous claims and figure out what you could have done to avoid those risks. 
For instance, if you had a claim involving a trailer that came unhitched on the way to a work site, train your employees on how to properly hitch a trailer to a truck or invest in new equipment. 
Pick the right limits and deductible 
Lower limits will save you money, but you will have higher risks if you don't get enough coverage. And if you choose a higher deductible, you will pay less for the policy (a deductible is the amount of money you pay before your insurance policy kicks in).
Bundle more than one policy 
You automatically save 10% if you combine more than one type of policy together. For example, if you add a commercial auto policy to your existing general liability policy, you'll save 10% right off the bat.
How do I get a quote for Commercial Auto business insurance? 
You can start an instant quote with NEXT to see if commercial auto business insurance is right for you. We'll ask you some basic questions about how you do business, which we'll use to create a customized insurance quote.
You can adjust the limits when you receive your quote. If you decide to purchase, you'll be covered as soon as you've bought the insurance you want, and you'll have instant access to your certificate of insurance. The self-service tools also allow you to pay premiums, add an additional insured and file claims. 
Getting insurance through NEXT can be done entirely without talking to an agent. And if you do have questions, our licensed, U.S.-based insurance professionals are ready with the answers. 
Contact us if you're unsure which type of coverage and limit amounts are right for your business.

Start a free instant quote today.