Looking for a place to start your handyman business? Utah wages for maintenance and repair workers are in line with national averages, and those working in Salt Lake City generally earn even more.1
If you're wondering what type of work can a handyman do legally, Utah has fairly relaxed licensing requirements for this profession. However, you will need a contractor license if you want to take on larger jobs.
To learn more about the handyman exemption and in which circumstances a license requirement applies, check out this guide covering the following topics:
Do you need a license to be a handyman?
If you plan to perform mostly minor repairs and basic maintenance as a handyman, it's unlikely that you need a license.
A common question we get asked is: does a handyman need a license in Utah? You only need a license in Utah if you plan to perform certain types of jobs that go beyond the scope of minor repairs. If your work will become a finished part of the structure (such as replacing flooring in an entire room) and the total for the project exceeds $3,000, you must have a Utah general contractor license.
What's the difference between a handyman and a general contractor?
Before we get into the details of how to obtain a license in Utah, it's important to clarify what it means to be a handyman — because this is going to affect whether or not you need a license and what type of insurance you're going to need.
A handyman or handywoman is someone who does small repair, carpentry or minor maintenance jobs. Typically, these jobs only involve one person.
If you work on larger projects, such as building a deck or wiring a new kitchen, you could be considered a contractor and need to get the appropriate license and insurance coverage. A handyperson is usually someone who can complete a job on their own.
So what can a handyman do without a license? Here are some examples to help figure out if the jobs you perform mean you're a handyman or a general contractor.
Handyman vs. Contractor

How to get a handyman license in Utah
Contracting work in Utah generally requires a state license issued by the Utah Division of Occupational and Professional Licensing (DOPL).2
However, Utah sets its licensing requirements for handypeople based on the value of the projects they work on. You do not need a contractor license if your projects have a value of less than $3,000, including labor and materials.3 Instead, you must simply register with the DOPL if you plan to take on any projects valued at more than $1,000.
Generally known as the handyman exemption, this rule applies to workers who engage in "the alteration, repair, remodeling or addition to or improvement of a building."3 Note that it does not apply to workers who conduct plumbing, electrical or HVAC work, all of which do require a license.
If the value of your work projects exceeds the $3,000 limit, you must have a Utah contractor license. The state takes this seriously, and the DOPL has conducted sting operations to fine businesses which attempt to take on jobs over $3,000 without the proper license.4
If you fall under the handyman exemption, you will not need to complete and submit a license application. However, you do need to register by submitting an Affirmation of Exemption from Contractor License.5
This form functions as an affidavit that certifies your qualifications for the exemption. You must submit a non-refundable $35 processing fee along with the form.
The state classifies those whose work exceeds $3,000 on single projects as a contractor rather than a handyperson. If this applies to you, check out our guide to Utah general contractor license and insurance requirements, including instructions on submitting your license application.
Utah handyman exemption form
When you submit your handyperson exemption form, you must also include the following documentation:6
Business registration
You must register your business with the Utah Division of Corporations and include your business registration number on your handyman exemption form.
General liability insurance
You must submit a certificate of general liability insurance. More details on the state's certificate of insurance requirements can be found below.
Workers compensation insurance
If you have employees or plan to hire any within the foreseeable future, you must obtain the following:
Certificate of workers' compensation insurance
Employer identification number from the IRS
State withholding tax registration number from the Utah State Tax Commission
Unemployment registration account number from the Utah Department of Workforce Services
If you do not have employees and do not plan to hire any, these requirements do not apply.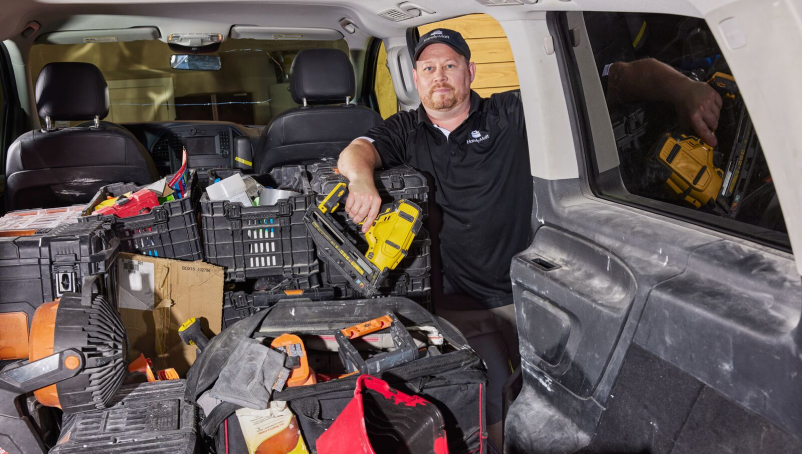 Utah contractor license renewal requirements
You must renew your Utah handyman registration every two years. Registration expires on November 30 of odd-numbered years.
The DOPL sends renewal notices about two months prior to the expiration date. No continuing education requirements apply for renewal, but you must pay a $35 renewal fee.
What kind of insurance does a handyman need in Utah?
Professionals in this line of work may want to get self-employed handyman insurance or small business handyman insurance. The following types of business insurance coverage are available handypeople in Utah:
General liability insurance
You must show proof of general liability insurance to receive your Utah handyperson registration. This insurance can help cover expenses related to property damage and other accidents that may happen to third-parties while you work.
Workers' Compensation insurance
If you have any employees, you must have Utah workers' compensation insurance. This insurance can help cover medical expenses and lost wages for employee injuries on the job.
Tools and Equipment insurance
Tools and equipment insurance can help cover the costs for repairing or replacing your gear in the event of theft or damage.
Commercial Auto insurance
Commercial auto insurance can help cover costs related to vehicular accidents, such as property damage and medical expenses.
Commercial Property insurance
Commercial property insurance can help provide coverage for damage or vandalism that affects a business property that you own or rent, along with inventory or equipment stored there.
What is the certificate of insurance requirement in Utah for handymen?
All registered handypeople in Utah must have at least $100,000 in general liability coverage for each incident and $300,000 aggregate. When submitting your handyman exemption form, you must include a certificate of general liability insurance that lists the DOPL as the certificate holder.
If you have or plan to hire employees, you must also submit a certificate of workers' compensation insurance with the DOPL listed as the certificate holder. Include your unemployment registration number and state tax commission withholding tax account number directly on the handyman exemption form.
How NEXT supports Utah handypeople
NEXT offers affordable handyman insurance and expert help to make sure you satisfy Utah's insurance requirements for this profession.
We're 100% online, so it only takes minutes to apply for and secure the coverage you need. Plus, we make it easy to obtain the certificates of insurance required for your Utah handyman registration.
With small business insurance as our specialty, NEXT helps you protect your business while minimizing costs.
Get an instant quote online today.
Are you planning to work as a handyman in another U.S. state? Learn what states require handyman licenses in our handyman license requirements guide.

Sources
1 U.S. Bureau of Labor Statistics 
2 Utah Division of Occupational and Professional Licensing
4 Utah Sting Busts 22 for Lacking Contractor Licenses
5 Affirmation of Exemption from Contractor License