With over 1,000 people added to the population each day, Texas is one of the fastest-growing U.S. states.1
With all those new residents settling into their homes, there will inevitably be an increased need for services like a local handyman. So it comes as no surprise that Texas ranks among the top states for employment in this profession, with over 118,000 maintenance and repair workers employed there as of 2021.2
If you're wondering what type of work can a handyman do legally, Texas does not require handyperson licenses. However, before you begin taking on clients, it's important to find out whether you need a permit or registration from the county where you'll be working. This guide will walk you through the basics, including:
Do you need a license to be a handyman?
If you plan to perform mostly minor repairs and basic maintenance as a handyman, it's unlikely that you need a license.
A common question we get asked is: does a handyman need a license in Texas? You only need a license in Texas if you plan to perform certain jobs that go beyond the scope of minor repairs.
If your work will become a finished part of the structure (such as replacing flooring in an entire room), you would ordinarily be required to get a Texas general contractor license. Still, Texas is unlike many other states because not every contractor needs a license.
What's the difference between a handyman and a general contractor?
Before we get into the details of how to obtain a license in Texas, it's important to clarify what it means to be a handyman — because this will affect whether or not you need a license and what type of insurance you're going to need.
A handyman or handywoman is someone who does small repair, carpentry or minor maintenance jobs. Typically, these jobs only involve one person.
If you work on larger projects, such as building a deck or wiring a new kitchen, you could be considered a contractor and need the appropriate license and insurance coverage. A handyperson usually can complete a job on their own.
So what can a handyman do without a license? Here are some examples to help figure out if the jobs you perform mean you're a handyman or a general contractor.
Handyman vs. Contractor

How to get a handyman license in Texas
Since no handyman laws in Texas exist — and not every city or jurisdiction absolutely requires a general contractor license — you will need to check contractor license requirements where you work.
Also, be prepared to apply for your Texas Business License — a requirement for every business in Texas. It's worth checking with your local county or city government, as some larger metropolitan areas have specific registration or permit regulations. For example:
Austin
You may need a building permit or registration as a contractor to work as a handyperson in Texas. This depends on the type of projects you plan to complete, so get in touch with the City of Austin to find out what's required for your work.3
Dallas
Handypeople in Dallas may need to register as a contractor before they may begin working in the metropolitan area.4
Houston
In Houston, licensure and registration requirements do not apply to handypeople. However, you may need the proper building permits to complete certain types of projects. The Houston Public Works Project Planner can help you determine what permits you need.5
San Antonio
Most handypeople in San Antonio must register as either a home improvement contractor (for limited repair work) or residential building contractor (for more extensive construction work). The city's Development Services Department issues these registrations.6
What kind of contractors need a license in Texas?
If you are an electrician, plumber or HVAC technician, you'll need to apply for a specialized contractor license. The Texas Department of Licensing and Regulations stipulates different requirements for these professions
Electricians licenses
All types of electricians — from Electrical Apprentice to Master Electrician to Residential Appliance Installer — need to register with the Texas Licensing and Regulations board. Each license has minimum requirements for the number of hours of on-the-job training, as well as a passing score on the electrician exam.
After submitting proof of your experience to the licensing board, you will be sent information on how to take the exam. Once you've passed, you can submit your license application. Learn more about getting your Texas electrician license.
Plumbers licenses
Plumbing contractor licenses in Texas fall into four categories:
Tradesman plumber-limited
Journeyman
Master
Plumbing inspector
You need to meet the requirements of the Texas State Board of Plumbing Examiners, including a minimum number of hours of experience, educational courses, and a passing score on the required examination. After passing the exam, you can apply online for your license.
HVAC licenses
There are two types of HVAC contractor licenses in Texas: Class A and Class B.
Class A licenses can work on any size HVAC unit, while Class B can work on cooling systems of 25 tons and under and heating systems of 1.5 million BTUs/hour and under. To qualify for either license, you must have a minimum of 48 months of work or educational experience and pass the Air Condition and Refrigeration exam.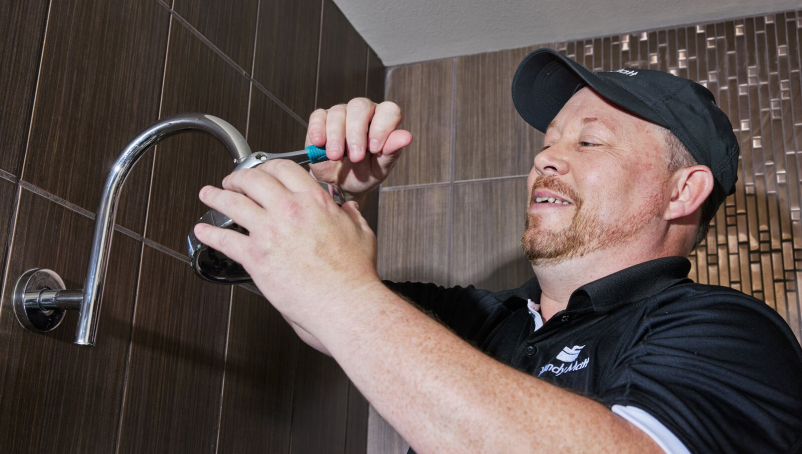 Do I need a business license in Texas?
A general business license for a handyman requirement does not apply in Texas. However, if you have a small business (such as a sole proprietorship or partnership), you must register it locally.7
Contact the nearest local county clerk's office for more information on how to complete your registration. If you wish to form a corporation, you must register with the Texas Secretary of State instead of a local office.8
What kind of insurance does a handyman need in Texas?
The right insurance can help protect your handyperson business. The type of handyman insurance you should get depends on the type of work you do, whether you have any employees and other relevant factors. Those who work on their own may want self-employed handyman insurance, for example. Below, you'll find several types of business insurance available in Texas.
Workers' Compensation insurance
Texas does not require business owners to have workers' compensation insurance.9 However, if one of your employees gets hurt on the job, you could be subject to a lawsuit, which can have serious financial ramifications for you both personally and professionally.
Workers' comp insurance can help protect your business from financial losses if an employee files a lawsuit against you. It may also help cover medical expenses, lost wages and more.
General Liability insurance
In Texas, general liability insurance can help protect your business in the event of non-related accidents or property damage. Your clients may request proof of this coverage before hiring you for a job in their home or business.
Tools and Equipment insurance
Tools and equipment insurance can help cover the cost of repairs and replacements for damaged or stolen work gear. You may choose to add this coverage to your general liability insurance policy.
Commercial Auto insurance
Do you drive to different job sites for your work as a handyman? Commercial auto insurance can help cover costs related to accidents, such as medical expenses and property damage.
Commercial Property insurance
If you rent or own building space for your business, you may want commercial property insurance. This type of insurance can help pay for costs related to damage or vandalism and covers inventory and equipment stored in the space.
How NEXT Insurance supports Texas handypeople
NEXT offers an easy and affordable way to get the handyman insurance you need to protect your business.
You can apply for coverage using our online service from any computer or mobile device and we'll put together a custom package. You'll also receive a certificate of insurance in just minutes, and you can access your account at any time to make changes or download additional COIs.
We specialize in small business insurance, and we've helped thousands businesses like you get the right insurance for their work. We understand different state requirements as well as the insurance standards for the handyman industry. You can learn more about handyman insurance costs on this page.
Ready to get started? Get an instant quote online today.
Do you have handyman projects in another U.S. state? Learn what states require handyman licenses in our guide to handyman license requirements.


Sources
2 U.S. Bureau of Labor Statistics 
3 Austin Service Center and Trade Permits
4 Dallas Application for Contractor Registration
5 Houston Public Works Project Planner
6 San Antonio Development Service Department
8 Selecting a Business Structure