There are all sorts of small business tax deductions out there. Some are universal, which means people can claim them in just about any line of work, but this post focuses on tax deductions for self-employed hair stylists.
This doesn't mean that you have to be the business owner of your own salon — you can be considered a self-employed stylist if you rent a booth in someone else's salon or are issued a 1099 independent contractor form. Unless you receive a W2 tax form from your employer, you are not considered an employee by the IRS.
Note: This article is only for educational purposes. Consult with a licensed tax professional to guide your specific hairdresser tax situation.
What are hairdresser tax deductions?
When you're a W2 employee, your employer automatically takes taxes out of your pay. However, if you're self-employed, you'll need to figure out what you owe the IRS on your own.
Typically, self-employed people pay quarterly or annually, depending on how your business is structured.
The taxes you pay are based on how much you earn, your marital status and the state where you do business.
Tax deductions are a way to reduce your taxable income, so you end up paying less in taxes.
For example, if you earn $10,000 in a year and have $2,000 in deductible expenses, you would only need to pay taxes on $8,000 since the rest of it is considered deductible.
In other words, hair stylist tax deductions are a nice way to save some money on your taxes because it reduces the taxable amount.
What can a hair stylist claim on tax write-offs?
Some people mistakenly think that every expense can be used as a tax claim. While that would be terrific, most hair stylist tax write-offs need to be either:
True business expenses for day-to-day operations or,
Directly related to helping your business grow
Even when something is tax-deductible, there may be limits on how much you can claim.
For example, there's only so much you're allowed to deduct for things like automobile milage, business-related entertainment, charitable donations and even your retirement plan.
7 hair stylist tax deductions that may apply to your business
So what can a hairdresser claim to reduce their income tax? Let's take a look:
1. Tools and supplies
When it comes to hair stylist tax deductions, tools and supplies may be the easiest and most common option. Items can include scissors, smocks, shampoo and conditioner, blow dryers, sinks, mirrors and styling chairs.
All your tools of the trade, from combs to clippers, are likely deductible. Just make sure to keep your receipts in case you get audited.
2. Car mileage and vehicle use
Car expenses like gas and milage can be tax write-offs if they are directly related to your travel for work, excluding commuting. If you take public transportation, your expenses are similarly deductible.
This is good news if you have a mobile hairdressing business or if you're on a work-related errand like a supply run. You can deduct certain things like purchasing your vehicle, gas, insurance, licensing, tolls, parking and even your car's depreciating value.
The IRS standard mileage rate for tax deductions is 58.5 cents per mile. The rules for calculating the rate are updated every tax year, so it's good to check the IRS site for the latest rate.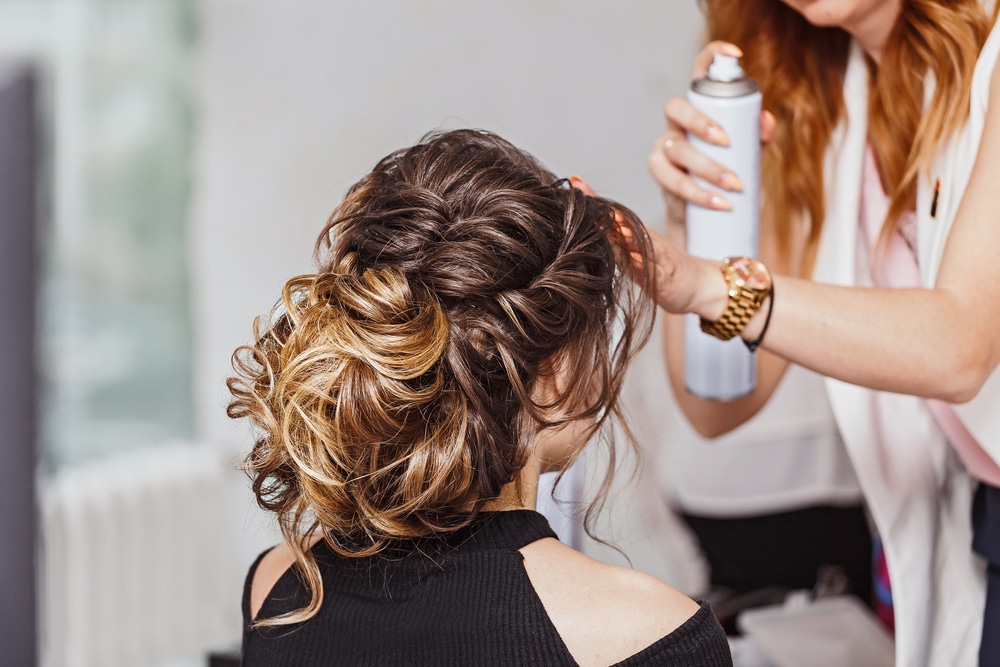 3. Continuing education and professional development
Keeping up with hair style trends and improving your skills is always good for business. Plus, it's good for your taxes. Taking seminars on the latest coloring techniques, attending conventions or workshops and virtual events/webinars counts as deductible expenses.
Similarly, relevant trade magazines and professional subscriptions are recognized as related expenses by the IRS.
4. Licensing
If your state or local jurisdiction requires a hair stylist license, you can write off that fee.
5. Hair stylist insurance
Your hair stylist insurance can protect you from the business risks you face when working with clients. It is also usually a deductible expense from your taxes.
Typically, you can deduct premiums for many different kinds of business insurance, including general liability insurance, business vehicles, commercial property insurance and more.
6. Office expenses
Hair stylists have lots of places they can call an office. Maybe you're a hair salon owner with a brick-and-mortar location, or maybe you rent a chair at a salon space. Thanks to the pandemic, many hairstylists converted their spaces and started offering services from their homes.
Business expenses related to running your office can serve as tax write-offs. They might include your rent if you lease a commercial space or a chair at a salon, utility bills, basic business equipment and even some upgrades.
If you run your business from home, you can also take advantage of a home office deduction.
While your workspace needs to meet certain criteria, any space you use exclusively and regularly for your business — regardless of renting or owning — can be deducted. Check the IRS for calculating your deduction using simplified or regular methods.
You can also deduct some expenses, including mortgage interest, insurance, utilities, repairs and depreciation.
7. Marketing expenses
Maybe you're just starting, or maybe you're looking to drum up some new business. Great news: any money you're spending to market or advertise your business can be written off.
Hair stylist tax deductions include buying local ads, printing business cards and flyers, participating in local events and more. Digital advertising such as Facebook, Google or Yelp ads, and website design and maintenance all count.
Consult a professional for more self-employed hairdresser tax deductions
There are plenty of tax deductions for self-employed hairstylists available out there. However, determining what qualifies and deducting business expenses on tax returns can sometimes be time-consuming.
It's smart to do your research and consult with a licensed tax professional or certified public accountant (CPA) to maximize your returns.
How NEXT Insurance helps hair stylists
We offer an easy online option to customize affordable hair stylist insurance to fit your business.
Whether you're looking for basic general liability protection or an insurance package that includes commercial property, we can help you find the right coverage at the right prices.
All you need to do is answer a few basic questions and get a free quote online. You can be insured and have a certificate of insurance in about ten minutes.