Running a Black-owned business comes with it's own unique set of challenges.
So what do two entrepreneurs who just navigated and survived a pandemic have to offer for advice to aspiring business owners?
Go for it. Do your research, but take a chance. Just start your business.
Mark Linen, the owner of Brotha Bakes, an online cake business, shares that the hardest part of being a business owner is jumping in.
"Plan it out as much as you can and have a business plan — but do it," he says. "If you start a business and it doesn't work out, it's the same as not doing it at all, so why not try it?"
Stuzo Clothing owner, Stoney Michelli Love, agrees.
"It's the starting part that's difficult, but you just need to do it," she says. "You don't need to know every step. You just have to take that first step — you can't get to the second step without taking the first."
Turning passion into a profession
Stuzo Clothing was born from Michelli Love's interest in the things she sees and experiences every day.
Despite growing up surrounded by a melting pot of culture and diversity in the Bronx, her first design derived from her frustrations as a queer, Afro-Latina woman — a logo that reads, "Yep, Still Gay!"
A graphic designer by trade and self-described renaissance woman, Michelli Love added "business owner" to her list of accomplishments by founding Stuzo Clothing in 2010.
Michelli Love focuses on designing for humans first with gender-free clothing.
"At the core of Stuzo, it's what we believe in," she says. "It's a commonality; we're human. I make clothes for humans. Clothing should be about your individuality rather than what you identify as or what your size is."
Like Michelli Love, Linen's business grew out of a sense of dissatisfaction.
Despite working comfortably as a truck driver, Linen knew it wasn't something he was excited about when his morning alarm went off. But it took comedian Steve Harvey to help him realize it.
Hearing Harvey's thoughts on finding purpose and joy in your life struck Linen and inspired him to dream about changing his life.
Linen rediscovered his love of baking and dove into starting his online bakery business, serving up his signature cakes in mason jars for convenient shipping.
Whether it's the "Mariah Carrot" (carrot cake) or the "Reddie Murphy" (red velvet, his favorite flavor inspired by his mom's baking), Linen wants to highlight Black culture in his products.
"I realized baking was something I was passionate about," he says. "From that point on, it was about turning this passion into something I loved. Something I could sustain, build and even pass on to my kids someday."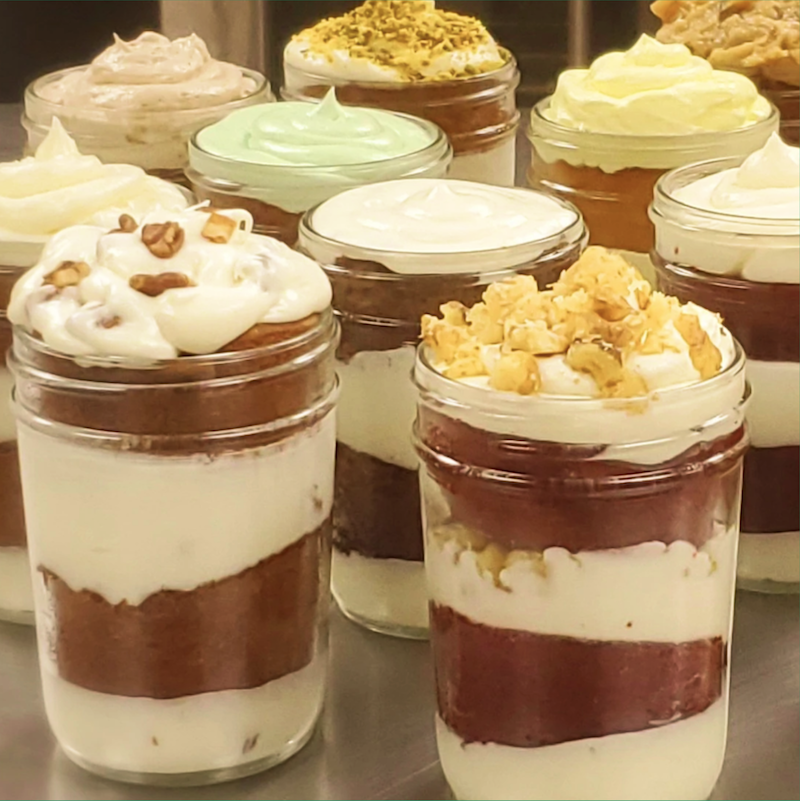 Black entrepreneurs face business challenges and barriers
Any business owner will tell you that starting a business is one thing, but growing and maintaining it is another.
We know that 20% of small businesses fail within the first year, and by year five, about half will fail. With Black-owned businesses, only 4% survive the start-up stage.
We can often attribute low success rates with Black business owners to unique challenges that other types of business owners don't always face. According to global consulting firm McKinsey:
Black entrepreneurs start with less capital
They start their businesses with an average of $35,000 of capital, while white entrepreneurs start with $107,000.
Black business owners can have difficulty accessing expertise and business services
Only 58% of Black owners sought professional services (such as legal or financial advice) compared with 70% of white owners. Expenses, inaccessibility and mistrust, can be barriers for Black business owners.
Black entrepreneurs are less likely to know about networks that can help support and promote their businesses
This results in being excluded from receiving information about opportunities, connecting with business professionals and mentors and having fewer connections with formal hubs such as banks and venture capital funds.
Building trust and a customer base can be challenging
Building trust and support has also factored into Michelli Love's and Linen's businesses.
Michelli Love recalls opening Stuzo's store in Los Angeles and being questioned about her pricing and product quality.
To help build trust, Michelli Love approached the questioning as a teachable moment.
"I would ask these customers if they went to Macy's and Target and asked for a discount," she says. "It's tough to break stereotypes. I want to build trust and show that you don't have to go into [a Black-owned business] and question the quality."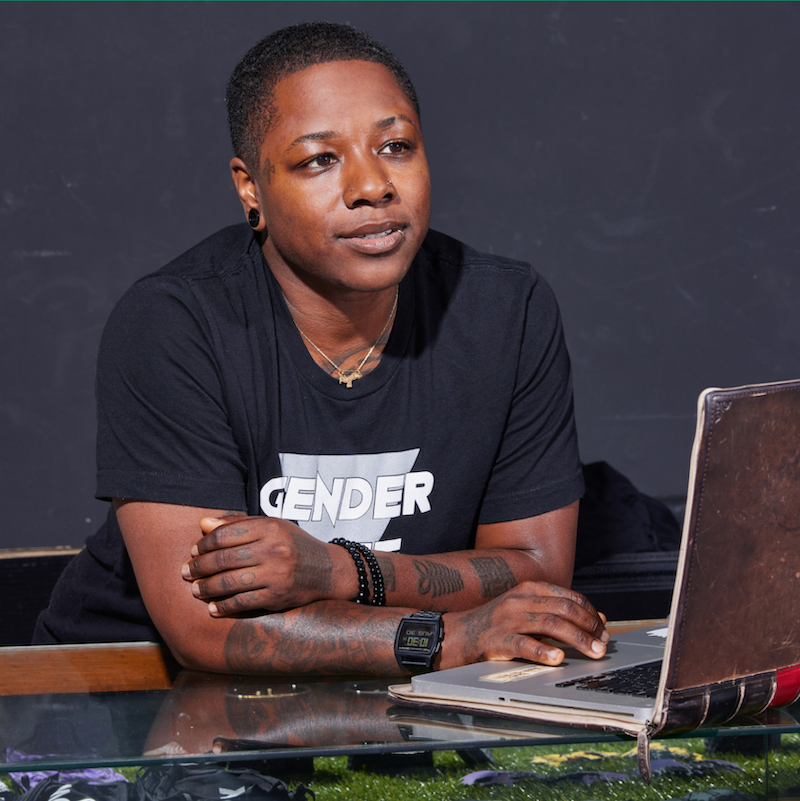 While crossing over to mainstream support hasn't been as big of a challenge for Linen, he says there is pressures to maintain a higher standard lest he erode customer trust.
"As a Black business, you almost have to be perfect," he says. "When Amazon has a package late, it's fine. But as Mark, it's not okay."
And then there's the lifeblood of many small businesses: returning customers.
Both Stuzo Clothing and Brotha Bakes experienced a spike in sales and support during the nation's focus on racial injustice and Black Lives Matter protests during 2020. However, since then, both have seen declines.
"Some of the support was probably guilt-related," Linen says. "You don't want to feel that you're being used, but sometimes the feeling is like, 'I ordered some cakes. I ordered some shirts. Good. I did my part.'"
Finding repeat customers is already difficult enough for most small business owners without the highs and lows of social awareness that Black entrepreneurs deal with.
Trust your intuition: Advice for future business owners
Whether it's building a store in Africa (Michelli Love's dream) or transitioning to vegan baking and expanding to physical locations (Linen's vision), both business owners say there is so much to explore.
"I want to impact change within the industry," Michelli Love says. "I want to show people they can take Black business owners seriously."
Having passed the initial hurdle of business ownership, they offer the following insights to new entrepreneurs:
Get a mentor
Both Michelli Love and Linen did not have mentors when they started.
While they own successful businesses now, they wish they had mentors from the start of their journey. Michelli Love looked to other successful Black-owned businesses, such as Cross Colours and FUBU, and her grandmother for motivation and inspiration.
Linen followed his dream but quickly found that he needed to work on the structure of his business.
"Looking back, having a mentor would have helped me with that aspect," he says.
Communicate with everyone
Every aspect of your business depends on communication. It helps create and build lasting relationships with your customers and employees.
"Everyone wants to be heard and feel like their concerns are being met," Linen says. "This wasn't something we did well in the beginning. Communication is key if you want to be successful in business."
Be willing to adapt and listen
One of the best parts of being an entrepreneur is that you're your own boss; you call the shots. However, that doesn't mean you shouldn't listen to others.
After some initial media coverage, including an appearance on the nationally televised CBS Mornings show, Mark felt like he was making all of the right moves with his business.
"I was closed off to change," he says, figuring he had already successfully gotten himself that far. "But when you're closed off, it affects everything you do."
Listening to others doesn't mean you have to take all the advice or suggestions given to you.
"If someone you trust comes to you with an idea, don't be so dismissive," Linen says.
The willingness to adapt helps you stay agile for opportunities to grow or improve your business while preventing unnecessary hardship.
Take care of yourself
As a native New Yorker, Michelli Love always had a "go-go-go, deplete yourself" mentality drilled into her.
However, as she felt drained and stretched too thin, she realized that working on yourself has a lot to do with your business.
"What's not taught is self-care, especially for a business owner and people of color," she says. "If you're not okay, there is no business."
Michelli Love advises that while you may want to be the best business person possible, you need to take care of yourself, too, just as you would a customer.
"Once you center yourself, you learn to trust your intuition," she says. "Things will get easier. You trusting yourself leads to others trusting you, too."
Build a support network
No person is an island, so it's important to have the right people in place to help support your business.
This could be a professional peer network, trusted advisors like mentors or accountants and family and friends who want to see your business succeed.
How NEXT supports and helps small business owners thrive
NEXT Insurance specializes in providing fast, easy and affordable business insurance options for entrepreneurs.
We're 100% dedicated to helping small business owners and the self-employed find the right business insurance for their small businesses.
We help thousands of different business types find customized insurance packages with no extra fees.
Depending on your operations, coverage can include general liability insurance, professional liability (E&O), commercial auto, commercial property and workers' compensation.
Start our free instant quote online to review your options, purchase coverage and get your certificate of insurance if you need one. The entire process takes less than 10 minutes.