If you've ever paid an expensive minimum charge just to have an electrician come to flip the switch on your fuse box, you may have considered starting an electrician business yourself. An electrician is a skilled trade so you can't jump straight in, but if are really interested, and you plan properly, there's plenty of work available. Our electrician business tips will show you how to start an electrician business off on the right foot.
Why Become an Electrician?
There are some great reasons to become an electrician today:
The average electrician earned $52,720 per year in 2016, which is well above the average salary of around $37,000
The US Bureau of Labor Statistics predicts that electrician jobs will grow faster than the average career between 2016-2026
Between new construction projects, more internet connections and the need to replace old wiring, the demand for electricians is likely to stay high
You don't need a full bachelor's degree to get started as an electrician
You will have the opportunity to work with all types of people in different settings
The Challenges of Starting an Electrician Business
Although there are many advantages to starting an electrician business, it's only fair to cover the challenges that come along as well. As an electrician you're likely to face plenty of competition, so it's worth checking out what the market is like in your area before you set up shop.
Running an electrician business means that you have all the responsibility of finding and dealing with clients. You'll also be working long hours with the potential for being called out in the late evenings, or even the middle of the night - being an electrician isn't a 9 to 5 job.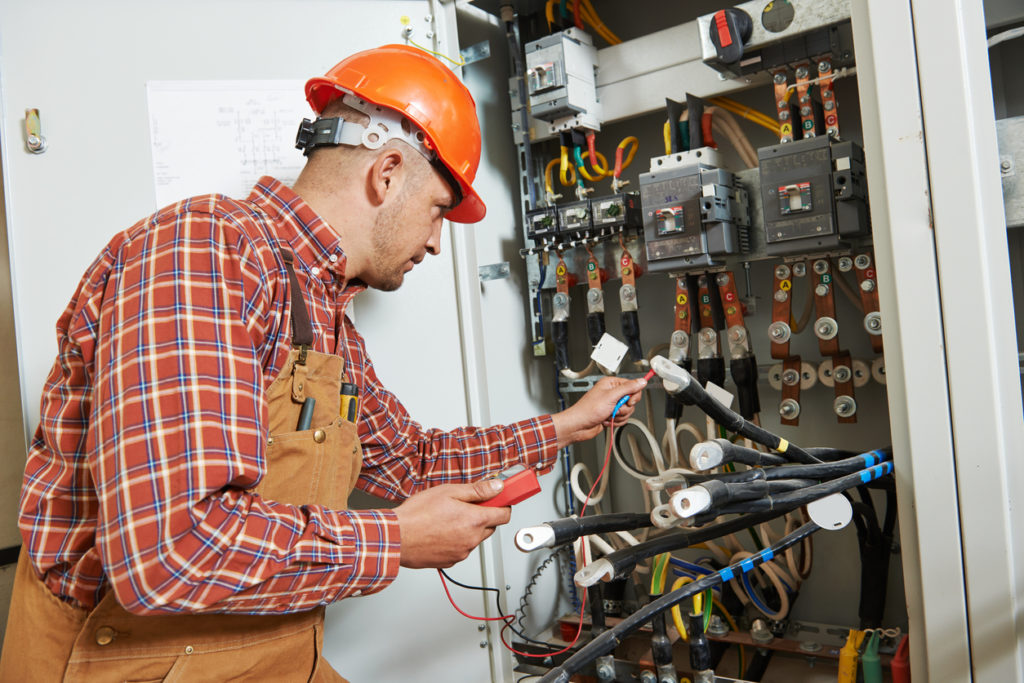 While you don't need an academic degree to get started as an electrician, you do need to commit yourself to a long apprenticeship to gain the skills you need.
Finally, bear in mind that working as an electrician can be difficult, exhausting and sometimes dangerous, as you will be working with live wires and high voltage in some cases.
What you Need to Become an Electrician
Education
You only need a high school diploma to become an electrician, but you will need to complete a four year apprenticeship which includes classroom and hands-on learning. You can get this training through one of the electricians' unions like the National Electrical Contractors Association. Training to be an electrician includes learning how to read blueprints, how to understand electrical circuits and how to adhere to vital safety procedures. You'll also learn skills like soldering and wiring outlets.
Electrician License
In most states you'll need a state-wide electrician license to work as an electrician, although some states leave it up to each city to enforce licensing. Getting your electrician license generally involves taking an exam, completing some paperwork and paying a fee.
Once you've got your electrician certificate you're considered a journeyman electrician. You can get specialist electrician licenses in different sub-topics of electrical work like refrigeration, heating and air conditioning units or elevator systems.
If you want you can complete additional skill building to become a master electrician. Master electrician requirements are different in every state, but generally you'll need 4-8 years of experience, letters of reference from happy customers and to sit the master electrician exam.
You'll also need a business permit and business license to run your own electrician business, depending on your local regulations.
Insurance
Working as an electrician can be dangerous, so getting proper electrician's insurance is vital. You'll need general liability insurance to protect yourself in case of accident or injury and to cover your customers in case anything goes wrong on a job. If you intend to employ workers, you'll also want to be sure you take all necessary legal steps to ensure that they and you are both protected.
You can learn more about Next's electrician insurance cost and coverage plans
Tools and Other Initial Considerations
It's worthwhile to invest in good quality tools that will last for years and save yourself the headache of needing to replace them after just a few jobs.
Shop around for a reliable supplier for wiring, solder and other items. Building a good relationship with a supplier will serve you well.
A van, truck, or at least a large car, to get to jobs.
An office to store your tools and supplies. If you want to keep everything at your house, check that local zoning laws permit using your home for work purposes.
Marketing to announce your new electrician business through ads in the local paper, flyers and/or internet advertising, including social media.
Business Plan
When you decide to open your electrician business, you need to begin with a solid business plan. Your business plan lays out all your electrician business ideas such as your business name, your ideal customers, your startup and ongoing expenses and how much you need to make to break even.
Becoming an electrician isn't easy, but with the proper preparation, you can increase your chances of success. Wishing you the best of luck!