Starting a business from home is an exciting venture. Whether it's your first time working, or you're looking to move away from an office job, a home-based business can be your ticket to a fulfilling career.
Advantages of a Home-Based Business
There are many reasons you might choose to run a small business at home. Most are connected to convenience, growth opportunities, and personal freedom including:
Zero commute time – When you work from home, there are clearly no traffic jams to delay your arrival. Wake up, get dressed, and you're on the job! This not only saves you a whole lot of aggravation, it gives you more hours to actually work.
Save on the rent – Running a business from home saves you the hassle of finding a compatible office space. Just as importantly, it saves you the expense of monthly rent and the commitment involved in signing a lease, before you've got much of an income.
Deduct the taxes – If you're working from home there are home based business taxes that you can deduct, to increase your overall income. These include operating expenses like water and electricity, as well as part of your mortgage and property taxes.
Multi-task – While you shouldn't be spending your day on distractions, working from home gives you time to get chores done, on the job. For example, instead of a five minute coffee break with colleagues, you can throw in a load of laundry. Rather than take an hour lunch break, eat at your desk and get your grocery shopping done online before the rest of your family comes home.
Increase productivity – Even if you're doing household chores on the side, without the distraction of co-workers you're likely to get more actual work done during your workday than you would at the office.
Keep more cash – Bottom-line, as your own boss, with limited overhead expenses, you may be able to make (and keep) more money than you would at an office job.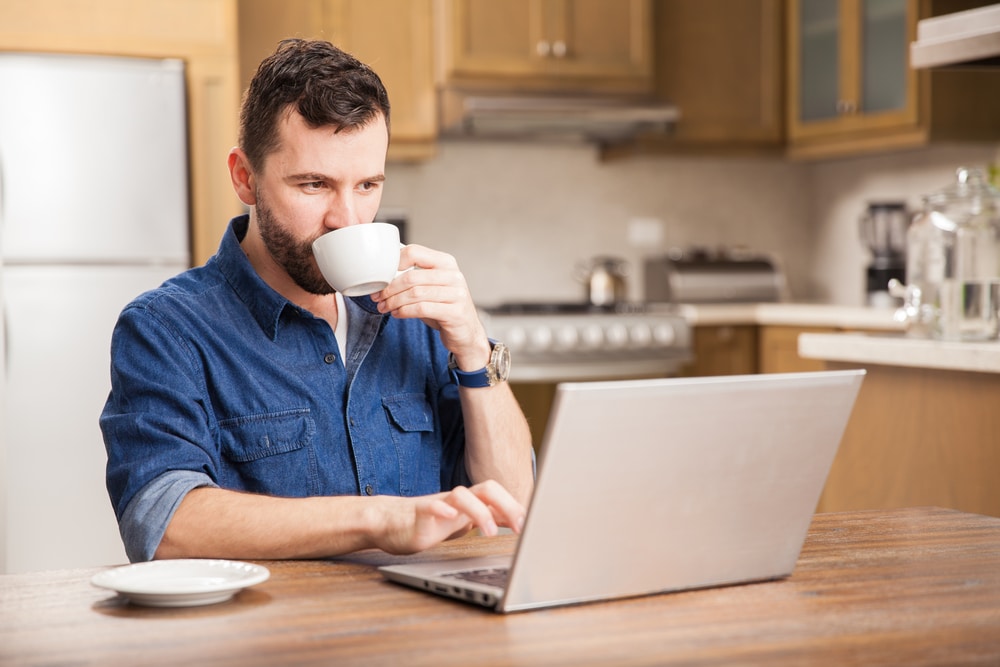 Ideas for Home Based Businesses
When people think of home based businesses, their first thought is often of freelancers like copywriters or graphic artists. These are, of course, excellent options for businesses you can start from home, but there are plenty more home business ideas out there. In fact, the options are almost endless. Here are some of our favorites:
Yoga teacher – If you're a yoga teacher, you can open a small studio in your basement.
Cake decorator – Love baking? Start a cake decorating business straight from your kitchen.
Private tutor – Want to teach? Offer tutoring services in your dining room.
Contractor – Starting a construction company? Set it up in your renovated attic.
Beautician – Whether you want to focus on giving manicures or waxing, you can do this in just about any room (with good light).
You can even use a home office as a base for a mobile business, like a mobile hair salon that travels from customer-to-customer. Your home office would be where you answer calls, process paperwork, and store your supplies.
How to Start a Small Business at Home?
If you're wondering how to start your own business from home, start with the basics. You'll need to do things like get your business license (if required by your profession) and register your business.
A successful home business will also require an investment in the right equipment to get your job done. In addition to a strong internet connection, consider things like a new computer, ergonomic chair, reliable printer, and even a headset for talking on the phone. You may also consider hiring an accountant to work with you on a monthly basis, and keeping a lawyer on file.
Don't forget home based business insurance. This should include general liability insurance, preferably tailored to your chosen line of work. So if you're a yoga teacher you'd want yoga insurance, and if you're a contractor, make sure to purchase contractors insurance.
Similarly, make sure you have proper insurance on your home. It's important that your insurance provider knows your home is serving a double purpose now. In other words, make sure that your home office activities and equipment are covered.
Moving Ahead with Your Home-Based Business
Once you've set-up shop at home, it's up to you to build your business. This includes the hours you work. You may choose to work flexible hours around your hobbies, or limited hours around your kids' school schedule.
You'll also need to do your own marketing, to get the word out that you're in business. Keep in mind, there may be some differences in marketing a home-based business as opposed to an office one.
For example, do you want a sign in front of your home, advertising your services? You need to make sure this is even legal in your area, and pay any associated advertising fees. Not to frighten you, but as your place of work is also your home, you'll also need to decide if you feel comfortable including your address in any marketing materials you create.
Other than that, more or less, it's business as usual. What that means, is up to you. All it takes is an idea and some commitment to get started. So go ahead, dream, plan and build whatever home-based business you desire. With a lot of dedication and a little luck, this could be the ultimate career choice for you.