Homeowners and business owners often need to call on a handyman for various repairs. In Nevada, maintenance and repair workers earn an average annual salary of $44,570, which is close to the national annual wage for this career path.1
If you're wondering what type of work can a handyman do legally, the answer is that most handymen in Nevada don't need a professional license. However, you will need a contractor license if you want larger jobs.
Learn more about the requirements to find out whether you need to have a license (and, if so, how to get one) in this guide covering the following topics:
Do you need a license to be a handyman?
If you plan to perform mostly minor repairs and basic maintenance as a handyman, it's unlikely that you need a license.
A common question we get asked is: does a handyman need a license in Nevada? You only need a license in Nevada if you plan to perform certain types of jobs that go beyond the scope of minor repairs. If your work will become a finished part of the structure (such as replacing flooring in an entire room) and the total for the project exceeds $1,000, you must have a general contractor license.
What's the difference between a handyman and a general contractor?
Before we get into the details of obtaining a license in Nevada, it's important to clarify what it means to be a handyman — because this will affect whether or not you need a license and what type of insurance you're going to need.
A handyman or handywoman is someone who does small repair, carpentry or minor maintenance jobs. Typically, these jobs only involve one person.
If you work on larger projects, such as building a deck or wiring a new kitchen, you could be considered a contractor and need the appropriate license and insurance coverage. A handyperson is usually someone who can complete a job on their own.
So what can a handyman do without a license? Here are some examples to help figure out if the jobs you perform mean you're a handyman or a general contractor.
Handyman vs. Contractor


How to get a handyman license in Nevada
You don't need a license to work as a handyman in Nevada. However, if you plan to take on projects which require a building license or have a value of $1,000 or more (including labor and materials), you must have a Nevada general contractor license issued by the Nevada State Contractors Board.2
There are three license classification options available:
Class A
General engineering contractor, which requires specialized engineering knowledge and skills
Class B
General building contractor, which involves construction or remodeling of buildings
Class C
Specialty contractors, which involve specialized building trades of crafts (such as plumbing and heating, electrical, carpentry, roofing and siding, etc.)
Choose the classification that most accurately describes the type of work you plan to do as a handyperson.3
Keep in mind that you must obtain a Nevada Business ID from the Nevada Secretary of State Business Portal before completing the application.4
If you need assistance in completing your application, the Nevada State Contractors Board offers three options:
Contact a license analyst by phone.
Attend a free business assistance program in person or via Zoom.
Watch a prerecorded business assistance program video online.
Upon approval of your application, you'll receive a letter from the Board with details about how to sign up for two licensing exams: a trade exam and a business and law exam.
You must pass both exams in order to get your license. You can take the exams at testing centers in Las Vegas, Reno or Elko.
Once you pass your exams, you must pay a $600 fee to get your two-year license.
Nevada contractor license requirements
When submitting your contractor license application to the Nevada State Contractors Board, you must include the following:
Work experience documentation
Your work experience documentation should show that you have at least four years of experience as a journeyman, foreman, supervising employee or contractor. If you have relevant training from a college, university or other program accepted by the Board, you may use that to satisfy up to three years of the work experience requirement.
Financial statement
The exact requirements of your financial statement depend on your requested monetary limit (the maximum contract amount you may take on from a single client) for your business. In most cases, an independent certified public accountant must prepare the statement for you.
You must also include a:
Resume with all current and past employment
Background disclosure statement and fingerprint background waiver
Copy of your driver's license or government-issued ID
Check or money order for the $300 application fee
Requirements for contractor license renewals
You must renew your Nevada contractor license every two years on the last day of the month in which it was issued. A $600 license fee applies each time you renew.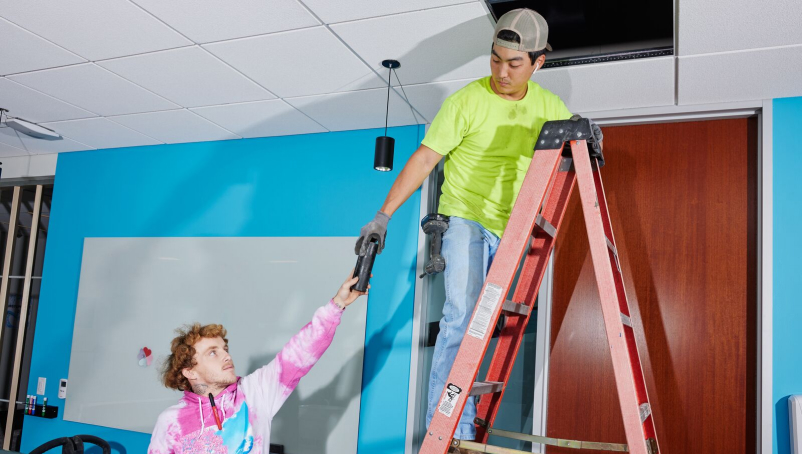 Nevada contractor license reciprocity
Nevada does not maintain reciprocity agreements with other states. However, if you already possess a contractor license in a state the Board deems to have substantially equivalent requirements, you may be eligible for an exam waiver or experience requirement waiver.5
In order to qualify, you must have held an active license in the endorsed state for the past four years with no history of disciplinary actions, suspensions or sanctions.
Bond requirements for Nevada contractor licenses
You must obtain a surety bond or submit a cash deposit to obtain your Nevada contractor license. The bond amount varies from $1,000 to $500,000 based on various factors, including your monetary limit, financial statement details and license type.
The Board will notify you after your application's approval to inform you of the required bond amount for your license.
What kind of insurance does a handyman need in Nevada?
The right Nevada business insurance can help protect your handyperson business regardless of whether your work requires a license. The following list includes the several types of handyman insurance and what they can help cover.
Workers' Compensation insurance
Nevada workers' compensation insurance can help cover lost wages, medical expenses and more if injuries occur on the job. In Nevada, you must have workers' comp coverage if you have employees.
General Liability insurance
As a handyman, your client may ask for proof of general liability insurance. This can help provide coverage for accidents, property damage and other incidents involving a third party.
Tools and Equipment insurance
Tools and equipment insurance can help provide repair and replacement coverage for damaged or stolen work gear.
Commercial Auto insurance
If you drive for work, commercial auto insurance can help cover costs related to accidents, such as medical expenses and property damage.
Commercial Property insurance
Commercial property insurance can help provide coverage for damage or vandalism to a property that you own or rent. Coverage may extend to inventory and equipment you keep in that location.
What is the certificate of insurance requirement for handymen?
To get a contractor license, you must have a certificate of insurance to show proof of workers' compensation coverage. However, you may submit an affidavit for an exemption if you do not have any employees.
How NEXT supports Nevada handypeople
NEXT Insurance helps you get the right small business or self-employed handyman insurance to protect your business and satisfy Nevada licensing requirements.
Using our online services, you can apply for insurance and get a certificate of insurance in just minutes from any computer or mobile device. You can customize your coverage to meet your unique needs and share unlimited COIs at no extra cost.
We specialize in coverage for contractors like you, and we've helped thousands of handypeople get affordable insurance packages for their businesses.
If you're ready to start work as a handyman in Nevada, get an instant quote online today.
Do you have maintenance and repair projects in an area outside Nevada? Learn what states require handyman licenses in our summary of handyman license requirements.


Sources
1 U.S. Bureau of Labor Statistics 
2 Nevada State Contractors Board
3 Nevada Administrative Code: Contractors
4 SilverFlume: Nevada's Business Portal