As a business owner, you may already know that insurance is your safety net. When something goes wrong, you can turn to insurance to help pay for things like injuries, property damage or legal fees that you would otherwise have to cover out of pocket yourself.
However, historically, insurance hasn't always been easy for people to access or understand. Simultaneously, business owners are often on the go and have little time to manage their coverage.
We know that having the right tools at your fingertips makes managing your business easier. That's why we're excited to announce the launch of the NEXT mobile app.
Our mobile app gives you access to your account on the go so you can manage your coverage anytime, anywhere — and you won't miss important notifications.
Plus, having access to your business insurance in your pocket helps you manage your needs quickly and easily.
You can share your certificate of insurance with the push of a button on your phone, and you'll have the information you need if there's a claim involving your business.
Make changes to your coverage and share COIs with the NEXT app
The NEXT mobile app makes managing your business insurance easier than ever. With the app, you don't need to sit in front of your computer or deal with phone calls to manage your account.
The app provides convenient access to your insurance information even when you're out in the field. You can make changes to your coverage, submit claims, chat or text with one of our team members and access your certificate of insurance (COI) — all with a few taps and swipes.
Plus, you'll get push notifications with messages and action items sent straight to your mobile device, so you don't have to worry about missing important updates like claim status.
NEXT's mobile app makes managing insurance simple and painless
Our easy-to-use app gives you access to your account any time, anywhere you have a mobile device, so you can prevent work delays and keep your business running smoothly. With the NEXT mobile app, you can:
Access your certificate of insurance
Whether you're trying to add a new client to your roster or come to an agreement with a business partner, some people won't work with you unless they know you're insured.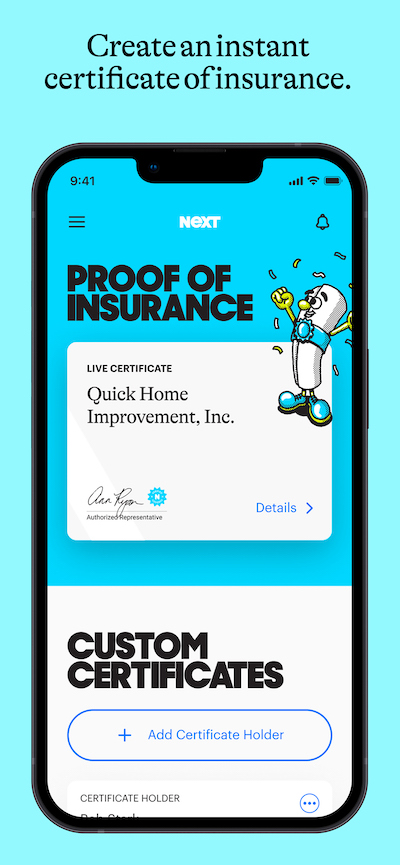 Your certificate of insurance gives them the proof and peace of mind they need to move forward.
With the mobile app, you have that proof at your fingertips. You can customize and send a copy of your COI to clients and business partners in seconds.
Having your COI in your pocket means you don't have to worry about missing out on new jobs or delaying current projects while you sort out your insurance information with clients and vendors.
You can get as many COIs as you need as often as you need them at no cost.
So, for example, if a general contractor wants to be added as an additional insured or a vendor wants to be listed as a certificate holder, you can seamlessly make the necessary changes and send them a copy immediately.
Manage your NEXT account
With the mobile app, you don't need to be sitting at your desk to view or update your account. You can make changes on the go.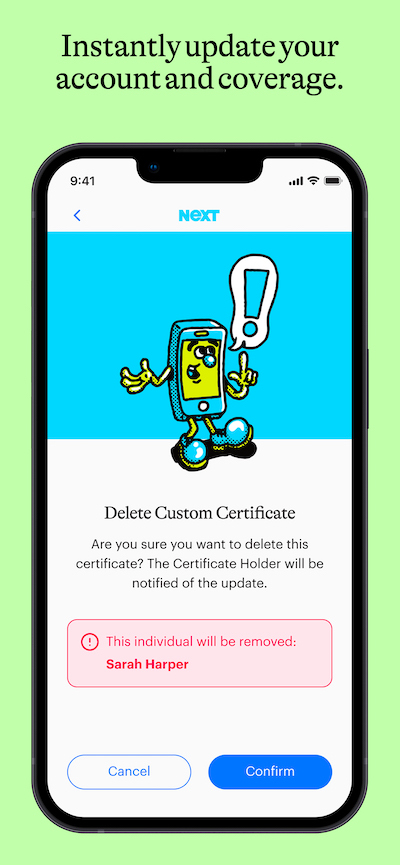 Update your current coverage, shop for a new policy or edit your payment information to prevent a lapse in coverage — all from the convenience of your smartphone or mobile device.
File a claim
Accidents happen, and when they do, it's important to start the claims process as soon as possible.
With the mobile app, you don't have to wait until you get back to your desk to file a claim and document the damage.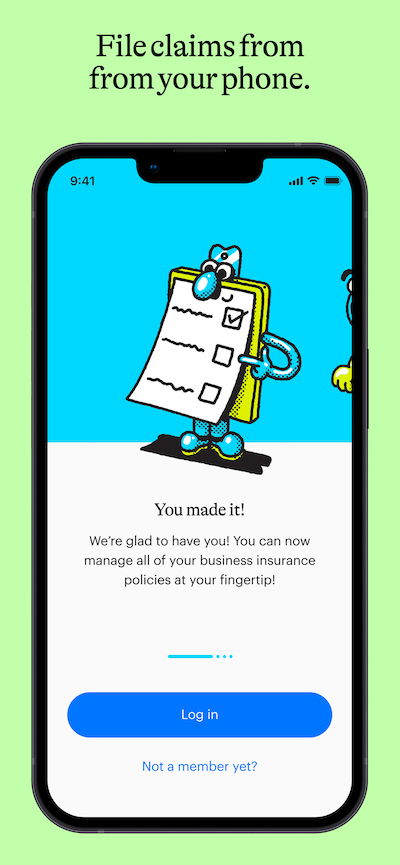 If an employee gets hurt on the job or your client's property is damaged — despite all the safety measures you put in place — you can use the photos you take with your smartphone to file a claim at the time of the incident.
We work to make claims decisions in 48 hours. However, it may take a little longer, depending on your situation. But don't worry. You'll get updates on the status from our claims advocates throughout the process.
NEXT is dedicated to helping small businesses thrive
Insurance doesn't have to be complicated or stressful, especially with super convenient mobile apps that let you manage insurance yourself.
NEXT is 100% dedicated to helping small businesses thrive. We provide simple and affordable insurance solutions to more than 1,300 different types of businesses.
The NEXT mobile app keeps your certificate of insurance at your fingertips and helps you manage your coverage on the go. You'll be ready to start the job as soon as you get the job.
Download the NEXT mobile app for iPhone or Android devices to get started today.