If you run a commercial cleaning business, you won't be surprised to learn that the number of cleaning companies has risen and competition has increased. One way to ensure steady income is to secure cleaning contracts for your services.
However, you might be wondering how you can successfully compete for these contracts in a notoriously competitive landscape, where customers can quickly move on if they're not happy. The answer is twofold: demonstrating you understand what the client needs and then convincing them that your unique cleaning services can get the job done.
In this guide we'll go over:
Essential requirements for a commercial cleaning service
Starting a commercial cleaning business is fairly simple compared to other businesses that need large equipment or a commercial space to operate in. However, there are a few essentials you'll need to take on cleaning jobs.
Is your business licensed?
While most cleaning services are legitimate, reputable contractors, there are those individuals that are not. To get office cleaning contracts, or other types of commercial cleaning contracts, make sure your service has a business license so you can operate legally.
Each state has different license requirements to conduct business, but most states will require a vendor's license and a "doing business as" (DBA) license. Check with your state's department of revenue or taxation authority. You should also check with you local city or country licensing board.
Operating without a license can result in step fines or even jail time. Getting your license and providing it to customers shows that you are a proper professional.
Does your business have adequate insurance?
Every business has risks due to the nature of the work performed. A commercial cleaning company runs the risks of customers slipping and falling and of employees damaging or destroying some item on the customer's property while cleaning.
Customers do not want to risk being financially liable for injuries, or for their own property being damaged. Having cleaning business insurance gives potential new clients evidence that your business is financially responsible and trustworthy.
Most cleaners can benefit from liability insurance such as:
General Liability: Covers some of the most common accidents when you work with clients — property damage and injuries to non-employees.
Professional Liability: (Also known as errors and omissions insurance) Provides financial protection if your client claims you didn't do a good job or if you're accused of making a mistake that causes someone to lose money.
What is a commercial cleaning contract?
Generally, a contract is a cleaning service agreement between the cleaning business and customer outlining the terms of services provided. It will typically include (but is not limited to):
Basic information: The names of the parties involved with contact information
Scope of services: Work schedules and cleaning duties
Employment information: Duration, renewals and termination of employment
Payment details: Payment terms, due dates, payment methods and more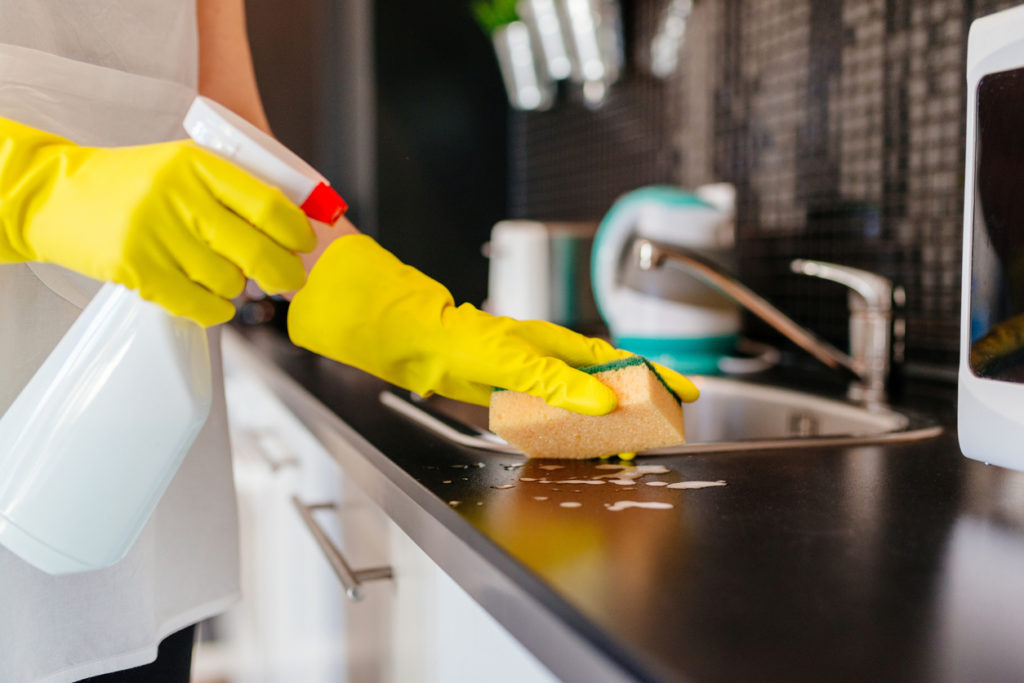 How to get clients for a cleaning business
Unfortunately, commercial cleaning contracts won't just magically appear — especially the more lucrative ones. If you're trying to build a name and get clients for your cleaning business, you may want to take some of the following steps:
1. Determine who is your target customer
There are many types of commercial businesses that need cleaning services including small businesses, offices, factories, industrial shops, schools, hospitals, etc.
Each of these types of businesses have specific cleaning needs that might require specialized products. Or, they may have to meet specific Occupational Safety and Health Administration (OSHA) codes.
Develop a niche and market to their specific needs. Setting yourself up as an "expert" in those needs and requirements differentiates you from your competitors.
2. Research your competition
Make sure you know who your competitors are and what they offer commercial businesses. Many large national franchises such as Jani-King, Servicemaster, Molly Maid etc. have a lot of financial resources and staff.
To compete effectively against them, you will need to be able to convince a business owner that your products and services are better than what your competition offers. Are you more experienced in their industry or the type of cleaning they need? Do you use eco-friendly products? Do you have better customer service? Look for ways to differentiate your business.
3. Develop an online presence
Think about the last time you made a purchase, booked travel or made a dining reservation. Did you do a little research online or read some reviews? Chances are, you did; and so are your potential clients. They're out there searching for a cleaning service provider and/or evaluating your business without your awareness.
Today, it's important to create a digital presence so people can find your business via search engines or social media.
Some marketing strategies to consider:
Build a website where you can market your services to your specific audience
Post positive customer testimonials on social media and your website as social proof
Encourage happy clients to review your business on review sites like Yelp
Create a blog, FAQ page or answer common questions on social pages
4. Network wherever you can
Winning commercial cleaning contracts is often about networking and getting your name out there in your town. Potential clients are all over the place; they just don't know you yet.
Depending on your specific niche, you can start cold-calling or asking to meet with business owners, facilities supervisors or office managers. While they may not need work at the moment, they may know of someone who does.
You could also try to partner with other local businesses to help build your network. For instance, local real estate offices have contacts with other commercial spaces and apartment complexes and can help you gain referrals.
If you do have a meeting, make sure to write down as many details as you can and ask questions about the job so you fully understand what's expected. That way, when you put together your bid for the job, you can feel more confident that you're tailoring your services to the customer.
5. Join a professional trade association
Belonging to a nationally recognized association can provide an assurance of professionalism and basis for trust.
A trade association such as the Worldwide Cleaning Industry Association (ISSA) or International Janitorial Cleaning Services Association (IJCSA) offers cleaning businesses the ability to connect with other professionals and sometimes leads for job opportunities.
Additionally, an association offers you the ability to gain insights and information from other businesses in the same industry, stay abreast of industry news, obtain discounts on business supplies and services, and receive training and certification for businesses and employees.
How NEXT helps you grow your cleaning business
Finding commercial cleaning contracts can be time-consuming, but an ultimately rewarding process if you want stable work. NEXT Insurance helps you by ensuring you're only paying for the cleaning insurance you need and making that coverage easy to manage.
Here's how: You can get a quote, customize your insurance package and get your certificate of insurance in less than 10 minutes. The certificate is accessible 24/7, so you can show it to potential clients anytime you need to, helping you stand out by virtue of speed.
If you need any help, our U.S.-based, licensed insurance professionals are standing by to answer any of your questions.