Whether you're starting a cleaning business, or looking for a new marketing spin, going eco-friendly can be an excellent choice. That's because environmentally friendly businesses are all the rage these days. People love the idea of enjoying a service while keeping healthier, and doing good. For you, an eco-friendly business is an excellent way to set yourself above the competition and charge a premium.
So why not give them what they want, gain value and earn good money, and go green, all at the same time? It's easier than you think.
Why Go With Eco Friendly Contracting Trends?
While you don't want to be a follower, there are certain trends worth considering. A green cleaning business, for example, is one.
What creating an eco friendly business does is set your services apart from the competition. In other words, there are lots of cleaning businesses out there, that all do more or less the same thing. To standout from the competition, you need a twist, with clear-added value. Being an eco-friendly cleaning business gives you just that.
The Big Benefits of Green Cleaning Business
There's a strong interest in eco-businesses these days, and the cleaning industry is no exception. In fact, it's one of the best eco friendly business ideas, answering a very clear need, as consumers move away from traditional cleaning chemicals and embrace more natural solutions such as vinegar and baking soda.
When you create an eco friendly business, you can say that your services are:
More sustainable
Healthier for your customers (and workers)
Less damaging to the environment
Differences Between Standard and Environmentally-Friendly Cleaning from a Business Perspective
When moving towards any type of organic business, you need to keep a number of factors in mind. In particular, if you're moving towards an eco-friendly cleaning business, these include:
Types of products – Eco-friendly cleaning products are cleaning products that are free from toxic chemicals. There are dozens of companies that make everything from dish soap to laundry detergent, disinfectants and floor cleaners, all using environmentally-sound ingredients. You can also make household cleaners yourself. Learn to use vinegar, baking soda, lemons, essential oils and more to scrub any surface clean.
Price paid for products – As green cleaning becomes more popular, the price difference between eco-friendly and standard cleaning products is dropping. However, keep in mind, even if your cleaning products are slightly more expensive (and perhaps less available in bulk), you will be charging a premium for your services. This should help to make up for the difference in cost.
Performance – Remember, people are paying you to clean their business or home, so they expect excellent results. Eco-friendly cleaning products for business need to be as effective as their more caustic traditional alternatives. Make sure to test all products properly, before using them at customer sites. The green products should clean just as well as traditional products, and leave the same good scent that customers like.
Efficiency – In addition to ensuring they clean at least as well as traditional cleaning products, the green products you use should work just as fast. If they work faster, even better. Customers who are using any type of cleaning service are paying for efficiency. Make sure to test new products at home first, so the job doesn't end up taking twice as long, leading to dissatisfied customers and work that's not going to get you a recommendation.
What to Consider When Going Green
Once you decide to make your business green, you must market yourself accordingly. This is a great way to stand out from the competition in the crowded cleaning space, and gives your business clear added value. How so?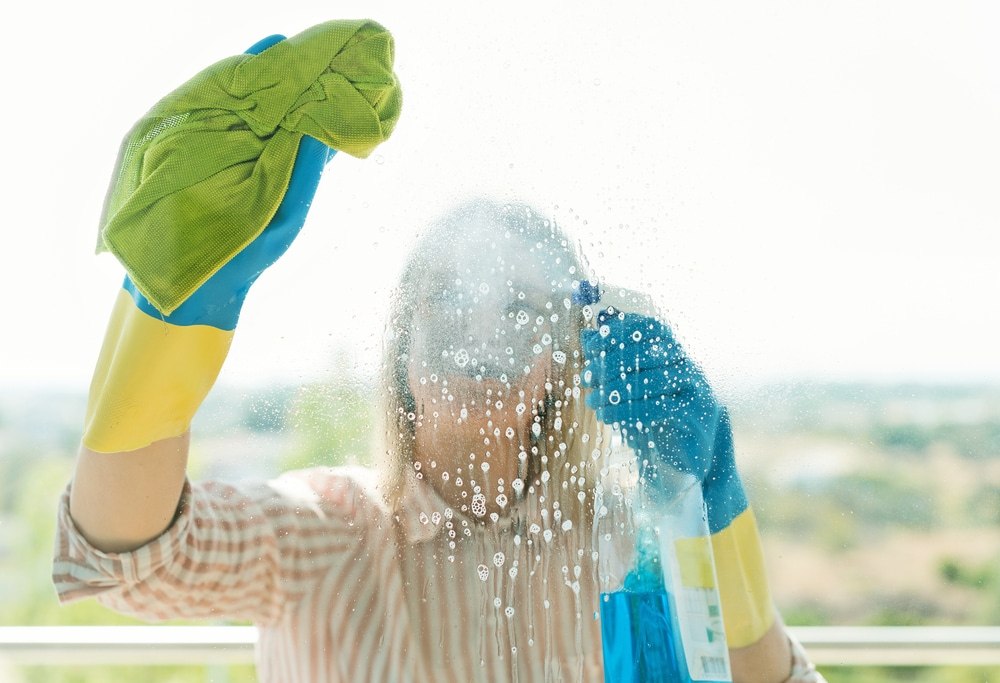 You are offering your customers something more than competitors. You give them toxin-free cleanliness. This is huge for parents who might worry about the chemicals their young children are around, anyone with allergies, or even people who realize that breathing in bleach can't possibly be healthy. You can use this to your advantage. Start by creating a company slogan and logo, to fit your eco-friendly status, perhaps using green as a color to further emphasize what makes you special.
After that, any marketing you do should make it extremely clear what types of products you use, and the many benefits to customers. For example, if you write a blog or keep a Facebook page, make sure it highlights things like the different products you use, or advantages of an overall green lifestyle. On Instagram, you can take close-up pictures of the ingredients list. If you print business cards, always make sure that the healthy, toxin-free appeal of green cleaning is front and center.
As part of your holistic approach, you should also make sure at this point that you have cleaning business insurance. This is important for your business to thrive, as it enables you to focus on growing your business. Plus, it shows customers you're a serious business, supported by responsible insurance.
You may also want to update your business plan. While you may think cleaning is cleaning, an eco-friendly cleaning business requires different marketing, products and perhaps even training and pricing. It's always good to get all those details down on paper, so you know where you stand.
The bottom line is that whether you're starting your own cleaning business, or looking for a new niche, eco-friendly is a great way to go. You benefit, the customer benefits and frankly, so does the world.