Whether you're a new third-party seller on Amazon or a pro that's been at it for years, it's important to protect yourself with business insurance.
Amazon also requires some sellers to carry active coverage. In this article, we'll cover everything you need to know about Amazon seller insurance, including:
Do I need insurance to sell on Amazon?
If you are an Amazon seller with a Pro Merchant account and gross sales of $10,000 a month or more for three months in a row, Amazon requires you to have insurance.
Even if you're not required to have insurance, you may want to purchase it anyway to make sure you are protected if someone claims you caused an injury or property damage.
Your coverage can usually protect you from financial losses if you do business on other websites or at a brick-and-mortar location, too.
Amazon seller insurance requirements
Here's what you need to know about purchasing an insurance policy that meets the Amazon Pro Merchant insurance requirements.
You'll need liability coverage
You need $1 million in liability coverage, per occurrence and in aggregate, to meet Amazon's sellers insurance requirements for Pro Merchants.
Your policy (or policies) must include coverage for:
Products liability
Products/complete operations
Bodily injury
Personal injury
Broad form property damage
Broad form contractual coverage
It's worth noting that general liability policies typically include coverage for bodily injury, personal injury and property liability, but they don't always provide product liability coverage. At Next, we include it.
Add Amazon as an additional insured
When you purchase coverage, you must list Amazon and its assignees as additional insureds on your policy. If you think that sounds like a lot of insurance jargon — you're right!
Basically, all it means is Amazon will have protection from your insurance provider if someone sues them because of something you did.
Because they're listed as an additional insured, your insurance policy would help pay for the cost to defend them in a lawsuit and any settlement that may be awarded, up to the policy aggregate limit.
Provide proof of coverage
Amazon might send you a request for a certificate of insurance. If that happens, you must send it to Amazon at: c/o Amazon, P.O. Box 81226, Seattle, WA 98108-1226, Attention: Risk Management.
If you have coverage with Next, you can download your certificate as many times as you want, 24/7, at no extra charge.
For additional details on Amazon's insurance and other seller requirements, we recommend checking out Amazon's Program Policies and the Amazon Services Business Solutions Agreement before you get started.
This will help you understand expectations of you as a seller.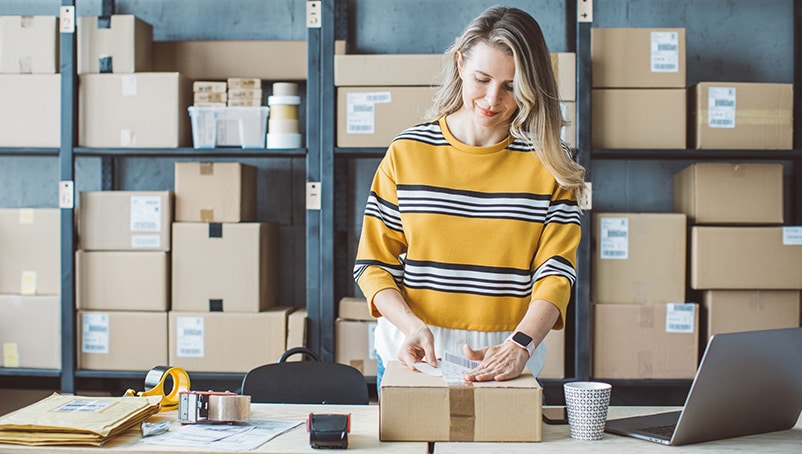 Why do Amazon sellers need insurance?
Amazon doesn't want to assume responsibility for malfunctioning products or lawsuits filed by disgruntled customers. That's why they require sellers with a Pro Merchant account and gross sales of $10,000 or more to carry insurance.
But keep in mind that even if you're not required to have insurance to sell on Amazon, it's a good idea to get coverage anyway because it can help protect your finances if something goes wrong.
Here's how.
Let's say someone buys the face serum you sell and has a severe allergic reaction that sends them to the emergency room and leaves them with a stack of medical bills.
Or the battery of a remote-control car you offer explodes in someone's living room and burns the carpet and sofa, which now need to be replaced.
If your customers sue you to pay their medical bills or replace their damaged property and you have insurance, the insurance company will help pay to defend you in a lawsuit and cover any settlement that may be awarded. Or your coverage might help resolve the situation before you even go to court.
If you don't have insurance, you'll have to cover the costs yourself, which can be expensive and lead to a financial loss.
Even if you're selling something that poses little to no risk, it's better to be protected.
Don't forget someone can sue you even if you haven't done anything wrong. And insurance will help pay to defend you — no matter how frivolous the lawsuit may be.
How Next can help you get the sellers insurance you need
At Next, we work directly with Amazon to make sure the policies we offer satisfy their insurance requirements.
Getting the coverage you need for business is easy.
Our application process is 100% online, which lets you review your policy options, purchase coverage and get your certificate of insurance in less than 10 minutes, so you can start selling your stuff right away.
If you have questions, our licensed, U.S.-based insurance professionals are ready to help.