For a catering business to advance its catering marketing strategy, a great deal of work needs to happen both inside and outside of the workplace.
Not just with forming a reliable team and streamlining your process, but you have to think of outside businesses, too, that you have to outperform. Think of all the catering rivals, such as pubs, cafes, luncheons, and even hotels that host events. Overall, it's important to capitalize on every part of catering marketing or advertising so you can propel your business over others and prove to clients why your food services are the best.
That said, there are tons of ways to gain customers and prove to them that your business is the real deal. To start, you're going to want to get your hands on a catering business license as it is illegal to work without one, even for very small catering businesses. Thankfully, Next Insurance offers a step-by-step guide to acquiring a catering business license, and in no time you'll be cooking like a pro.
Okay, now onto the fun part—marketing. Here are some of the best catering marketing ideas you can use to promote your catering business:
Offline Catering Advertising:
Don't underestimate the power of offline advertising.
The first step in your catering marketing plan might be creating advertisements in the real world, which can still be effective even if everyone is attached to their smartphones.
For instance, one immediate and simple option that comes to mind is a banner. Them being attention-catching and easy to read are two attributes any banner should have so people are aware of your catering business. Plus, when the time for a wedding or maybe even graduation comes along, they'll know who to go to from your catchy campaign
In addition, relying on people to see your advertisement while walking can only get you so far since most people spend a lot of time driving, too. So, another marketing plan for your catering business might be utilizing a billboard. People driving are sure to shift their focus from the road (momentarily) to something a bit more exciting, and that's where your catering advertisement comes in with some delicious looking food. Couple this with a nifty catchphrase or a cool picture of your logo and you've got a lot of people seeing your ad and being aware of your services.
To go along with billboard advertisements, a bus or something else that transports all of your catering needs with a unique business design on the outside could be another option to pursue. A name, number, and tag-line plastered onto it gives other drivers and potential customers all of the information they need to use your services.
Other ways of advertising like flyers, taking out an ad in the paper, or even showing up on ad space in restaurant menus are all viable options.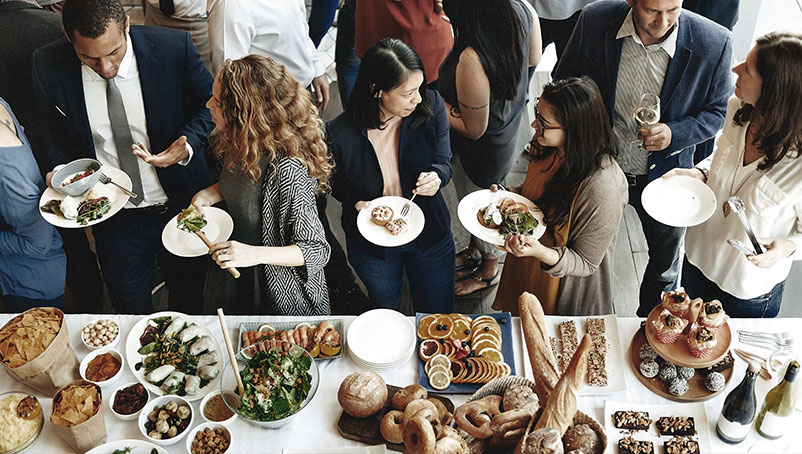 Online Marketing for Catering Business
While the internet is nothing new, people still may not know how to market a catering business online.
Luckily, building websites to promote your catering business has never been easier. One step you can take into the world of marketing online is establishing a main website or platform that all of your customers can flock to. Even if you're not tech-savvy, there are a plethora of helpful website builders out there that can help you make an organized main page that branches out to every customer's needs, which would include finding venues, ordering food, scheduling events, etc.
Especially for a catering business, having various social media accounts would also be a huge benefit since so many people are online interacting with businesses daily. On top of being a way to give immediate updates on the business, social media is a great way for potential clients to get in direct contact with you if they don't want to call. People can give the account a quick look and if they're interested, then you've got yourself a new follower and a new lead.
Marketing a catering business on Instagram or Facebook would probably make the most sense in this case since you can make a post with a picture of your food or event, tag anyone (maybe a client), and do it quickly and easily.
Or with Instagram's story option you could post a venue set up along with a "thank you" to the client who purchased it. Giving customers gratification will warm the hearts of the viewers and make the client want to come back. Don't forget, any nice post that you can share helps promote your business and attracts customers.
Partnerships
Partnerships are essential for any catering business because people are going to want catering at events like birthdays, weddings, housewarmings, BBQs, you name it.
Therefore, partnering up with a town hall that has a big space for catering events is perfect for your business. For instance, some locations have an extra room, reception area, an unoccupied 2nd floor or basement that is meant for catering, so partnering up with them is a must to accommodate your clients and make things easier for yourself.
Other potential partners for your catering business should be athletic centers, hotels, entertainment areas, police/fireman stations, parks, the list goes on. Any place that has a designated venue space should be a candidate to partner with your business. Not to mention, while your catering business is thriving, the venues are also gaining customers and profit that are likely to come back when the time for another event comes up.
Quality
The last thing you want is an unhappy customer blaming your food for getting them sick, so you're going to want the quality of your food to be excellent no matter what.
This means that when preparing food, every ingredient should be fresh when being concocted into a dish and the area around it should be clean so no residue finds its way into the mix. Alongside good food, tables and chairs should look appealing and organized, the bar should be well-stocked and maintained by a trustworthy bartender, and the space itself should have a pleasant and fun atmosphere for the occasion. A wedding should look and feel like a fun, memorable ceremony, where's a kid's birthday party should be silly, energizing, and exciting.
If there is a problem, you and your fellow caterers should be understanding and willing to take criticism. Always ensure that communication between you and clients is clear so that nothing goes wrong before or during an event. No one wants to have the wrong food prepared/delivered to the venue, or deal with last-minute mistakes that could have been avoided with the right dialogue.
Improve While Growing
As your business grows with various marketing and advertising strategies, things are most likely going to get hectic at times. This is why it's important to retain a great quality of work while you're acquiring more clients, as well as preparing for more events since you don't want your success to backtrack.
In case things get dicey, business insurance or catering insurance can keep you protected. Simple, affordable, and tailored are the main benefits that come with Next Insurance and are attributes that any business needs to upkeep success.
Safeguard yourself with Next Insurance at an affordable price while also taking your catering business to the next level.