Is running a successful catering business the same as running a successful restaurant?
No, as Ann Crane, the owner of Meyerhof's Cuisine and Catering in Irvine, California told Entrepreneur Magazine. She said, "Most restauranteurs hate catering for the exact reason that I love it: It's different every day." One of the keys to your success as a caterer is creating a strong catering business plan.
Creating a catering company business plan isn't just about filling out a downloadable business plan template as quickly as possible. You might find the task of completing a business plan difficult and boring until you consider the categories the plan includes. Each of the plan's categories represents an aspect of your business that you need to be aware of.
Many parts cover tasks you need to complete to run a successful small business that serves food to weddings, conferences, award dinners and business or family events.
What Should a Catering Company Business Plan Include?
A food catering business plan should include elements that are common to all business plans, but it should focus on elements that are specific to the catering and food services industry. These are the main sections your catering services business plan should include:
Executive Summary
The executive summary of your catering services business plan should provide an overview of your business revenue, expenses, break-even projections, and basic business facts. Executive summaries shouldn't be longer than one page, and they should also be written after you've finished all the detailed parts of your food catering business plan.
Business Facts and Leadership
Take the time to write the facts about your catering business, including, but not limited to:
Business location and types of catering you plan to do
Business leadership and qualifications - even if you're a sole proprietor
Facilities and equipment - including if you're using a commercial or shared kitchen space
Market and Opportunity
How many caterers are in your community? Can you find out how many events take place, how many venues you could work with, and what your potential could be per month, and per year? You should conduct market research to learn where the type of catering you plan to do could fit into your community and the area you're able to cover.
Products and Services
If you have planned menus and prices, this is the place to put them.
Most caterers specialize in menus for specific events, like wedding rehearsal dinners or cocktail mixers. You may also cater a certain type of cuisine, like Italian, Indian, or Vegan/Vegetarian food. In any case, providing sample menus, pictures and pricing will not only increase the quality of your business plan, it will also provide you with product lists and pricing that you can show to customers.
Competitor Analysis
You need to know your competition, their offerings, and their pricing. This will help you to decide how to price your services and give you an idea of what customers are purchasing from other caterers in your community. You can also identify opportunities for catering services that your competitors don't offer.
Operations Plan
Your operating plan will include your hours of operation, the events and quantities you can cater, and your staffing plan.
Include information about salaries, your catering business license, insurance and permits, and food service regulations and certificates in this portion of the plan.
Some operations plans include organization charts. Even if you're a sole proprietorship, you're likely to need occasional help for setup, service, and takedown/clean up. Include these staff members in your operations plan.
Financial Projections
Most business plans include three years of financial projections, but they can extend up to five years. You should include your fixed costs and variable costs in financial projections. Fixed costs for small businesses, including catering businesses, can include:
Business insurance
Rent or lease payments
Equipment costs
Legal costs
Fees and permits
Variable costs can change from job to job and seasonally. They include:
Food and supply costs
Fuel and transportation
Utilities
Advertising and marketing
Salaries and wages
Catering businesses can start out small. You can rent equipment that you know you'll only use occasionally while you're starting out, including items like champagne or chocolate fountains. Later on, if you develop a specialty like wedding receptions, you can purchase equipment and add it to your business assets. Equipment purchases you hope to make are one example of a one-time cost that you could add to later years of your business plan financial projections.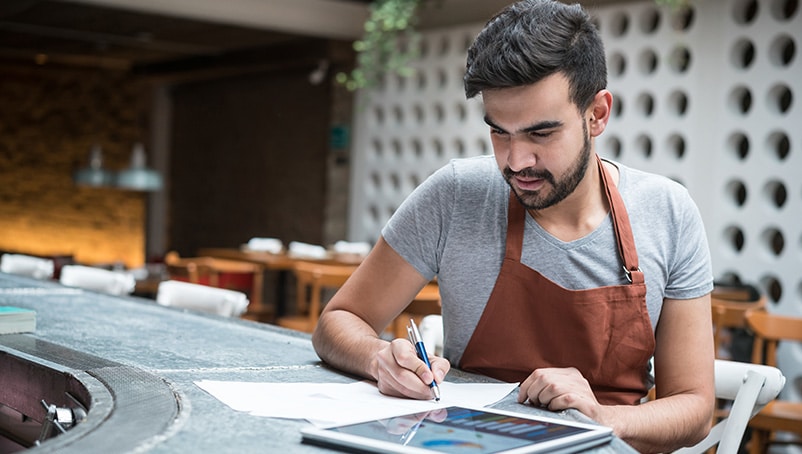 What are the Most Important Elements to Focus on When Creating a Catering Business Plan?
Pricing in the catering industry has elements of the art of working with people along with hard-nosed financial planning.
While you know that you need to build a profit factor into every job, each community or type of event differs in the norms that people are accustomed to paying per attendee, from cocktail parties to full-service meals for formal awards dinners. Most catering businesses will focus on corporate clients, family or social events like weddings and bar mitzvahs, or cultural and community events. Each type of event has its own special considerations.
Catering business plans should have complete, realistic descriptions of their products, services, and pricing. They should also include realistic assessments of the size of event you can handle, from small to large. The plan should also include detailed information about your business license, food handling certificates, food preparation and delivery procedures, and business insurance.
Some business plans include a "SWOT" analysis which stands for "strengths, weaknesses, opportunities, and threats." You don't always have to include a specific section in your catering business plan as a SWOT analysis if you've already talked about your qualifications, presented your products, services, and operations plan, and prepared careful financial projections. Potential customer complaints or problems like food-borne illnesses are threats to any food service business, including catering.
Don't Neglect Catering Insurance as Part of Your Catering Services Business Plan
Catering insurance will protect your business from risk and claims related to property damage, damage to your equipment, or any unforeseen events, including injuries to customers and employees.
When you're working on a business plan for catering business, you're really thinking through how your business will operate successfully and grow. Writing a catering business plan can seem like a lot of extra work, but when you write down the plan, you'll also be writing down the actual work you need to complete to have a successful small business. A written business plan will help you to serve as much delicious catered food to delighted customers as possible.