Do you know how to get work as a handyman? You're always as good as your last job. And a word-of-mouth referral — online, in person, within a community or in business circles — is the most powerful tool in your toolbox.
These tried-and-true methods can help you source, find, bid on and win handyperson work to help keep your workload thriving. Jump ahead to read:
What kind of jobs does a handyman do?
A handyman or handywoman has a knack for problem-solving. From minor home repairs like fixing leaky faucets to basic renovations like repairing drywall, there's a lot of flexibility around their work.
But handymen don't have free rein to just start working. Laws and handyman license requirements vary by state dictate the type of work you can do and the scale of the project. In some cases, if the project exceeds a certain cost threshold or is part of a larger job, you might cross into general contractor territory.
1. How to find handyman jobs online
Websites and apps are a good place to begin marketing your handyman business. Once you start to bid on jobs and get work, schedule your work carefully. Make sure you give yourself enough time to complete jobs so your customers are satisfied and willing to recommend you to their friends.
The 5 best online communities to find handyman jobs
If you're a handyman looking for work, here are some of the best websites to help you find handyman jobs:
The 4 top handyman job listing websites
In addition to community sites, these job sites are a great resource to find handyman jobs:
How to use social media to find handyman jobs
Social media for small businesses is a must. You can use sites like LinkedIn, Facebook, and Instagram to display your talents and publish pictures of completed jobs. You can build a portfolio of your work on each site and write and share relevant information.
Before you start posting, it's best to develop a plan for your social media efforts to get the most out of these channels. (Avoid posting personal photos and political comments that might turn potential customers away.)
Join online communities and forums
Don't overlook online communities and forums when considering how to get work as a handyman. It can be a virtual hub of opportunities, valuable connections, and a supportive network where word-of-mouth referrals and job postings flow freely.
You can showcase your expertise by sharing tips on tackling home improvement projects to start building a relationship with potential customers. Then, you'll be top of mind when they need a handyperson.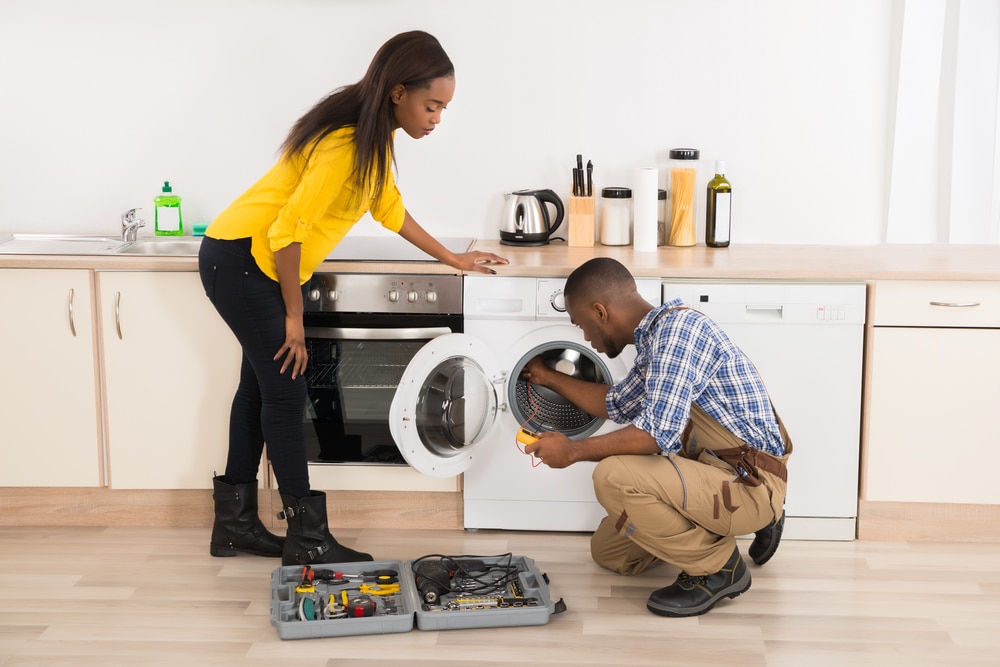 2. How to use local businesses for job leads
Local business owners can be a game-changer for job leads as a handyman. It can expand your network and position you as a reliable handyman resource.
Connect with real estate agents, contractors and suppliers who can send valuable referrals your way. Strike up a conversation with homeowners associations and property management companies, too. They may oversee maintenance for multiple properties and outsource some of their tasks.
Local hardware stores, home improvement centers, and community gathering spots like libraries or cafes can also be a steady stream of work. Leave your business cards or flyers in these locations to catch the attention of homeowners who may need handyman services.
3. How to find government handyman jobs
Working for the government can unlock a steady and reliable income. Federal agencies use USAJOBS.gov to match applicants to jobs. Finding handyperson jobs at the federal level might be competitive and somewhat slow, but the rewards can be worth it.
You can also expand your search to local government opportunities to win handyman contracts. Keep an eye out for listings on employment agencies, recruitment firms and platforms like Indeed.com, where government handyman jobs occasionally make an appearance.
4. 6 tips to help you bid on handyman jobs — and win
Your bid should ensure that you're able to complete the job, cover your expenses and profit. But before you start bidding on handyman jobs, consider strategies that can put you ahead of the competition. These tips can help.
Some handymen swear by an hourly rate, but it might be better to charge by the project.
When you meet the customer, build a rapport with them to earn their trust and confidence.
Begin by asking if the customer has a pressing timeline so you can factor that into your price and workflow.
Sell your value, and get paid what you're worth. Highlight your experience, provide references, emphasize your reliability and underscore the security of carrying handyman insurance.
Remember that other handymen might be bidding against you, so your bid must be reasonable. Have a look at what other handyperson contractors are charging for similar jobs in your area.
Once you offer your bid, give the customer time to decide. Follow up after several business days and remember the power of patience.
The obvious expenses you'll need to consider in your bid are:
Tools.
Supplies.
The time it will take to finish the job.
The not-so-obvious expenses include:
Travel time to the project location.
Permits.
Overhead costs (rent, office expenses, taxes and handyman insurance).
Professional services (bookkeeping, accounting and advertising).
When you offer a bid, check to see if the work will require a handyman license. And look for any potential dangers like electrical wires that could interfere with the job.
5. How NEXT can help a handyman find more work
Many states require handyman insurance. But even if it's not a requirement, the right coverage is a crucial safeguard against injury, illness, property damage and more.
NEXT offers customized insurance that's tailor-made for small business owners like you.
Our 100% online platform makes it easy and convenient to get an instant quote, review coverage options and purchase your policy in less than 10 minutes. You'll get immediate access to your certificate of insurance without needing to call an agent.