There are some professions that require a certain amount of education and certification before you can do business. In many cases, these professional certifications provide the general public with assurances that you are capable of completing the task correctly and safely.
Some cities and states require certification or licensing before you can start a business.
A welding certificate shows potential employers that you've completed required classes and learned the skills you need to perform specific welds. With a welding certificate, you may be able to get a job in automotive manufacturing, steel fabrication, plumbing, or construction. Many welders also choose to start their own business.
Welding Professional Education and Certification
Certification is a key part of completing professional education. Gaining certification shows that you've achieved a level of knowledge and can demonstrate the skills you've learned in school.
Getting certified typically involves taking an exam. In many cases, you'll first complete a program of study that includes specific classes that set you up for success.
Here are some examples of professional certifications:
Web development
Construction and building inspector
Industrial engineering technician
Architectural and civil drafter
Pipefitter and plumber
Mobile equipment mechanic
Court reporter
Sheet metal worker
Surgical technologist
Heating, air condition, and refrigeration mechanic
Machinist
How to Choose a Course for Welding Certification
Many community colleges and vocational schools offer welding training programs preparing students for passing the welding certification test. Choose a program offering a comprehensive overview of common types of welding skills so you can choose the one best suited to your skills. In class, you'll learn common safety practices, how to use and troubleshoot welding equipment, and you'll have the chance to learn and practice a variety of welding techniques.
No matter which type of welding training program you choose, make sure the classes set you up for success as you study to pass your welding certification exam. Classes should teach you to correctly apply welding theory, read blueprints, and use various types of equipment. You'll need to learn building codes and standard safety practices. A good program will cover many types of specialty welding, as well.
Where and How to Practice While Studying
You can find study guides online, at your library, or through welding certification programs. Talk with your instructors about how to study for your certification so you pass the first time you take the test.
Study guides designed to help you pass the test offer the benefit of allowing you to practice skills in a way that reinforces the certification test's overall structure.
During welding courses, ask questions about how a specific skill relates to or supports part of the certification exam.
Practicing is an essential part of becoming a skilled and successful welder. If you find that certain welds come easily to you, you may have a particular talent that will eventually set you apart from other welders in your field. Pay attention to areas of study that are particularly difficult, as well. You may need to devote extra time to these areas so you can achieve a baseline skill level that will allow you to pass the welding certification test.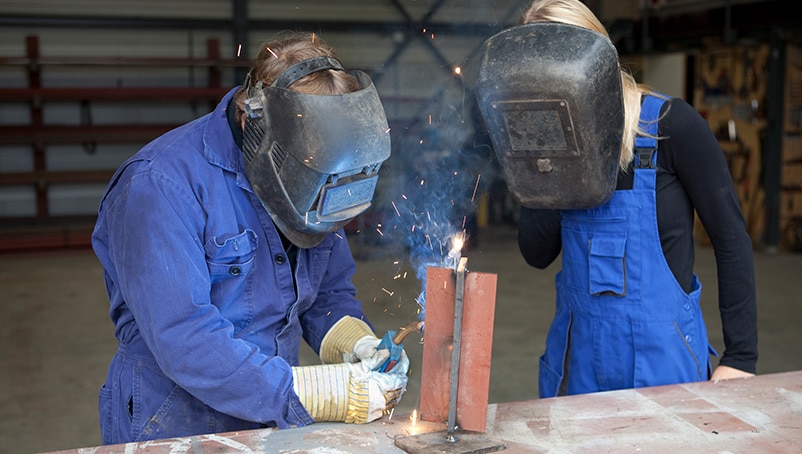 Online vs Offline Education
While much of the safety and code requirement material included in welding courses are easy to learn online, welding is a hands-on skill requiring hours of practice. Since most people don't have access to the variety of equipment or guidance from experienced welding instructors in their day-to-day life, it's best to attend in-person classes through a reputable local vocational school or community college, if possible.
If you decide to go through welding certification classes ending with a welding certification exam, you may also qualify for valuable financial aid to help reduce your welding certification cost.
Welding Certificate Requirements
A welding certification provides proof that you are capable of welding materials up to code. So, you have successfully welded materials offered by welding inspector and followed their instructions to cut the metal and weld the materials into the correct position. The instructor tests the weld's strength. If your weld samples pass, then you get a welding certificate.
The American Welding Society is the largest organization providing welding certification. This certification doesn't provide testing for every type of weld, but rather a few that cover a variety of welding processes, metal thicknesses, positions, and metal types.
For plate welding, certification may require the successful completion of both groove welds and fillet welds. Codes for welding certification levels are as follows:
Joint types
G: groove weld
F: fillet weld
Positions
1: flat
2: horizontal
3: vertical
4: overhead
There are also various types of welding certificates indicating a level of achievement with each type of weld.
3G and 4G Combo Welding Certification: Structural welding test that shows you can successfully complete all positions and fillet welds on pipes with a minimum 24-in diameter.
4G Welding Certification: Overhead welding test consisting of a plate overhead in a bevelled position. This test includes the 4G, 2G, and 1G positions.
3G Welding Certification: Vertical up welding test on a vertical plate in a bevelled position. The test includes the 3G, 2G, and 1G positions.
First Steps Once You Are Certified 
After receiving your welding license, you'll be able to apply for jobs that list certification as a requirement. While salaries and rates of pay vary depending on the company, nature of the work, and your location, you should expect to work at an entry-level rate for a few years while you continue to build your skillset.
Some welders choose to attend additional classes after getting their certificate so they can get their associate degree in welding technology.
If you decide to start a welding business, be sure to incorporate welding insurance into your business plan. This type of general liability insurance should be tailored to fit the needs of your business with multiple coverage options. Some towns and municipalities may require you to provide a live certificate of insurance before you can legally do business, there. You may also need a live certificate of insurance to provide bids on larger jobs once you are in business as a welder.
Make sure you choose an insurance company that allows you to easily access your policy and the appropriate paperwork online, 24/7.