Getting through Virginia's hot and often muggy summers would be pretty tough without air conditioning. Fortunately, that's not an issue for most Virginians. According to the U.S. Energy Information Administration (EIA), most homes in the state have air conditioning, including over 80% with central A/C.1
That's great news for HVAC professionals, but before you can get to work, you must obtain a state license from the Department of Professional and Occupational Regulation.2 That requires documented work experience and passing grades on two exams.
This guide will walk you through each step of the process so you can get your Virginia HVAC license and HVAC insurance and start working in The Old Dominion. Below, you'll find detailed information about the following:
Do you need a license to be an HVAC contractor?
If you have an HVAC business engaged in the "construction, removal, repair or improvement of facilities on property owned by others," you must have a license from the Department of Professional and Occupational Regulation (DPOR).
The DPOR has three license classes available: A, B and C.3 The license class you apply for will depend on the value of the projects that you plan to take on as an HVAC contractor:
Class A: For single projects valued at $120,000 or more and an annual total value for all projects of $750,000 or more
Class B: For single projects valued between $10,000 and $120,000 and an annual total value for all projects of $150,000 to $750,000
Class C: For single projects valued between $1,000 and $10,000 and an annual total value for all projects of less than $150,000
How to get an HVAC license in Virginia
Follow these steps to get your HVAC contractor license:
Create a business entity
Pass the exam
Complete the pre-license course
Submit your application
Create a business entity
Virginia only issues contractor licenses to businesses, not individuals, so you must create your business entity before applying. Options include sole proprietorships, limited liability companies (LLC), partnerships and corporations. Register the business name with the Virginia State Corporation Commission.
Pass the exam
HVAC contractor license applicants must pass two exams administered by PSI. One HVAC license exam covers the technical aspects of the work, while the other covers topics related to business and law. Those applying for a Class A license must also complete an additional exam covering advanced business topics.
Complete the pre-license course
All HVAC license applicants must complete an eight-hour pre-license education course approved by the Board of Contractors. This course covers topics related to business ownership, including Virginia business regulations, requirements and statutes.
Submit your application
The application requires you to name the management staff for your business, such as owners, partners and officers. You must also designate a Qualified Individual who has the required level of HVAC work experience (see the next section — Virginia HVAC license requirements — for more details).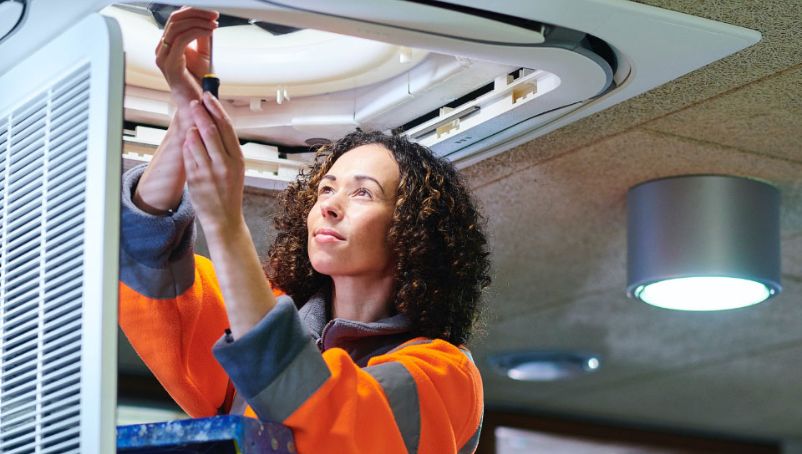 Virginia HVAC license requirements
The DPOR has work experience and financial requirements for each license class:
Class A license: Five years of practical experience and a net worth of $45,000
Class B license: Three years of practical experience and a net worth of $15,000
Class C license: Two years of practical experience (no financial requirement)
Be prepared to provide documentation with your application to support your ability to meet all work and financial requirements for your license class. This demonstrates that you have the vocational training with HVAC systems (such as boilers, refrigeration, warm air heating and air conditioning systems) and the monetary means to support your business.
How long does it take to get your HVAC license in Virginia?
Most applications for HVAC contractor licenses take approximately 30 days to process. Upon approval, the Board of Contractors will mail your license directly to you.
Some factors that may delay your HVAC license's issuance include criminal history, adverse financial history or disciplinary history.
Requirements for Virginia HVAC license renewals
Licenses for HVAC contractors remain valid for two years at a time. You must submit a renewal form and a $90 renewal fee before the expiration date to keep your license active.
Before applying for license renewal or reinstatement, HVAC contractors in Virginia must complete three hours of continuing education in a course covering the latest updates to the International Mechanical Code.4
Virginia license reciprocity
The Board for Contractors has a Virginia HVAC license reciprocity agreement for Maryland HVAC licenses only. There are no reciprocity options for licenses from other states.
To apply under this agreement, you must include verification of licensure from the out-of-state board and your completed application.5
Bond requirements for an HVAC license
The Board of Contractors does not require a bond to apply for an HVAC contractor license. However, if an applicant cannot provide adequate proof of the required net worth, they may submit proof that they have obtained a bond for $50,000 as an alternative.
This doesn't apply to Class C contractor license applicants, who don't need to meet any minimum net worth requirements.
What kind of insurance does an HVAC need in Virginia?
To help protect your small business as an HVAC contractor, consider getting Virginia business insurance. Some of the types of insurance to consider include:
Workers' Compensation insurance
Virginia HVAC contractors with three or more employees must have workers' compensation insurance. This can help provide coverage for lost wages, medical bills and more if you or one of your HVAC technicians gets injured at work.
General Liability insurance
General liability insurance can help pay for medical expenses if someone other than an employee gets hurt, or for repair or replacement costs if you accidentally damage property that doesn't belong to you.
Tools and Equipment insurance
Tools and equipment insurance can help provide coverage for repairs and replacements if your work gear is stolen or damaged.
Commercial Auto insurance
If you drive a vehicle for work, commercial auto insurance can help cover accident-related costs like property damage and medical bills.
Commercial Property insurance
Commercial property insurance can help provide coverage when property that you rent or own for your business is damaged or vandalized.
How NEXT supports Virginia HVAC contractors
NEXT is 100% dedicated to helping small businesses and self-employed individuals protect their businesses. We've helped thousands of contractors get the right insurance for their needs.
You can complete the online application process and get a certificate of insurance in less than 10 minutes. Obtain and share unlimited digital certificates anywhere, anytime from a mobile device or computer for no additional charge.
HVAC contractors can rest easy knowing their business is covered by NEXT's affordable business insurance in Virginia.
Start your instant quote right now.
Are you interested in taking on HVAC projects in another U.S. state? Visit our summary of HVAC contractor license requirements in every state.


Sources
1 U.S. Energy Information Administration
2 Virginia Department of Professional and Occupational Regulation
3 Code of Virginia Regulations of Contractors
4 Virginia DPOR Tradesmen Program
5 Virginia Board for Contractors Reciprocal Licensing/Examination Agreements