Over 30,000 maintenance and repair professionals work in Virginia. While that may sound like a lot, the concentration of handypeople in this state is relatively low compared to the total population.
That frees up opportunities in places like the Washington metropolitan area, which includes DC as well as parts of Virginia and boasts a $50,790 average salary in the industry — significantly higher than the national average of $44,920.1
If you're wondering what type of work can a handyman do legally, the answer is that most handymen in Virginia don't need a professional license. However, you will likely need a Virginia contractor license if you want to take on larger jobs.
To learn more about the state's licensing and insurance requirements, read through this guide covering the following topics:
Do you need a license to be a handyman?
If you plan to perform mostly minor repairs and basic maintenance as a handyman, it's unlikely that you need a license.
A common question we get asked is: does a handyman need a license in Virginia? You only need a license in Virginia if you plan to perform certain types of jobs that go beyond the scope of minor repairs. If your work will become a finished part of the structure (such as replacing flooring in an entire room) and the total for the project exceeds $1,000, you must have a general contractor license.
What's the difference between a handyman and a general contractor?
Before we get into the details of how to obtain a license in Virginia, it's important to clarify what it means to be a handyman — because this is going to affect whether or not you need a license and what type of insurance you're going to need.
A handyman or handywoman is someone who does small repair, carpentry or minor maintenance jobs. Typically, these jobs only involve one person.
If you work on larger projects, such as renovating a bathroom or wiring a new kitchen, you could be considered a contractor, and you would need to get the appropriate license and insurance coverage. A handyperson is usually someone who can complete a job on their own.
So what can a handyman do without a license? Here are some examples to help figure out if the jobs you perform mean you're a handyman or a general contractor.
Handyman vs. Contractor

How to get a handyman license in Virginia
Since no Virginia handyman license application exists — as there isn't a license for this type of work — you must have a contractor license issued by the Board for Contractors in the Virginia Department of Professional and Occupational Regulation.2
Virginia defines a contractor as "any person, that for a fixed price, commission, fee, or percentage undertakes to bid upon, or accepts, or offers to accept, orders or contracts for performing, managing or superintending in whole or in part, the construction, removal, repair or improvement of any building or structure."
You must apply for the correct license type based on the projected value of your projects as a handyperson. Virginia offers three contractor license classifications:3
Class A
Single contracts of $120,000 or more and a total annual value of all contracts of $750,000 or more.
Class B
Single contracts of $10,000 to $120,000 and a total annual value of all contracts of $150,000 to $750,000.
Class C
Single contracts of $1,000 to $10,000 and a total annual value of all contracts of less than $150,000.
For most handypeople, a Class C license is sufficient to cover their scope of work. It also comes with fewer requirements in terms of testing and work experience and financial documentation.
Applicants must also select a specialty for their contractor license. Virginia's home improvement contracting (HIC) specialization applies to most handypeople. This license designation covers repairs and improvements to existing building structures.4
You must complete the following steps to apply for a Virginia contractor license:
Register your business
You'll need to register as a sole proprietorship, partnership, LLC or corporation with the State Corporation Commission and Virginia Department of Taxation.5,6
Complete the pre-license education course
The course, which covers regulations, statutes and requirements for business owners, lasts at least eight hours and must have approval from the Board for Contractors.
Submit the application
Fill out the application and provide any additional documentation as needed. You must also include the appropriate application fee:
Class A: $385
Class B: $370
Class C: $235
How long does it take to get your contractor license?
It takes approximately 30 days to process most Virginia contractor licenses. Incomplete applications or missing documentation may result in a delay.
Other factors which may contribute to a longer processing time include past criminal history, adverse financial history or disciplinary history.7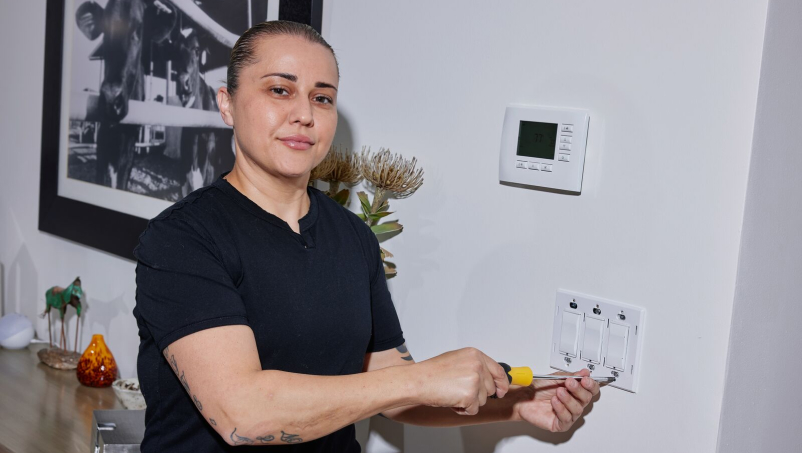 Virginia contractor license requirements
Specific Virginia contractor examination requirements apply to each license classification. Applicants must complete one or more of the following exam portions:
General: General administrative and business knowledge
Virginia: State laws and regulations for contractors
Advanced: Administrative and business knowledge for contracting on major projects
Class A applicants must pass the General, Virginia and Advanced portions of the exam. Class B applicants must pass the General and Virginia portions of the exam. Class C applicants don't need to complete any of these three exams.8
All applicants (Class A, B and C) must qualify for their chosen specialty. This requires holding an additional license or certification or completing a technical examination. Applicants must also submit an Experience Verification Form that shows their years of experience for the corresponding classification or specialty:9
Class A: At least five years of experience
Class B: At least three years of experience
Class C: At least two years of experience
Contractor license financial requirements
Class A and Class B license applicants must meet the minimum net worth requirements (at least $45,000 for Class A, at least $15,000 for Class B). No net worth requirement applies for Class C licenses.
To fulfill this requirement, Class A and Class B applicants must submit one of the following:
Financial statement form
CPA review/audit
Surety bond form
Virginia contractor license renewal requirements
You must renew your contractor license every two years. The state sets expiration dates at the end of the month in which the license was issued.
What kind of insurance does a handyman need in Virginia?
Small business or self-employed handyman insurance can help protect your business. The following types of Virginia business insurance are available for professionals in this industry.
Workers' Compensation insurance
All Virginia contractors with more than two employees (including subcontractors) must have workers' compensation insurance.10 This coverage can help provide wage protection and other benefits if injuries occur on the job.
General Liability insurance
General liability insurance can help provide coverage for work-related, nonemployee accidents and damage to someone else's property.
Tools and Equipment insurance
Tools and equipment insurance can help cover your work gear by providing coverage for repairs and replacements if damage or theft occurs.
Commercial Auto insurance
If you drive for work, commercial auto insurance can help cover costs related to accidents, such as property damage and medical expenses.
Commercial Property insurance
Commercial property insurance can help provide coverage for damage or vandalism that affects a property you own or rent and inventory or equipment stored at that location.
How NEXT supports Virginia handypeople
When you need the right handyman insurance to protect your business, NEXT has the expert services that you need.
Simply get a quote, see your coverage options and get a certificate of insurance in just minutes. You can access your account from any computer or mobile device to make changes to your coverage or download additional COIs at no extra charge.
We specialize in small business insurance, and have helped thousands of professionals like you get insurance packages customized to meet their unique needs for an affordable monthly rate.
Get an instant quote online today.
Do you want to take on projects in another U.S. state? Learn what states require handyman licenses in our guide to handyman license requirements.

Sources
1 U.S. Bureau of Labor Statistics 
2 Virginia Board for Contractors
3 Code of Virginia § 54.1-1100
4 Code of Virginia 18VAC50-22-30
5 Virginia State Corporation Commission
6 Virginia Department of Taxation
7 A Step-by-Step Guide to Obtaining Your Contractor License
8 Contractor Licensing Information
9 Requirements for Qualified Individuals