It's been a stressful few years to run a small business in America — and so far 2023 has been no exception. Inflation, supply chain snags and staffing shortages continue to test business owners. It's truly difficult to tell what's coming next.
Despite the volatile business environment, 90% of owners aren't completely confident they have enough insurance coverage for their small business, according to a new survey by NEXT.*
And we found that 96% of owners didn't achieve a passing grade when quizzed about basic insurance knowledge. Nearly 30% don't carry any small business insurance at all.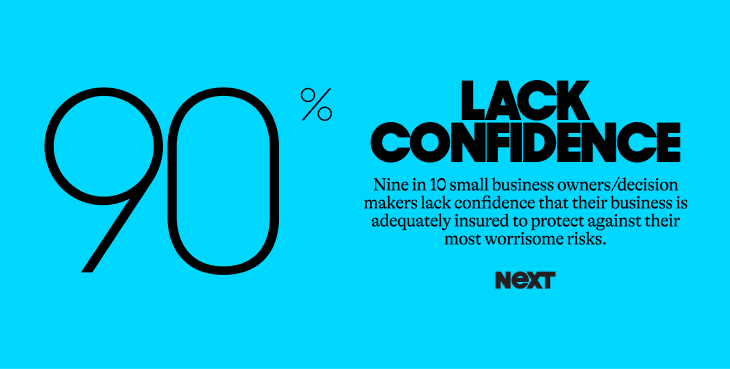 That should give all entrepreneurs some pause.
It's no secret that small businesses are vulnerable to risk, but it's clear not every owner feels confident about how to get the right protection.
53% of small business owners said their greatest barrier to getting insurance coverage is simply knowing what kind of insurance package their business needs.
That's why our team at NEXT is on a mission to make learning about small business insurance easier for entrepreneurs. Customers can purchase the coverage they need through our easy online platform and partnerships with industry leaders and agents.
"Insurance can be a daunting part of a business, especially because without proper coverage, businesses can endure significant financial losses that could make or break their bottom line," said Alon Shiran, VP of Product at NEXT. "Our goal at NEXT is to eliminate a significant part of that burden."
Continue reading to learn more about the results of our survey.
What's stressing out small businesses? Inflation and professional mistakes, mostly.
One issue still weighs on small businesses more than any other: inflation.
When the cost of materials goes up, business owners have less purchasing power and have to make the tough choice between increasing prices or absorbing more expenses.
But small businesses are also struggling as customers cut back on spending while rumors of a recession grow. And effects of the pandemic, like supply chain problems and hiring challenges, also haven't disappeared.
68% of small business owners told us that inflation is a top stressor for their business, as high prices continue to cut into their margins.
42% of owners named reduced customer spending as a primary concern.
Almost 30% said supply chain issues remain one of their business' biggest stressors.
14% of owners cited labor shortages as a top issue.
What are the biggest risks to small businesses?
Unexpected accidents can happen to entrepreneurs in any industry — but all owners have a sense of which risks are especially dangerous to their small business.
51% of small business owners said making a professional mistake is one of their biggest worries.
39% of small business owners said an injury or illness that sidelines their employees would negatively impact their business.
More owners are watching out for digital threats: 36% of owners said that cyberattacks and data breaches are among their primary risks.
Location matters: Urban, suburban and rural businesses
What's challenging businesses varies by location:
For example, more rural small business owners (71%) are concerned about inflation than suburban small business owners (64%).
20% of urban small business owners are stressed over labor shortages, compared with 15% in the suburbs and just 6% in rural areas.
Are small business owners prepared for risks?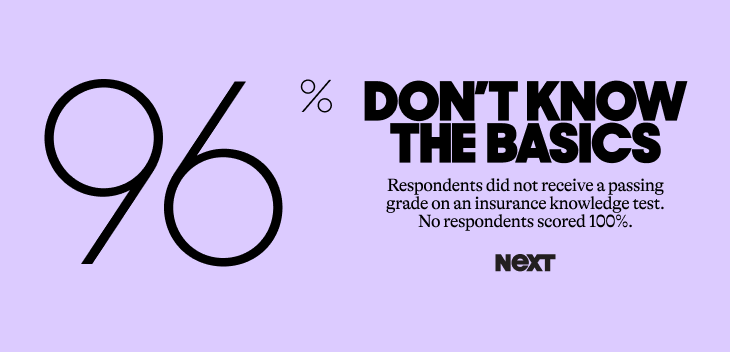 Many of the risks small businesses face fall under a term called "general liability" — referring to claims from someone else that your business has caused them harm. That could include a visitor getting injured at your workplace or a mishap that costs your customer money.
Claims like these are common for small businesses. Still, 96% of respondents did not get a passing grade — a C- or higher — on a knowledge quiz about general liability coverage. No one scored full marks.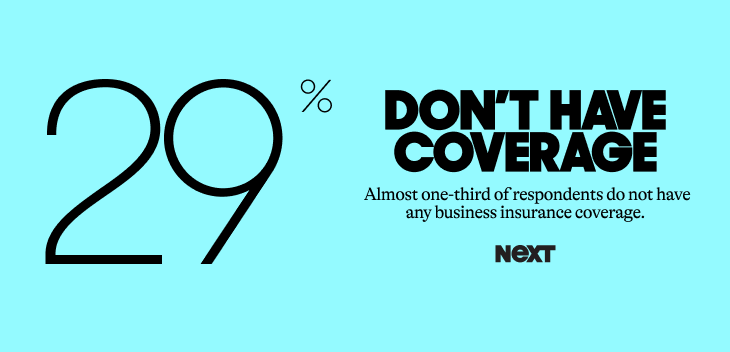 Even more worrying? 29% of small business owners carry no insurance coverage at all.
Our survey found that more female business owners (35%) have no insurance coverage than male business owners (25%).
What coverage do small business owners have?
Small business insurance can come in many forms. General liability insurance can protect you if someone claims your business caused them harm.
Professional liability insurance (also known as E&O, or errors and omissions) can help if someone accuses you of making a professional mistake.
Workers' Compensation can provide financial help to employees after a workplace injury. And commercial property insurance can keep you afloat if something bad happens to the physical space where you make a living.
The small business owners we surveyed most often purchased general liability or a business owner's policy, which is a combination of general liability and commercial property insurance.
Despite a significant risk of cyberattacks impacting their bottom line, only 10% of our surveyed businesses had cyber liability insurance coverage.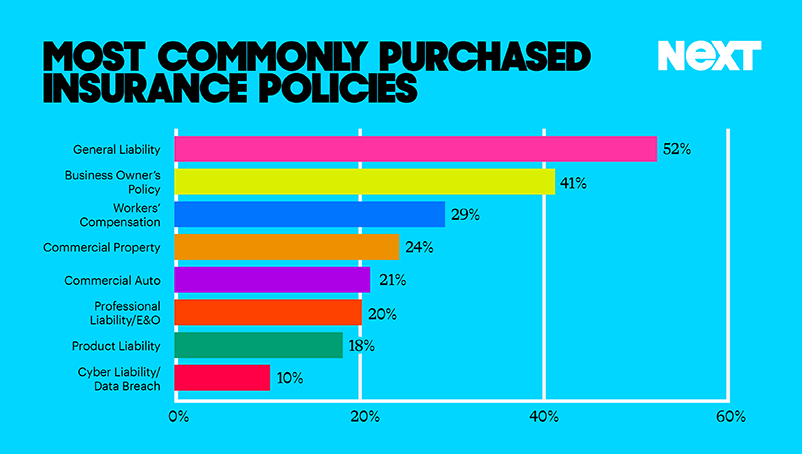 Do small business owners feel confident about their insurance coverage?
It's important to know what risks you face — but it's just as important to guard against them.
When it comes to business insurance, we found that many small business owners aren't sure they're making the right choices to safeguard their livelihoods.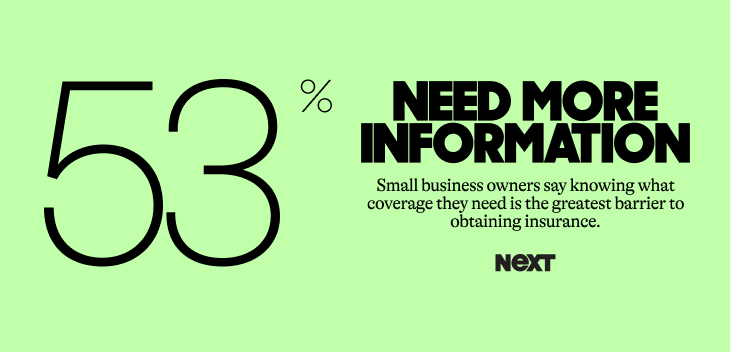 Many business owners told us they're uncertain they have the correct coverage for their needs:
Just 10% of small business owners say they're "completely confident" that their business is adequately insured.
Though more than half of business owners view professional mistakes as a major risk to their business, just 20% carry professional liability (E&O) coverage, and only half have general liability insurance.
29% percent of owners don't have any kind of business insurance protection at all.
Part of the problem is that insurance can be intimidating.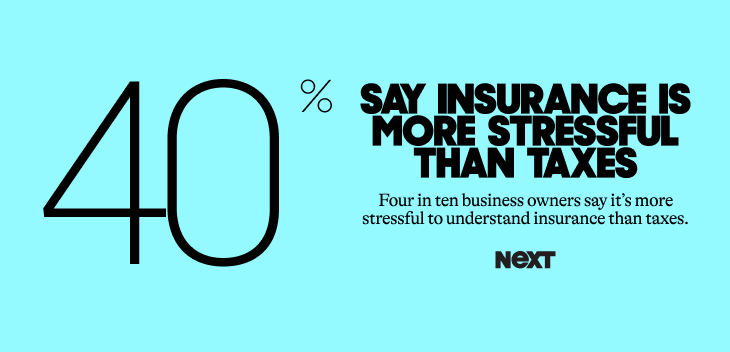 Four in ten business owners said it's more stressful to understand insurance than taxes. And half of business owners said the complexity of business insurance made them worry they don't have the right coverage.
How do small business owners plan to reduce risks?
The good news is that most owners are taking steps to safeguard their small businesses.
More than 80% of business owners are taking steps to better protect their businesses in the next six months.
59% of small business owners are planning to review their current coverage or conduct a risk assessment to understand their insurance needs.
We found that more small business owners under 45 (41%) are likely to conduct a risk assessment than owners older than 45 (27%).
But just one in three small business owners said they would get help from a professional to better understand their needs.
NEXT makes small business insurance easy
We understand that business insurance can seem complicated. In fact, that's why our co-founders decided to create NEXT in the first place.
We're on a mission to help entrepreneurs thrive by making it easy to find and purchase the coverage they need to protect themselves and their employees.
Our platform offers flexible, no-hassle business insurance: You can get a quote, compare options and get your certificate of insurance online with NEXT in less than 10 minutes. And if you need to learn more, our online resources and licensed advisors are ready to help.
We also work with hundreds of industry partners and thousands of business insurance agents, so small business owners can access coverage wherever they do business.
"Small business owners today have to wear a number of hats, and often feel pressured to be experts in everything from taxes and insurance to finance and HR," Shiran says. "This is an unrealistic expectation, and thankfully there are many resources designed specifically to support small businesses with the guidance, education and tools needed to tackle some of the most common challenges they face."

*Methodology
The NEXT Insurance survey was conducted by Wakefield Research among 500 small-business owners/decision-makers in the United States, with small businesses defined as companies with 50 employees or fewer, between February 1st and February 10th, 2023, using an email invitation and an online survey.
Results of any sample are subject to sampling variation. The magnitude of the variation is measurable and is affected by the number of interviews and the level of the percentages expressing the results.
For the interviews conducted in this particular study, the chances are 95 in 100 that a survey result does not vary, plus or minus, by more than 4.4 percentage points from the result that would be obtained if interviews had been conducted with all persons in the universe represented by the sample.