If you love working with your hands to build something you can touch and feel, you don't need any better reason to become a carpenter. Carpentry might be something you've been doing for many years or a more recent passion, but either way, starting a carpenter business needs some planning. Here are all the issues you need to consider when you start a carpenter business.
The Pros and Cons of Starting a Carpenter Business
Every carpenter can give his or her own list of reasons why they chose this job, which can include stories of learning with a father or grandfather, a woodworking class they enjoyed in high school or another interesting experience. In addition to those stories, which are great reasons to choose carpentry as a career, there are some very practical reasons as well. Among them are the fact that the median annual wage in 2016 was $43,600, which is above the national average for construction fields.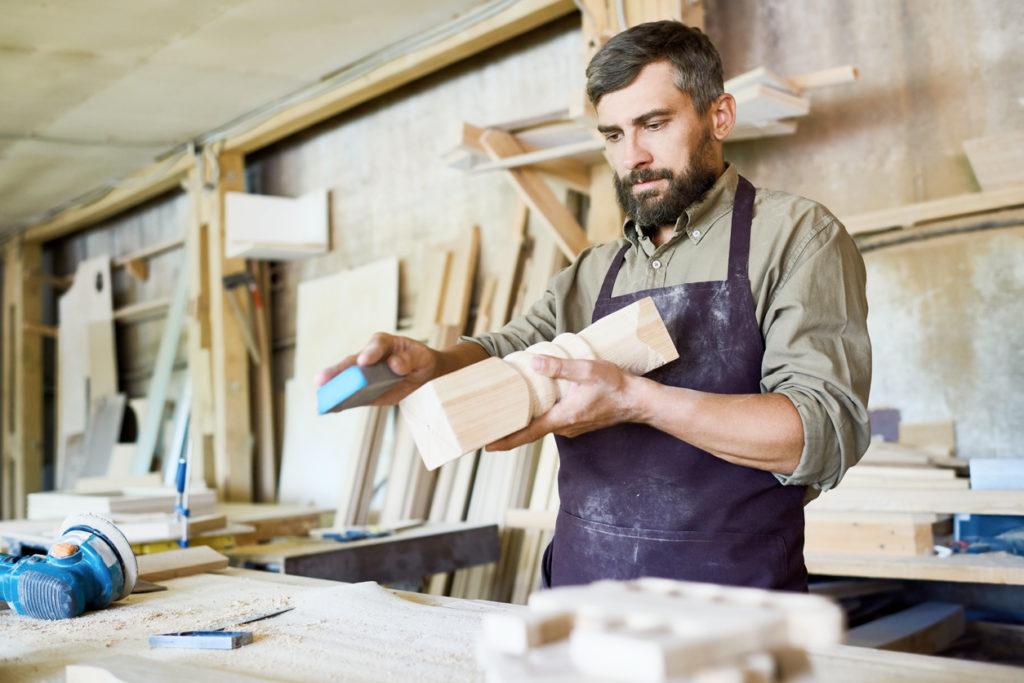 However, there are challenges to starting a carpentry business as well. Carpentry work is physically challenging and accidents can happen, which require you to be prepared and consider all possible outcomes. If you choose outside carpentry, you'll be working in all weather, which could include rain or snow. This may not be ideal if you hate the cold, or refuse to go outside during the summer. You need to have very good skills and experience to find and engage customers, and you have to .
The bottom line is that if you have confidence in your abilities and are willing to put in the work to make it happen, starting a carpenter business can be a fulfilling and well-paid career move.
How to Start a Carpentry Business
Before you actually start your carpenter business, you need to make some decisions. These include which aspects of carpentry you'll focus on, like rough or structural work such as roofing, framework or other construction work, or finish work like cabinetry and trim.
You'll also need to consider where to work. If you're focusing on structural carpentry you'll probably be based on construction sites, but cabinetry and more detailed carpentry are indoor jobs. Would you rather work from home, or rent a separate workshop? Either way, make sure that the local zoning laws permit you to run a business in whatever location you choose.
Tools and Training
You can't become a carpenter without tools. Although starting a carpenter business with carpenter tools can be expensive, hopefully you already have the basics that you need. You can often find tools for lower cost by looking at auctions, newspaper ads or keeping an eye out for second hand tools on Craigslist and similar websites.
There are no official carpenter requirements in most places, but being a good carpenter requires a complicated skillset. Most carpenters either learn on the job as an assistant, or take an apprenticeship for three to four years. The Home Builders Institute (HBI) offers a popular pre-apprenticeship training program for carpenters which is recognized by the Department of Labor. Carpenters also have to pass the 10-hour and 30-hour courses taught by the Occupational Safety and Health Administration (OSHA).
Depending on your state and city, you might have to get a carpenter license or a contractor's license before you're allowed to work as a carpenter.
Carpenter Insurance
Starting a carpenter business and being a carpenter can be a dangerous job. A lot of accidents can happen on a construction site or in a carpentry workshop so it's vital that you protect yourself and your employees with the necessary carpenter insurance. Be sure to explore our carpentry business insurance cost and coverage options and select a policy that will offer you the right amount of coverage for the size of your business and the activities you specialize in.
Carpenter Business Tips for Success
To succeed as a carpenter you'll need to keep these tips in mind:
Record your carpenter business ideas in a clear business plan. Your business plan needs to include points like whether or not you'll hire employees, where you'll work, what type of carpentry you'll focus on and more.
Choose a good business name that is easy to remember and gives customers a sense of what your business does.
Register your carpentry business as a sole proprietorship or limited liability company. You'll need to research your own local and state requirements for registration.
Carry out a marketing campaign so that people in your area know that your business exists. You could distribute flyers, take out an ad in the local paper, set up a website or page on social media to spread the word about your new business.
Once you're established as a carpenter you might decide to take your career further. Options include adding extra certifications in areas like remodeling and advancing to become a first-line supervisor or construction supervisor.
Succeeding as a carpenter can be challenging, but there are many rewards for carpenters who seize the opportunities. Good luck!