If you're a welding contractor, you likely know your skills are in demand. But being a talented welder alone doesn't guarantee success. Knowing how to find and win welding bids can take your business to the next level. 
There's no single best way to get welding work, but here are some tips that can make a difference:
1. Use your networks
As an independent welder, you'll have to hustle a little to connect with businesses looking to hire welders. Start with your personal and local networks. Make sure your friends and family know you're available for hire — even if they don't need a welder, they can help connect you with opportunities when they spot them.
Next, you can check with factories, farms, construction firms and general contractors in your area to see if they need a welder.
Industry organizations are a great source of opportunities. You can check with the Fabricators & Manufacturers Association for welder job postings. Your local Chamber of Commerce will often offer networking services that can connect you with businesses in the area that need welders. 
Job listing platforms like Indeed and LinkedIn are a great source of contract welder jobs. Sites like BidContract let you look for government metal fabrication and welding bids and contracts. These sites also let you save your search and receive emails when new jobs that are a good match for your skills and goals appear. 
2. Make a brag sheet
Every time you contact someone, be sure to leave your business information with them — even if they aren't looking for a welder now, they might have work for you in the future.
A good idea is to gather general information about yourself and your qualifications onto a one-page brag sheet that you can distribute.
Your document should include:
Your name, phone number and email
The geographic area you serve
Your specialties
Past jobs and references
Your welding license, education and certifications
Your welder's insurance
As an independent welder, it's a great idea to put this information online so businesses can find you easily. Services like Wix or Squarespace allow you to launch a website without any coding experience for just a few bucks a month.
3. Understand the requirements
When you have a potential welding job, you should first get as much information as possible. Talk to the prospective client over the phone and figure out their needs, requirements and any potential complications for the job.
If the job sounds promising, find out the required permits. Check with the local government entity in charge of issuing permits to determine if the welding insurance you carry is sufficient to meet their requirements. You'll be able to build these permit fees into your bid.
If possible, visit the potential welding jobsite in person to meet the client and confirm you can take on the job. At this point, many clients will ask to see proof of your welding insurance, evidence of your welding certifications, professional references with contact information from your previous jobs and proof that you have all required local and state permits and licenses.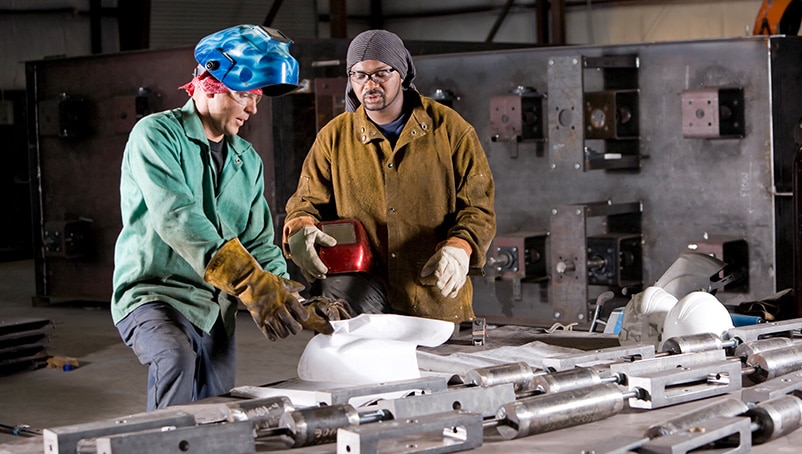 4. Price your welding bid realistically
After gathering information about the welding job:
Plan out how long you think each step of the job will take;
Account for the time you'll have to spend ordering materials;
Ask friends in the welding industry for their advice if you're unsure how many hours to estimate.
When estimating time, know that while overpromising may win bids, it could also prevent you from getting positive referrals afterward if you take longer than expected. That's why it's a good idea to be honest and even add some cushion for any unexpected delays.
Once you have a time estimate, multiply the amount by your hourly rate, and add the cost of materials.
Your rate can depend on many things, including your reputation, skill level and the competition in your area. If you have employees, subcontractors or special equipment, you should also reflect these things in your bid.
When setting a rate, it's essential to understand your goals. If you're new to welding and trying to build a list of referrals or want to expand your skillset to include more types of welding jobs, bidding at a lower price could help you stand out and earn the business. But make sure that it's enough to make it worth your time.
The type of metal you use will have a considerable impact on the price of your bid. Stainless steel and aluminum cost more than standard steel, so make sure you understand your customer's expectations.
Remember that not every potential client is looking for the lowest possible bid. What's more important is a job well done.
5. Make your welding bid easy to understand
When presenting your welding bid, break down your total price by materials and labor hours, so the client can see how you constructed your bid. Double-check your math: a small mistake could cost you the bid or eliminate your profit on the job.
Pay attention to details. Use a proofreading tool like Grammarly to catch misspelled words and formatting mistakes.
Once you send your bid, make sure you're available to answer any questions from the client.
6. Reflect and adapt
Each of your welding bids is an opportunity to improve your process. When you lose to a competitor, try to find out why. Was your price too high? Did you neglect to include a piece of necessary information like your proof of business insurance or references from past clients? Use this information to make your future welding bids stronger.
When you land a job, take notes to better understand the cost and time involved for different project parts. That will come in handy next time you're putting together an estimate.
How NEXT helps protect your welding business
We're committed to making it easy for welders and other small businesses to get the business insurance they need.
Our coverage options include general liability insurance, workers' compensation and professional liability insurance (also known as E&O insurance).
Because every business has different risks, we work with you to create a cost-effective insurance package customized to fit your needs.