Experienced and educated welders are in demand in every area of the country. If you have the certifications and references to back up your work, placing welding bids to earn business as an independent welding contractor is a next step.
When you bid on a welding job, you present yourself as one of many options for the job poster. You'll compete with other welders of various backgrounds and experience levels to win the business. Your price, reputation, and skill level play a huge part in whether you get the job.
As an alternative to in-house welding, some companies outsource specific smaller jobs requiring specific welding skills that they don't have within their company. To find out about these jobs, you'll have to talk to peers and search job boards on the internet.
It's useful to gather general information about your experience and education to leave with companies and general contractors who may need to outsource welding in the future. You can put all of this vital information on a single sheet of paper and make copies.
Your document should include:
Your name and phone number
The general geographical area you serve (how far you are willing to travel)
Your specialty
Professional education and certifications
Insurance
Past jobs and references
Where to Find Welding Jobs
Check with your local Chamber of Commerce to find out if they offer networking services that may help you connect with businesses that outsource welding jobs. Let major industrial companies in the area know that you are a welder-for-hire looking for outsourced jobs.
Contact the Fabricators & Manufacturers Association for welder job postings. In rural areas, look for large farming operations that may need help with smaller welding jobs during their busiest seasons. Machinery equipment repair shops may also outsource some welding tasks during peak times.
Recently discharged members of the military may find jobs and apprenticeships at Helmets to Hard Hats. This non-profit organization helps veterans find a career with trade employers. The list of local employers may include companies that regularly take bids for welding jobs.
Check job sites like Indeed for contract welder jobs. You can find government metal fabrication and welding bid contracts at BidContract, as well. These sites also offer the option to save your search and receive emails when new jobs that are a good match for your skillset and goals appear.
Welding Bid Site Visits
When you visit the site of a potential job, make sure you understand the required permits. Check with the local government entity in charge of issuing permits to find out if the welding insurance you carry is sufficient to meet their requirements. Learn about permit fees and build those into your bid, as well.
When you estimate the time it may take to complete the job, remember that it's only an educated guess. Over promising may help you win the welding bid, but it may also prevent you from getting a positive referral from your employer. Be honest about how long you think it will take you to complete the work and build in a cushion to account for unexpected problems and delays.
Create a Bid Package
Learning how to bid welding jobs is a process, of course. Don't be discouraged if you are new to the welding profession. It's crucial to read the bid requirements thoroughly and meet the outlined expectation.
Use each of your welding bids as an opportunity to improve your process. When you lose to a competitor, try to find out why. Was your price too high? Did you neglect to include a piece of necessary information like your proof of business insurance or references from past employers? Use this information to make future welding bids better.
Creating a bid package with your proof of insurance, permits, experience, education, and references make it faster to bid on welding jobs. You can then concentrate on designing your welding contracts bid to meet the potential employer's expectations.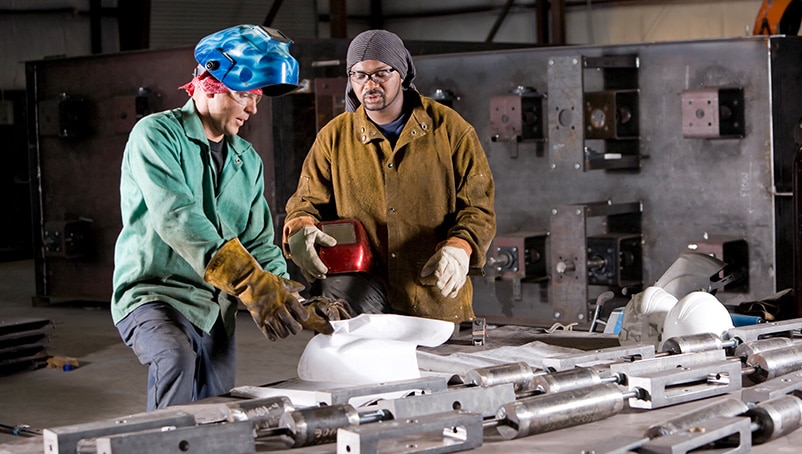 Pricing Your Welding Bid
When it's time to price your welding bids, decide on your objective before running the numbers. Maybe you are brand new and you need to build a list of referrals. Perhaps you want to expand your skillset to include different types of jobs. Bidding a lower price could help you stand out and earn the business. Of course, when submitting small business welding bids, you want to make a fair wage. Don't get caught up in winning new business at the expense of making money.
Your welding contracts bid could include a higher price if you are well-qualified and have a reputation for producing a high-quality result. Not every potential employer is looking for the lowest possible welding bids. It helps to learn as much as possible about the job before putting together your welding contracts bid.
The type of metal you'll use has a considerable impact on the price of your bid. Stainless steel and aluminum cost more than standard steel, so make sure you understand your customer's expectations before you bid the welding job.
Meet the Job Poster's Requirements
Make sure you understand precisely what the job poster needs to approve a welding contracts bid. Typically, they want to see proof of welding insurance, evidence of your welding certifications, several professional references with contact information from your previous jobs, and proof that you have all required local and state permits and licenses.
Always include specific prices for materials and labor, with 10% built-in for unexpected needs and jobs that may take longer than you anticipated.
Presenting a professional welding contracts bid includes paying attention to details. Use a proofreading tool like Grammarly to catch misspelled words, multiple spaces between words, repetition, and punctuation mistakes. You don't have to pay for online proofreading tools. Many reliable versions include a free tier with features that can find errors in small business welding bids.
Be sure to break down your total price by the hour and by materials and labor, so the job poster can see how you constructed your bid. Double and triple-check your math. A small mistake could cost you the bid or eliminate your profit on the job.
Bidding welding jobs is a crucial part of running a successful welding business. Be sure to protect your growing welding venture with the right types of business and welding insurance. You can get flexible on-demand insurance with a 100% online process and free quotes, right here at Next Insurance.