It's been a long road in the first five years of business at Terrell's Eat The Bone BBQ. And after checking in with co-founder Gerard Terrell, it feels like the journey is just beginning.
The BBQ business started with a 20-hour drive from Chicago to Texas in 2017 to pick up a mobile BBQ rig. But for Gerard and his brother Bernard, their grilling technique is also generational — and a family affair.
The team is finally settling into a groove and putting the finishing touches on a brick-and-mortar location after working through COVID-related setbacks. And plans for expansion are already in the works.
Continue reading for lessons learned along the way, including:
The transition from a mobile grill to a brick-and-mortar location
How social media helped gain customers
The impacts of inflation
Outlook for 2023
This interview with Gerard is edited for clarity and brevity. All photos courtesy of Terrell's Eat the Bone BBQ.
In one or two sentences, can you describe what you do?
Our motto is "sauce is optional." We do old-school grilling that gives you that nice smokey taste with our dry rub on top of that.
After 25 years of my brother and cooking, we finally perfected what we needed. And this is it.
How was the transition from a mobile business to a brick-and-mortar?
With mobile, we were limited to the elements. If the weather turns bad, we have to stop.
We were doing catering, but everything still had to be cooked outside.
Now, with the brick-and-mortar location, we have a place where our customers can come sit down. Instead of shutting down in the fall, we can go year-round, providing good food.
There was a transition from just doing those few things outside to now having customers inside.
We need to make sure the kitchen is tidy and looking good. It's a big difference in making sure we have everything in stock to keep flowing as we need to every day.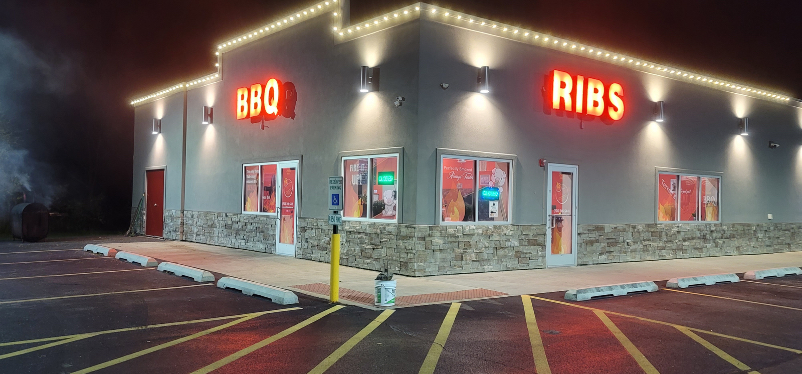 What advice would you give to someone taking the same path from mobile to brick-and-mortar?
The first thing I would say is to make sure this is what you want to do.
Have the mindset that you will follow through on it no matter what.
It took us a year to build out this location, and we had moments where we questioned our plan. Maybe we should have started smaller, so on and so on.
Consider all of the costs before starting this type of project. Make sure you have it locked in your head — "this is what I want to do," and don't let anyone change your mind.
How does it make you feel now when you have a full dining room eating your barbecue?
Oh man, it's an awesome feeling.
We were carry-out only for a few months.
Now, we have different little games on the table — chess, checkers, tic-tac-toe. Seeing people eating, playing games, and just relaxing puts a smile on your face.
It almost brings you to tears to see all this hard work is actually working for us. So we love it. We love it.
How do you approach marketing and getting the word out about your business?
Social media was one of the biggest tools for getting the word out about us.
We've always used social media, especially Facebook and Twitter.
When we were mobile, we would post updates to let everybody know our location.
Now that we have a brick-and-mortar location, we have to do our footwork just as we did with the mobile operation to let everyone know we are here.
You used behind-the-scenes videos on social in the early days. Tell me about that approach and how it worked for you.
People like to take a little bit of ownership of what they're buying into. You can make them a part of the process with content like that.
When they told us the grill was ready in Brady, Texas, we jumped in the truck and took off to Texas. It was about a 20-hour drive.
All along, we were telling the people on social media, "Hey, we're going to get this grill. This thing is getting ready to happen. We'll let you know more."
They see this big trailer, and they know it's going to be something big. So now you have customers that are getting excited. They're seeing this process and want to be a part of it.
We kept my brother and me in the picture to let them know we're the owners and we can't wait to start serving you.
It paid off. Even now, we have customers that bring us stuff to hang up in our restaurant. They want to feel a part of something. So when you make them part of that process, when they come in, it's like, "Wow, I remember when."
There's something about BBQ smokers, too, that is visually interesting. You see the smoke, and you smell it, and then the food comes out.
Yeah, the smoke is our secret weapon. We make sure the smoke is going every way we can so you know it's there.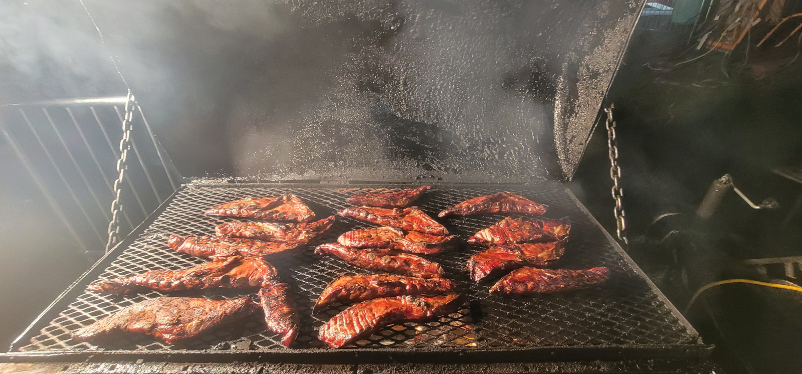 What's your biggest challenge at the moment?
The biggest challenge is figuring out the customers' flow and keeping costs down.
Today we could sell rib tips like crazy. Tomorrow you're going to expect to do the rib tips again, but then baby backs are selling like crazy.
Then you turn around and combine the two, but things change, and it's chicken selling like crazy.
We're purchasing more meat than we were doing with the mobile restaurant. It's just a lot more work involved in doing this.
Have you been affected by inflation?
Oh yeah. Just doing the build-out of this place, our cost doubled. That was because of the material. There were a lot of delays getting material in.
Another example is the baby back ribs.
Just two years back, we were paying probably $3.40 a pound, and now they're like $5 a pound. That's a big jump. So now you have to check other vendors to see where you can bring that cost down because we've always used quality meats.
Even though the cost is high and we adjust our menu, we don't want to gouge anybody.
We always wanted a good inexpensive family-style restaurant, and that's what we have here now.
What are you most proud of as a business owner?
I'm most proud of seeing the smile on the faces of our customers.
We call it a happy dance. When you sit, and you watch someone eat that meal, they do a little dance in their chair and lick their fingers; that is something to be really proud of.
And then the full restaurant where everyone is happy; I'm proud of that, too.
What was your biggest win this year?
When we went to inside dining, that was the biggest win.
In the past, [customers] would have to sit in their cars and wait until their was food ready. The big win was having the inspections done and watching the people come in and sit in this place.
You couldn't ask for a bigger win after all that we went through.
What's coming up for you in 2023? What's your outlook for the year?
We're getting a lot of requests to open up in other locations. Instead of opening another brick and mortar, we're looking to do a food truck with a grill on the back. Then we can hit those locations where we're getting a lot of requests.
We have people that drive an hour to come here to get barbecue. Our goal is to take it to them in 2023.
After that, we'll start looking for a smaller space for a second brick-and-mortar location. We'll do a smaller space, probably in 2024 at that point. But that's what we're looking at.
Find Terrell's Eat the Bone BBQ online:
How NEXT helps food service businesses
NEXT creates customized business insurance packages at affordable prices so you can get the coverage you need at any stage of your business.
Our streamlined online application allows you to see coverage options and purchase the coverage you need — all in less than 10 minutes. As soon as your purchase is complete, you can access your certificate of insurance online.
If you have questions, our licensed, U.S.-based insurance professionals can help.
Learn more about food service business insurance at NEXT or start a free instant quote.