If you're watching the Golden State Warriors in the NBA playoffs, it's impossible to miss the phrase "Gold Blooded."
The team's postseason slogan is everywhere: social media, Steph Curry's warm-ups and the 18,000 free T-shirts on each fan's seat before every game at Chase Center in San Francisco.
It's become a mantra of the Warriors' return to the playoffs after two long years — but the slogan goes more than a decade back.
Designer Evan Lessler's small business streetwear line, Adapt, developed "Gold Blooded" in 2011 as an homage to Bay Area sports culture. He never knew it would get this big.
The motif "has the ideas of victory and personal growth instilled in it. It just so happened that we partnered with the Warriors on the campaign for this year … It's probably the most exciting thing we've ever done," Lessler says.
Lessler founded Adapt in 2003 as a side project while still in college. For years, he ran the business with a couple of friends and family while working other jobs.
He quit to work on Adapt full-time in 2012, just as Bay Area sports culture was entering a golden era: The last 12 years have seen three NBA championship wins by the Warriors, three World Series titles by the San Francisco Giants and two Super Bowl appearances by the San Francisco 49ers.
"I just basically had to rise to the occasion in terms of creating a product," Lessler says. "It was sort of this perfect storm because I was hitting the height of Adapt coming into its own."
Lessler shared more insights and tips for other small business owners recently during a fireside chat with NEXT for AAPI Heritage Month.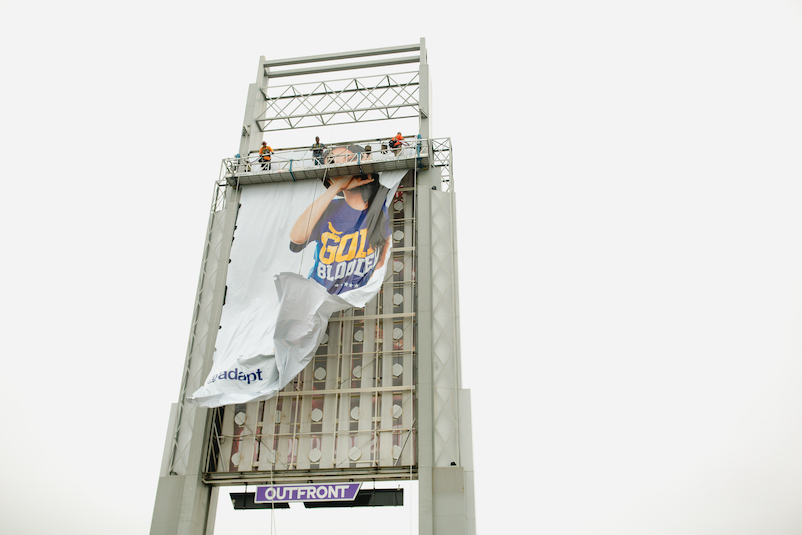 Learn everything
When Lessler started his clothing business, he had to learn everything from scratch.
"I didn't know anybody who operated a clothing company, much less any kind of small business," he says. "I sort of had to learn everything just by doing it."
For Lessler, the biggest initial challenge was simply figuring out how to run a business.
He gave himself a crash course on fundamentals like building websites, working with suppliers, shipping orders and courting retailers. It all took a lot of time to figure out, he says, but ended up paying off.
"I had to literally learn every little component of the brand," he says. "Even though I don't do everything now, I know how to do everything. To have that 360-view of, 'Oh, this is how the company operates,' was helpful."
Now, amazing resources are abundant on the internet for new entrepreneurs, Lessler says.
"This is the best time, in the history of time, that there's ever been to start a small business," Lessler says "Any granular, specific niche thing you want to do — there's like 50 YouTube videos on how exactly to do it."
Get help from your friends and family
Lessler grew up in Fairfield, California, but spent his Sundays in a tight-knit Chinese church community in San Francisco's Chinatown, where he "built a huge network of friends and family."
Adapt's initial employee base was almost entirely based on his personal network.
"It always was nice because I knew that I could trust them," Lessler says. "I knew that they were going to work hard and stuff like that."
Today, Lessler's aunt runs Adapt's shipping operations and customer service. She had no experience in a small business or the clothing industry before joining Adapt, says Lessler, but "she's so good with customer service… She definitely keeps us always customer-focused."
However, Lessler says he also had to learn not to overly depend on feedback on his designs from those closest to him.
"It's great that my friends and family love me and they want to support me, but I would say, don't get too influenced by that," he says."You really need to let the actual, broader market speak for itself, because something that my aunt might love doesn't mean that other people are going to buy it."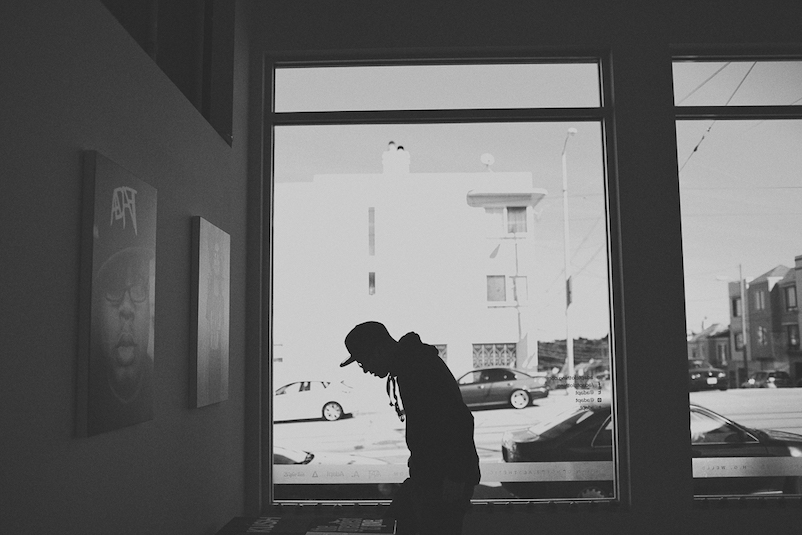 Build great customer relationships
Even as Adapt has grown, it's stuck to the principles that make small businesses successful.
"The great thing about our brand is that it's small enough that we know our customers' names, and we know even their sizes and sports team preferences," Lessler says. "We can talk to them almost on a personal level."
That sensitivity to customers' desires is what keeps the business going.
"I can put out designs all day, and I can think they're great. But if people don't spend their hard-earned money on them and they don't come back, then we don't get to print another run," says Lessler.
Adapt's focus on customers also pays off due to the power of word-of-mouth marketing.
"I don't do any advertising anymore because we have our customer base," Lessler says. "I don't do Instagram ads and I don't do Facebook ads, which is not smart at all as a business owner. I've just been doing it so long … Now we have our customers; I just [promote] organically through our channels."
Choose the right social media platforms
Adapt was founded in 2003 — a year before Facebook was launched. But Lessler was already convinced that social media was the way to grow the company. "When I started, I knew this was going to be an internet-based brand," he says.
"When I was getting going, MySpace was a thing," he says. "It was the only social media component, but it was free and it was great. So we could kind of push the brand through there."
Between 2006 and 2012, Lessler worked at Apple as a visual designer, where he got a front-row seat to the evolution of social media.
"We would see all the apps first because I worked at Apple, so all of my co-workers would be up on all the coolest stuff," Lessler says. "One of my coworkers was like, 'Hey, check out this thing called Instagram.' And I joined."
Since then, Adapt has gained a strong following on Instagram.
"That became sort of the main channel for promotion, for posting new product releases, interaction with customers, even customer service," Lessler says.
Be ready to adapt
Lessler explains that he came up with the name "Adapt" when he was 17 and drew a logo by spelling out letters using the triangle shape of a "Play" button.
"The play button kind of represented adapting, progressing, moving forward. But it's since become a perfect name because so many components of my story and the Adapt story have related to adaptation," he says.
In particular, the pandemic forced major changes to the business.
"Like any small business, it was extremely scary, and nobody really knew what was going on," Lessler says.
He had to make the difficult decision to close down Adapt's two physical stores during the pandemic.
"That part was really sad in particular, just because we couldn't see our customers," he says. But because Adapt was "already primed to do online business," Lessler and his team have maintained close relationships with their customers.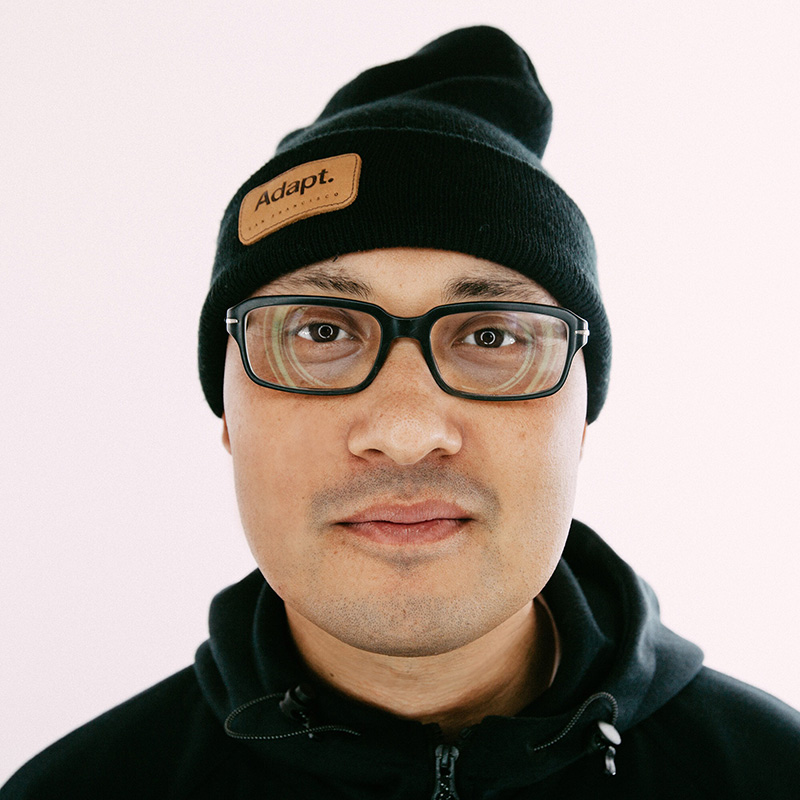 Maintain work-life balance
As a small business founder, Lessler says he worked too hard for years: "In terms of mental health, it probably wasn't the best."
Then in 2016, he started feeling sick. A doctor's visit delivered the shocking news: He had cancer.
The recovery made Lessler rethink his priorities. "There's always a customer that needs something; there's always a new design I could work on; there's always new products I could produce and stuff like that."
"But I'm very cognizant of the fact that you can't just constantly be working — because there's no end."
Give back to the community
Coming from the Bay Area's Chinese community, Lessler says he's felt personally affected by the rise in racism and hate crimes against Asian Americans in recent years.
In response, Adapt has partnered with a few organizations and brands in the Asian American community — including Asian Hustle Network, Jackfroot, Asians Never Die and Petals and Peacocks — to create a T-shirt that has raised almost $20,000 for Asian support organizations.
But Adapt's record of using fashion to help important causes goes back more than a decade.
The company's first T-shirt for charitable work raised $30,000 to help victims of Japan's earthquake in 2011. The company has done 15 to 20 other projects since then, says Lessler.
"We've done stuff for Thailand water projects, Typhoon Haiyan in the Philippines and not just Asian-specific things," he says. "We've done things for children's cancer research, women's aid and Black Lives Matter. That's been an extremely satisfying part of the business because we're able to affect change in these different areas that we're essentially not otherwise affiliated with as a clothing company."
NEXT helps your business adapt
Running a small business can be a 24/7 job. That's why NEXT gives you 24/7 DIY access to manage your business insurance on your schedule.
We're 100% online and streamlined, so you can get a quote, customize your coverage and get proof of insurance online in just ten minutes. And our support team is here to help around the clock.