Nearly a third of restaurants have been short-staffed for two years.
That's according to a Square survey of restaurant owners and managers conducted late last year. After the pandemic prompted mass layoffs in 2020, many food service employees either didn't return to their previous jobs or quit shortly after others began to come back.
The workforce shortage has spelled trouble for the industry, leading to longer wait times for diners, shorter operating hours, smaller menus, higher prices, closed-off dining rooms and restaurant closures.
But the shortage also presents an opportunity for technology to transform the industry. Restaurants are using technologies they adopted during the pandemic and in its wake to fill operational gaps left behind by workers. Close to two in five restaurateurs said they planned to automate some operations, according to the Square survey.
NEXT examined the extent of the labor gaps and explored how restaurants are using technology — or plan to — to keep business moving.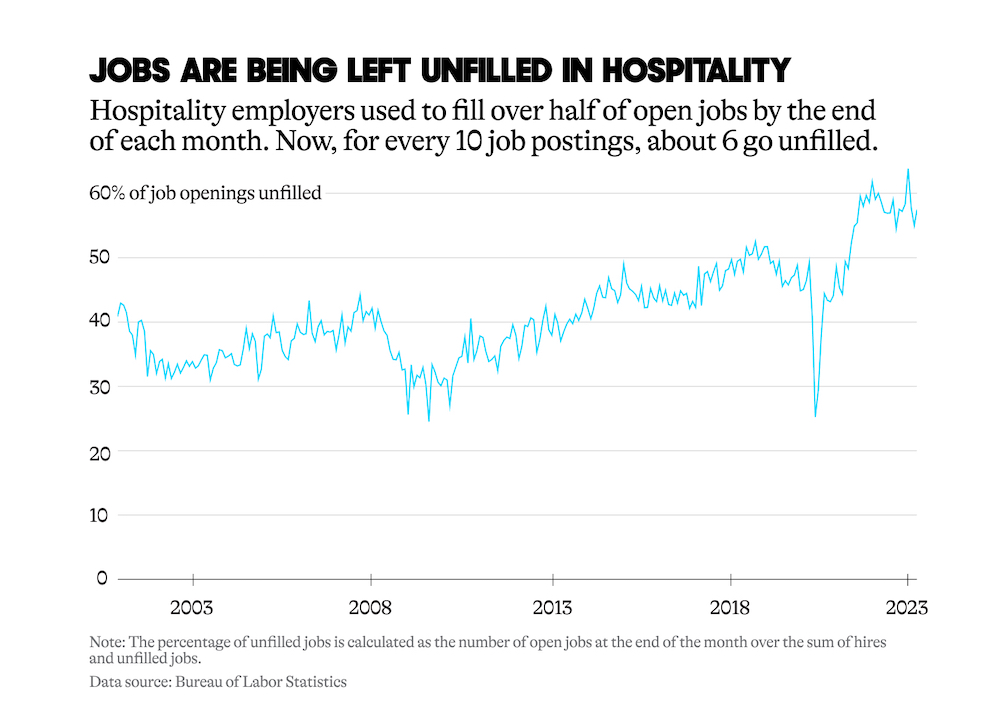 A closer look at the staffing shortage
While overall employment returned to pre-pandemic levels in June 2022, the accommodation and food services industry has yet to fully recover its workforce.
Though turnover in food service and accommodation jobs is typically high, jobs historically filled quickly. Monthly hospitality hires have nearly always surpassed unfilled jobs at the end of the month, according to Bureau of Labor Statistics data, which spans back to 2000. While this data includes more than just eating and drinking establishments, the data largely represents them, as they comprise nearly 90% of jobs in the industry.
In the aftermath of the COVID-19 pandemic and the Great Resignation, hundreds of thousands of hospitality jobs have gone unfilled each month. Burnt-out restaurant workers fled to find higher-paying jobs or left the job market altogether. What's more, tapered immigration has diminished one of the industry's major recruitment pools. Workers who remain are increasingly unionizing as they seek stability and safety.
To combat the worker shortage, some eateries are increasing wages, improving benefits, hiring recruiters and using temp agencies. Others are turning to technology to fill the roles that were left behind.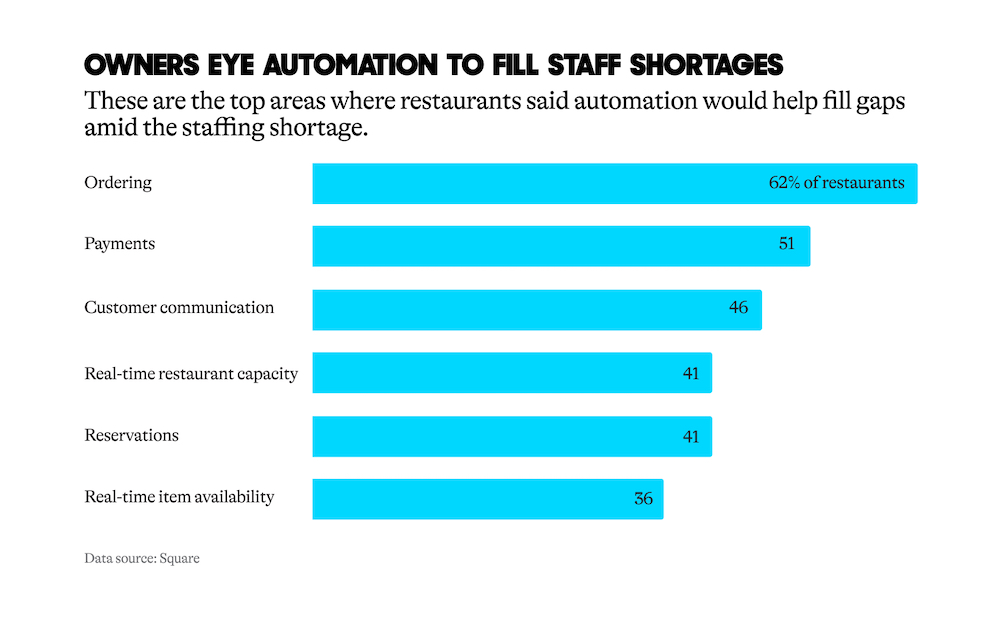 A technological takeover
QR code menus and ordering via delivery apps became defaults in 2020 and, in many cases, have remained in the mainstream even as pandemic protocols were relaxed. Many of these technologies help restaurants keep operations moving with skeleton crews.
Nine in 10 restaurateurs whom Square surveyed in 2021 said that automation would be help fill operational gaps. They identified several possible angles, including managing orders placed via website, app, in person or at a kiosk; and tracking real-time availability of menu items.
These technological advancements also meet customer demands. Two-thirds of customers prefer automation in at least one aspect of their dining experience, according to the more recent Square report. People identified that they like ordering at kiosks or online, paying contactless and making reservations online. And as the population becomes increasingly tech-savvy, preferences will continue to shift.
Adopting these technologies can be costly upfront — particularly for a low-margin business like an independently owned restaurant. And they come with their own levels of uncertainty, as consumer preferences shift and technology shifts and updates. But as food, labor and turnover costs remain high, the tech investment can help cut costs over time.
How NEXT protects restaurateurs
NEXT is dedicated to helping restaurant owners thrive at every step of their journey.
Whether protecting your business from common restaurant accidents or incidents, we can help you easily find general liability, workers' compensation and other business insurance to protect your business.
It only takes about 10 minutes to start an instant quote, customize your coverage, purchase a policy and print your certificate of insurance.