Restaurants count on happy, returning customers and a stable workforce to keep their business going.
While the demand for dining out is rebounding after COVID-19, restaurants are still working on recovering and maintaining operations amid a sea change within their industry.
Ongoing worker labor shortages and shifting restrictions have made it difficult for the food service industry to stabilize.
To combat the hiring shortage, business owners are under pressure to increase wages. They're also offering creative hiring incentives, including signing bonuses and raises after performance reviews.
We were interested in where U.S. food service workers have the most employment and financial security opportunities, so we did a little digging. This snapshot also offers food service owners a look at statewide industry benchmarks to help stay competitive and attract and retain employees.
We looked at:
How we determined the state rankings (methodology)
To determine the best states for restaurant jobs, we collected data for seven factors associated with food service employment in all 50 states and Washington, D.C. Each factor was weighted based on its contribution to a city's overall opportunity for food service workers.
Cities could earn 50 points. Cities with higher scores are considered better for food service professionals, and cities with lower scores are considered worse. (See below for ranking factors and sources.)
The top 10 states for restaurant jobs in 2021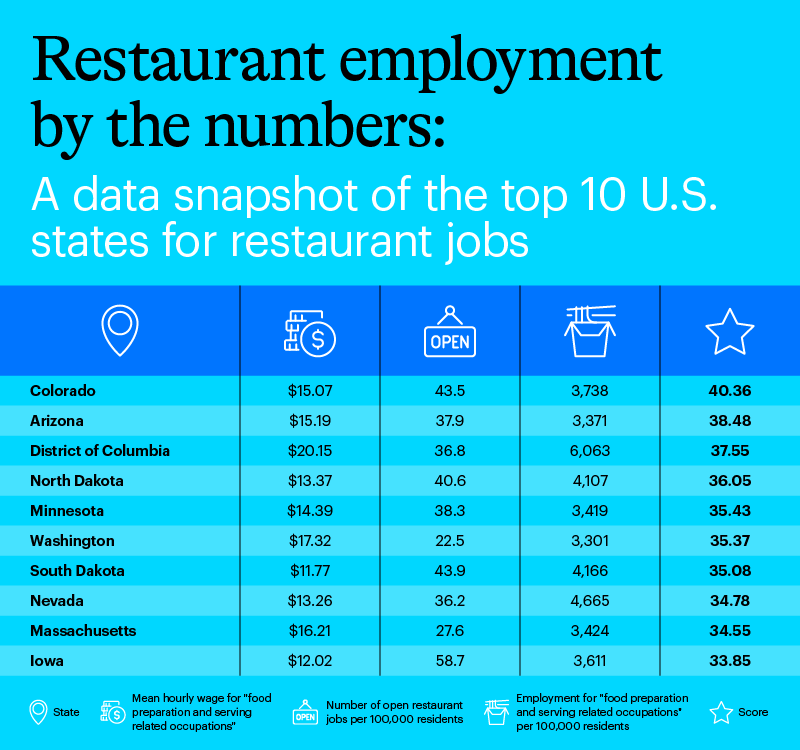 Our findings reveal that 10 states stand apart when it comes to earning potential for employees, job availability and current employment.
One of the fastest-growing states, Colorado takes the No. 1 spot, boasting high hourly wages ($15.07) and significant jobs to fill (43.5 open jobs per 100,000 residents). Higher wages are likely attributed to residents voting for a scheduled minimum wage increase in 2016. While attractive for food service workers, this increase has put a strain on owners, who are increasingly turning to service charges to help offset higher operational costs.
Arizona and Nevada join Colorado in western states among the top 10. Arizona offers food service workers one of the highest hourly wages in the ranking, at $15.19 per hour. Nevada is second only to Washington, D.C., in current food service employment, with 4,665 food service employees per 100,000 residents. Like Colorado, both states implemented a scheduled minimum wage increase in recent years.
The nation's capital leads the country in both mean hourly wages and current industry employment. In Washington, D.C., servers, cooks and bartenders can make an average of $20.15 an hour. With food service jobs making up 8% of the city's employment and significant earning potential, owners contend with a crowded and competitive labor market.
The states with the most open restaurant jobs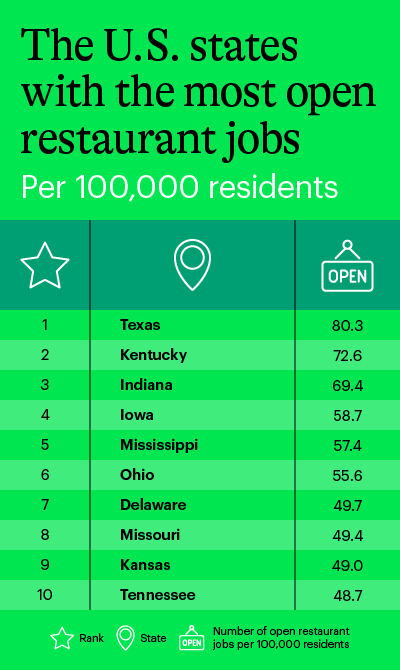 Everything's bigger in Texas — including the restaurant industry. Texas operators were hit hard, with 81% having to lay off or furlough employees last year. That leaves a sizable gap to fill as they look to recover. Applicants in the Lonestar State have their choice of 80.3 open jobsjob›s per 100,000 residents, making it very competitive for owners.
Restaurant owners across the South face similar challenges in regaining their staff. Despite booming business demand, operators are taking creative measures to work within their limitations. This includes limiting operating hours, continuing curbside operations, and offering signing bonuses. Food service workers in Kentucky, Mississippi and Tennessee join Texas for the most available food service jobs.
While Midwestern states round out the rest of the top 10, Delaware is the lone Northeast standout. According to Delaware's restaurant association, 87% of restaurants are operating with inadequate staffing despite 100% of operators increasing their wages this year — with over half increasing wages more than 10%.
Interested in seeing what the job situation is like in your state? Explore the interactive map below by searching for individual states or clicking on the map to view the number of open restaurant jobs per 100,000 residents.
The states with the highest mean hourly wage for restaurant workers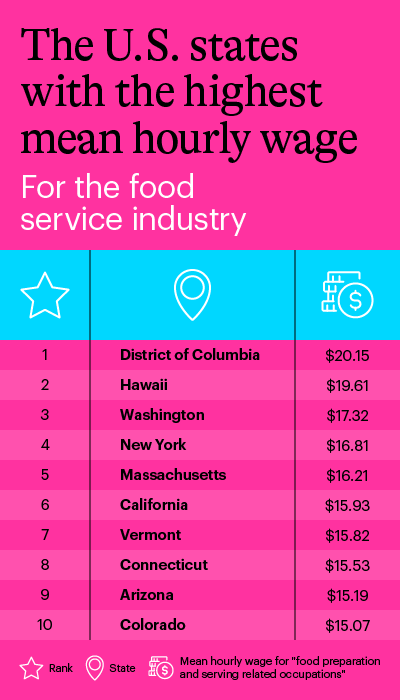 Food service applicants may be more interested in pay than myriad employment opportunities. Industry workers seeking high-paying roles might consider employment in Hawaii, where the mean hourly wage of $19.61 is second only to Washington, D.C.

New York, Massachusetts and California also compensate food service professionals at higher rates, perhaps to account for higher costs of living. In fact, seven out of the ten states on this list contain some of the most expensive cities in America, accounting for the higher compensation rates.
And while Arizona and Colorado may not have higher costs of living compared to the other states, the previously mentioned wage increases boost their mean hourly wages. Vermont also has a scheduled minimum wage increase, making these three states attractive to applicants.
The states that have dining restrictions
In 2020, food service professionals endured a tough year for both health and employment. For those seeking employment today, determining the right job may also include criteria for health and safety measures.
Some states have lifted restrictions on indoor dining, others still have restrictions in place to protect customers and employees.
To view the status of indoor dining restrictions and restaurant reopenings in your state as of July 2021, search the interactive map below or click on individual states. As the pandemic continues to change, please check your local government sites for information on current status and restrictions.
Hi, we're NEXT Insurance
Running a restaurant is tough no matter what state you're in, even under the best circumstances. While the current data shows that it's an employee's market, operators continue to find creative and resourceful ways to meet customers' needs and keep their businesses afloat.
One tool owners use to protect their hard work is restaurant and food service insurance. Having the right coverage offers you some peace of mind and may help attract food service workers, instilling confidence that you can help them in case something goes wrong.
With revolving employees, bills to pay and changing operations managing insurance is the least of your worries. NEXT Insurance makes it easy to purchase cost-effective, customizable business insurance coverage. (We're talking 10 minutes to go from quote to coverage.)
If things change with your business, you can manage your coverage 100% online. Don't worry though; if you need any help along the way, our team of U.S.-based, licensed advisors are standing by to help.
Start your instant quote today.


---
Ranking Factors
Note: Factor weights are determined by the research team's judgment on what is most important to the ranking.