Though some might argue that America runs on Dunkin Donuts, this country actually runs on small businesses. Companies with fewer than 100 employees account for 99.7% of all business in this country and have consistently played a major role in this country's overall economic growth. Many of us have taken action over the past year and since the recession to shore up our own stability, but maybe it's time to look at securing the health of these companies and their owners.
As of 2014, there were 28.8 million small businesses with 56.8 million employees, according to the U.S. Small Business Administration (SBA). These business owners are responsible for hiring new employees, providing stable incomes for existing employees, supporting healthcare and other benefits costs, and developing broader industries through their tireless work and growth. In the first three quarters of 2014 alone, they added 1.4 million new jobs. Nearly 40% of these businesses had fewer than 50 people.
We've heard so much this past year about what the costs of the current economy are on the average worker in the U.S. While politicians spend the early part of this year overhauling bills and restructuring healthcare acts, we should be looking at how we can protect these businesses that so much of our economy and jobs rely upon today.
Have you developed your own small business? It's so challenging to even start thinking about getting off the ground, let alone start buying and implementing all the necessary resources. Many are easily searchable and affordable, like budget calculators, business plan and investor deck templates, website hosting servers, and email hosts. Once those initial steps are taken though, these small business owners need the financial and insurance mechanisms to make sure their investments and growing teams are not in jeopardy of falling apart into the future.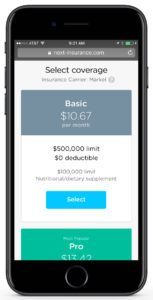 The average annual revenue of a small business of up to 100 people is $3.6 million. For so many smaller businesses, the average revenue is often much smaller – typically under $100,000 annually – and relies heavily on debt early on. These are the companies we are the most focused on at Next Insurance. We want to help them grow, while keeping their resources protected with the most tailormade and affordable  insurance. Across markets – like personal training, photography, construction – these small business owners put significant resources into their training, accreditation, and various startup costs. And often pay several thousands of dollars in insurance alone.
Insurance for a small business is a necessity. But it's often not customized to the owner's – or markets – specific needs. Furthermore, it's not often the very best option available or the most affordable, because it hasn't been sorted against an endless amount of competitors. It just hasn't been feasible for agents to stay current across infinite small business offerings and their needs. And there hasn't been an option to search, buy and manage policies online. Everything else we're doing as consumers and small business owners can be done online. Why not managing our insurance policies?
So, at Next Insurance, that's exactly what we're creating. An online insurance agency customizing insurance policies market-by-market, so small business owners can sign up for exactly what they need and at rates that can be fine-tuned for those specified uses. We've started by offering insurance policies for personal trainers and photographers initially – and are building to grow rapidly into other markets. We're working with partners to develop tailor-made insurance policies as we learn a market in-depth and are able to identify the most comprehensive and cost-effective ways to truly cover different types of small businesses. This is, after all, the kind of attention we believe small businesses should receive given their contribution to our American economy. We've wanted it when starting our own businesses in the past. Why should we all get this level of service?
We're currently underwritten by two powerhouses in insurance – Munich Re and Markel Corporation – to ensure the stability of the streamlined policies we're offering. And today, we're seeing double digit growth in term of the policies small business owners are signing up for online through Next Insurance in just a couple minutes.
To ensure the continuing growth and sustainability of our small businesses, there must be tools and resources that truly serve them. We're committed to contributing through our insurance offering.