Learn about the benefits, best practices and risks of online fitness training
In-home workouts have come a long way since the glory days of aerobic videotapes. With cell phone and computer technology, fitness trainers are finding a whole new audience with on-demand and live virtual fitness classes.
Whether you're thinking about moving your fitness classes completely online or just offering an online option, there are important best practices and liability risks to consider.
In this article, we'll cover:
The benefits of online fitness training
Moving your fitness classes from IRL to online can be highly beneficial for your personal training business.
By taking your classes to the web, your business is not limited to people in your area who can make it to a class at a specific time and date. You could reach significantly more customers and grow your brand recognition just by offering one or two classes per week online.
Another benefit of online fitness classes is the ability to keep long-term customers even when they move away from your physical location, according to virtual training expert Keridon McMahon who recently presented at the National Academy of Sports Medicine (NASM) Optima "Future of Fitness" conference.
"The potential for you to have a flourishing career, financially, from your home is actually pretty high," McMahon told attendees of the conference. "Broader reach means you can be someone's trainer no matter where they live. You can advertise to literally anyone in the entire world."
Online classes can also be an excellent option for potential customers who are beginners or uncomfortable attending an in-person group class. You have the opportunity to reach them in a new and exciting way.
There is an added financial benefit for both the client and for you, McMahon says. You can charge about 20% less per session, but stack your clients back-to-back with no drive time and no gas costs.
Making a move to online classes can be easy if you have a plan in place. Here's what you need to know to get started.
Determine which platform you'll use
How you choose your online fitness training software will have a significant impact on how you manage and monetize your classes. A variety of platforms are available online for you to consider, and many of them don't require a lot of technical expertise.
Ask yourself how you want to interact with your customers when evaluating which platform will be best for your classes. Here are some popular options:
Video conferencing
Video conferencing is the easiest way to monetize your online fitness classes. Once you receive payment, you can send a password-protected link for the date and time of your class. You can also record your live class and reuse it for on-demand customers.
Zoom, BlueJeans or Google Hangouts are accessible, easy-to-use options. In addition to providing a clear view for students to see your instructions, you can see their form and provide feedback.
It's not the same as in-person interactions, but it's close.
"I can't hand you your weights, but I'm going to be with you every step of the way," McMahon says.
YouTube
YouTube is a great way to offer fitness classes if you want to pre-record and pre-write your workouts and have them be available for customers on-demand. If you choose to do this, you can set your videos to only be viewed with a specific link that can be shared after you collect payment.
To gain more visibility and promote your business, you can also create shorter free clips on YouTube that can be shared with potential customers online.
Instagram Live
Many fitness trainers are turning to Instagram Live, which allows anyone to join a class with their cell phone. Participants can interact with you via a chat function, although this could have some limitations during workouts.
IG Live is harder to monetize since it's accessible to anyone with an Instagram account, but you can suggest donations via Venmo or other person-to-person payment platforms. It can also be an excellent tool to promote your classes with a free session or fitness challenge before you encourage your followers to sign up for closed classes or one-on-one sessions.
Decide what you'll charge and how you'll collect payment
If you already have paying clients, you probably have a payscale in mind for your classes. However, as you move your fitness training business online, you will want to take into account that online classes offer slightly less one-on-one attention. For this reason, they often cost less than classes in a studio or gym.
Once you decide what you're going to charge, you'll need to have a way to collect payment. Learn how to sell online fitness training through PayPal, Venmo, or another payment platform to replace in-person transactions.
If you would like to limit the number of attendees, ticketing platforms, such as Evite and Eventbrite, allow you to set a maximum number of participants and collect payment.
You might also want to consider adding a clause to protect your business and time from last-minute cancellations.
Test your equipment
Before you offer your online fitness classes to paying customers, do a few test runs to make sure there are no issues. Ask your friends to participate and provide honest, unfiltered feedback.
Your internet connection, sound, and camera should be running smoothly. You'll want to invest in excellent Wifi, a Wifi booster or wireless access point to make sure there are not connectivity issues mid-workout.
A good webcam and quality microphone are also essential. It's important to make sure you're offering the most professional experience that you can.
Market your classes
Share your new online fitness classes with your network and promote them online.
Make sure you're posting details often on social media, and ask your current customers to share with their following. Introductory rates or free classes are popular online marketing tactics to gain new customers.
Remember, so much of personal training is about your approach to fitness, so be enthusiastic and authentic in your marketing.
If you have the resources, advertise on popular apps, such as Mindbody, to bring more customers to your business.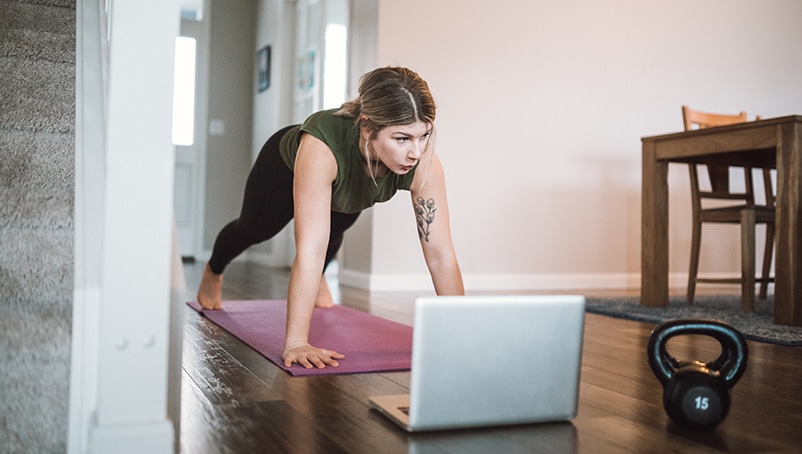 Best practices for online personal training
Now that your online fitness classes are up and running, how can you make sure your customers are getting the optimal virtual experience? Setting up a few best practices can ensure that everyone has a great workout.
Maintain a professional workout space
Make sure you have enough room to provide clear instructions for your workout. McMahon recommends at least six feet of total area, so that your clients can see your entire body for demonstrations.
If you're starting a fitness training business from home, make sure your space is free of distractions, such as pets or kids. McMahon provided tips for this at NASM Optima, including:
Making sure you are not backlit by windows
Wear clothing stands out against the background (for example, don't wear black pants that blend in with your workout equipment)
Purchase a screen or background for your workout space
Clearly communicate equipment needs
Be upfront with your customers about the equipment they might need before they participate in their first class. Keep in mind that some people might be discouraged from participating if they have to purchase gear before a class.
It's a good idea to also provide some technical advice before your class to make sure your customers have a good experience. This includes communicating how best to manage their internet connection. McMahon recommends asking clients to put their tablet or computer as close to the Wifi router as possible and to aks other members of the household to possibly refrain from using Wifi during the session.
Get a business license and insurance
Make sure your business is properly licensed and insured with fitness instructor insurance to protect yourself from risks. Liability insurance is especially important for fitness trainers because customers following your instructions could potentially make a mistake and get injured. Even if it's not your fault, the result could be unexpected expenses that your insurance would cover.
Depending on the instructions you share, you might also consider nutrition and supplement consulting insurance, which would protect you if a student claims your advice caused an injury, illness, or property damage.
When you are reviewing insurance coverage options, pay close attention to make sure you are covered for both in-person and online classes.
How to protect your fitness class business from risks
Online fitness classes face many of the same risks as in-person classes. However, you'll need to consider a few additional factors. These common risks are typically covered by fitness trainer insurance:
Customer injuries during a class
Misinterpretation of your instructions
Disagreements about your services and results
Accusations of inappropriate conduct
Defamation or slander
Copyright infringement with your course materials
Here are some steps you can take to limit risks before, during, and after classes:
Before you get started
Limit your class size
Consider placing a cap on your class that is smaller than what you might offer in person. If you have smaller classes, you can see participants via video conferencing to make sure they are using correct form and avoiding injuries.
Provide an online personal trainer waiver
Create a liability form for personal trainers that will protect you and your business from lawsuits due to injury or other risks and have every customer sign it.
In most cases, you will be able to use the personal training contract agreement you use for in-person classes and have your customers sign it digitally.
Consult with a legal professional and make sure the language covers the in-home experience.
Start with your existing customers
By limiting your online classes to existing customers at first, you are ensuring that you are familiar with their fitness level, abilities, and form. This will help in preventing injuries.
Your existing customers also might be more forgiving if you experience technical difficulties in the early days of your online classes. Be sure to ask for feedback after every class.
Use password protection
Along with limiting your class size, password protection also gives you the ability to control who is taking your class and viewing your content.
Provide a client consultation
Similar to how you would consult with a client prior to working with them in-person, you should make sure clients are a good virtual fit. Ask them to provide measurements, a history of injuries and goals. This can even include "before" photos for tracking progress.
During classes
Provide disclaimers
Disclaimers are essential in avoiding risk. Send a disclaimer when you accept payment and share it at the beginning of each class.
If you are not sure what to include with a disclaimer, get legal advice from a licensed professional. A typical disclaimer discourages students from participating if they have an injury or don't feel well, and it emphasizes that each person participates at their own risk.
Be sure to consider the content of your class and mention any other potential safety issues.
Allow for breaks
Because you will not be in the room with your customers to monitor fatigue, be sure to suggest when to take water breaks and provide time to warm up and stretch. Provide modified movements during the workout so your students can keep up no matter their level.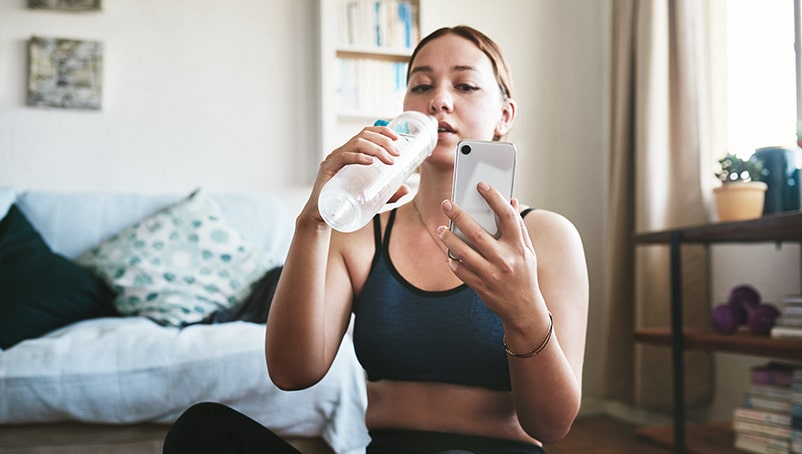 After classes
Injury prevention tips
In addition to the in-class cooldown, it is important for your customers to prevent injury from physical activity throughout the day. Provide advice for recovery after workouts. This can include anything from additional stretches to nutritional advice if you're qualified to share that information.
Manage your digital content
Pay close attention to where your online classes are stored after each session. Set your videos to private if they are saved on an online service so you can continue to monetize them and also limit your risk by controlling who follows your instructions.
How to Next Insurance protects fitness instructors and personal trainers
Next Insurance provides business insurance for thousands of fitness professionals across the United States, including online fitness instructors. We offer insurance tailored to your fitness business that can be purchased online in less than 10 minutes.
Learn more about coverage for your business and get a free online quote today. Once you purchase a policy, you'll get a live certificate of insurance to share with your customers instantly.
If you have any questions, our team of licensed, U.S-based advisors is standing by to help.