Tens of millions of American business owners have only one person on their payroll: themselves.
They're the lone wolves of the U.S. workforce, yet they comprise about 80% of U.S. small businesses. And they've been growing in numbers for at least a decade, reaching 27 million in 2022.
Formally referred to as "nonemployer" businesses, these types of companies are typically started by individuals looking to get paid for work they perform independently.
In real terms, they're consultants, contractors, social media influencers, direct sellers on Shopify or Etsy, and young startups. They're all more likely to tap credit cards for funding rather than seek out big venture capital deals or even seek a loan from family and friends.
They're an increasingly significant part of building a more resilient U.S. economy, according to recent studies on the economic impact of microbusinesses, or those with fewer than five employees.
A small business credit survey conducted from September to November 2022 found that close to half (46%) of nonemployer startups planned to make hires within a year, diversifying employment opportunities within their communities.
NEXT used the latest available Census Bureau data to analyze the demographics of business owners with no employees, looking at age, race and ethnicity, immigration status, and sex, which was limited to binary-based classifications.
Since the data is based on IRS business income tax records, it's the most comprehensive and accurate way to analyze the demographics of nonemployer businesses. Data was released in August 2023 but covers 2019 due to delays in tax filing and processing as a result of the COVID-19 pandemic.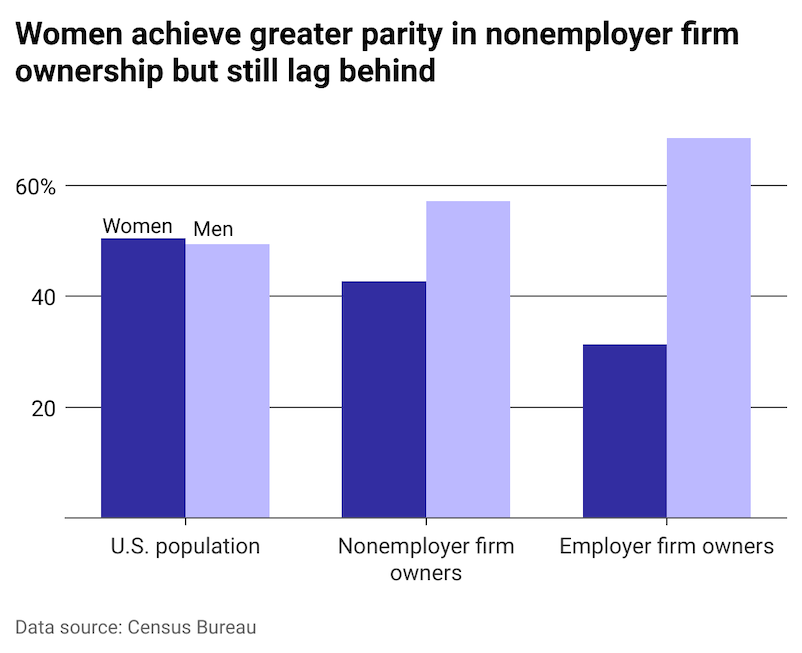 Gender gap persists at businesses with no employees
Women own nearly 43% of nonemployer businesses, leading employer firms by about 11 percentage points.
Overall, women-owned businesses are on the rise. However, more men than women still start businesses, according to the Kauffman Foundation. Women were more likely to be pushed out of the workforce amid the COVID-19 pandemic, and the full scope of the pandemic's toll on female workers and business owners has yet to be measured.
It's important to note that data was collected using a binary understanding of sex and gender and does not include business owners with other gender identities.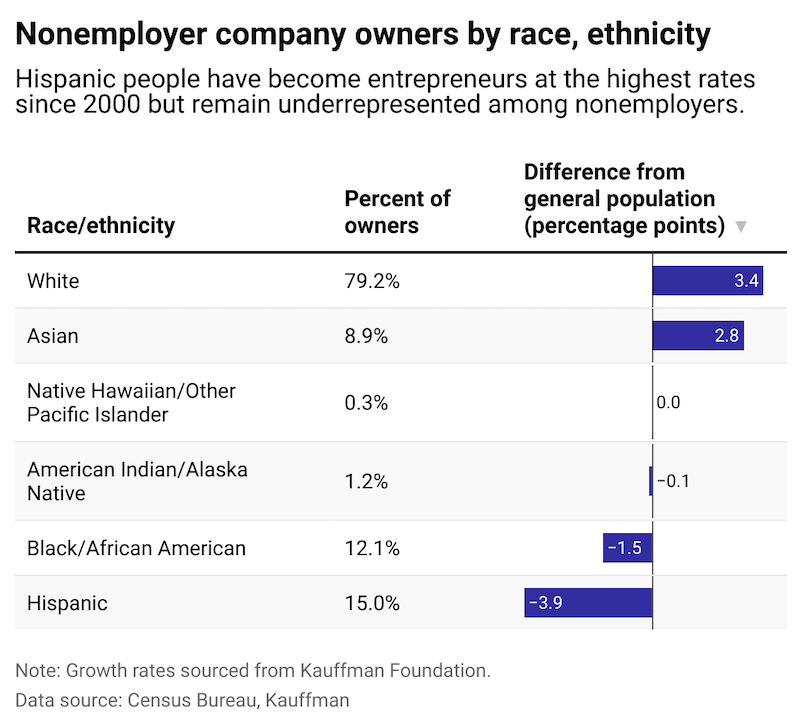 White people are overrepresented among nonemployer business owners, while Hispanic and Black people are underrepresented
As with many business opportunities in the United States, racial and ethnic disparities exist among business owners without employees.
Nonemployer businesses belong to an outsized proportion of white and Asian people when measured against overall U.S. demographics. Black people are underrepresented in this group of business owners by 1.5 percentage points, while Hispanic people are the most underrepresented.
While Hispanic people are starting companies at higher rates, the share of business owners has grown slower than the overall population of Hispanic people in the U.S., according to the Federal Reserve Bank of Minneapolis.
This group tends to have less collateral, such as real estate, to put up for a loan than white Americans. Language and a lack of access to entrepreneurial support services in rural areas remain barriers for Hispanic people who might otherwise start businesses.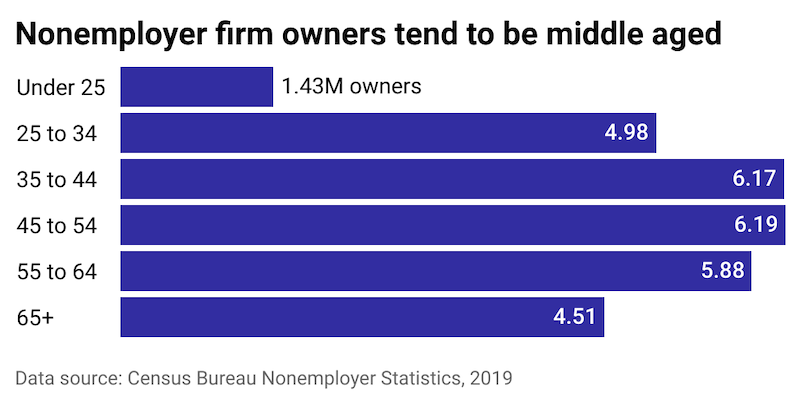 More business owners with no employees are in their 30s to 50s
Younger, newer workforce entrants are much less likely than their older peers to start a business.
Census Bureau data suggests the prime age for entrepreneurship in the U.S. is between 35 and 54. These statistics also somewhat reflect that the under-25 contingent of the U.S. workforce is generally underemployed compared to other age groups.

Most business owners without employees are U.S. citizens
Most people who own nonemployer businesses are U.S. citizens, though some immigrated to the U.S. and became naturalized citizens, according to Census Bureau data.
The U.S. does not require citizenship to form and register a corporation or LLC, meaning foreign nationals can establish their own companies.
Non-U.S. citizens are the only demographic in which business owners of color outnumber white business owners, showcasing that those who immigrate to the U.S. develop new livelihoods and add to the country's existing diversity and economy.
How NEXT protects small business owners
NEXT is dedicated to helping business owners — with and without employees — thrive at every step of their journey.
Whether protecting your business from everyday slip and fall incidents or your essential property needed to operate daily, we can help you easily find business insurance to fit your needs.
It only takes about 10 minutes to start an instant quote, customize your coverage, purchase a policy and print your certificate of insurance.