The resiliency of small business owners and entrepreneurs has never been more clear today. The impact COVID-19 continues to have on small businesses reminds us of the urgency to support this critical segment of our economy.
At NEXT, our mission has always been to help small businesses thrive by providing simple, affordable and customized business insurance policies. And to support that mission, we also provide resources along their journey to success.
That's why we created the Small Business Guide How to Thrive from Day One. It's your one-stop resource outlining steps to consider when getting a small business off of the ground. Get first-hand advice from small business owners and service providers, and new data from a NEXT commissioned survey from over 500 small business owners of various ages, gender, industries and geographic location.
NEXT's survey revealed how small business owners approached and adapted to COVID-19 restrictions. We also uncovered longer-term gender and generational trends. Highlights include: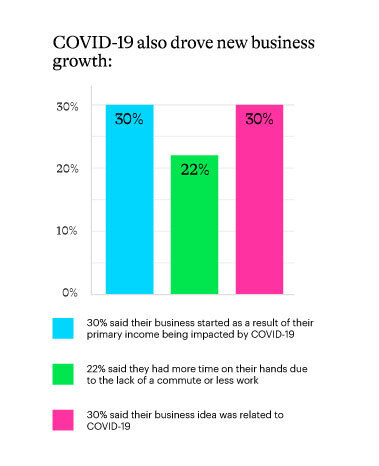 The pandemic had a major impact on small businesses. Close to 44% of all small business owners said they experienced a revenue or business loss due to COVID-19, with more than half of all Gen X and Baby Boomer owners saying they experienced a loss.
Digital-savvy Gen Z-owned businesses fared best, with only 17% of those businesses citing a loss from COVID-19. This was likely due to digital sales. More than 80% of Gen Z-owned businesses expect to get over half of their revenue from digital (web, mobile, online delivery, social media) by 2022. Comparatively, only 33% of Baby Boomer-owned businesses expect digital revenue.
Almost half of all small business owners said they embraced more digital practices in response to COVID-19. Digitalization will contribute to 52% of all small businesses earning more than half of their revenues online by 2022, up from 42% in 2019.
Women are starting businesses more than men, often from scratch and by themselves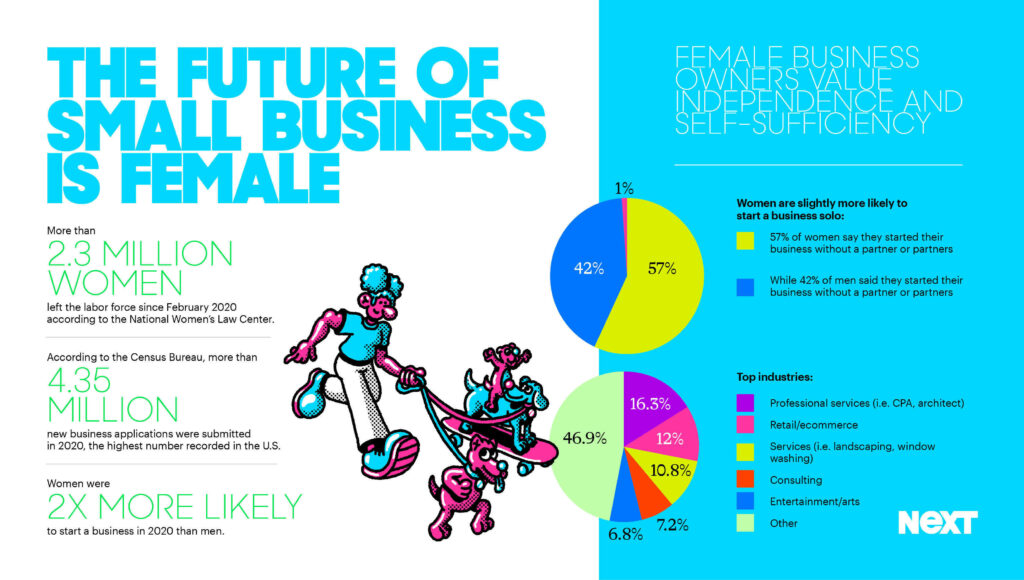 Women were more than twice as likely to start a business during 2020 than men. This is noteworthy in a year when new business applications reached an all-time high of 4.35 million, according to Census.gov. Growth was likely driven by the 2.3 million women who left the labor force between February 2020 and January 2021 due to the economic, health and childcare impacts of COVID-19 according to the National Women's Law Center.
Data suggests women are more likely to start a business from scratch than men, with men twice as likely (11.3% to 5.6%) to buy into an existing business or franchise.
Women (57%) are also more likely to start businesses without partners than men (42%).
Small business owners are bullish on their businesses and the broader economy
When asked about the broader economy, 84% of small business owners said they are somewhat, very or extremely optimistic about a recovery.
When asked about their own businesses, 94% expressed optimism about a recovery.
Gen Z is the most optimistic generation. They're the only generation more optimistic about the broader economy than their own business.
Maybe you're an aspiring first-time business owner looking for guidance or a current business owner looking for extra resources. You could even be an experienced entrepreneur starting a second or third business but want to brush up on critical steps. We designed this guide for you.
After reading our guide, we hope you feel inspired to go after your dreams and share your passions with the world.