New Jersey residents love their air conditioning and heat. In fact, the U.S. Energy Information Administration (EIA) reports that 93% of households in the state use air conditioning, and nearly half of New Jersey home energy use is dedicated to space heating.1
The widespread use of heat and AC in the state keeps HVAC contractors busy all year long. If you're interested in becoming a New Jersey HVAC contractor, however, you'll need a license first.
To become licensed, HVAC contractors in New Jersey must meet a number of requirements, including work experience and insurance coverage. This guide walks you through each step of the application process, including:
Do you need a license to be an HVAC contractor?
Anyone performing HVACR contractor services in New Jersey must have a license from the New Jersey State Board of Examiners of Heating, Ventilating, Air Conditioning and Refrigeration Contractors.2
How to get an HVAC license in New Jersey
You must complete the following steps to get your New Jersey HVAC license:
Submit an application online
You need to register with the New Jersey Division of Consumer Affairs to apply for your license.3 With your completed application, you must include the following documents to prove your eligibility:
Proof that you are at least 21 years old
A passport-size photo taken within the last six months
Because the application is only available online, you'll need to prepare electronic versions of any materials you need to attach. Accepted file formats are TIFF, PDF and JPG.
Pay the application fee
The current application fee is $100. The Board will assess a separate licensing fee after you pass the exam.
Schedule your licensing exam
New Jersey HVAC license exams are held at least four times per year. The exam covers topics on HVACR contracting as well as the laws and rules associated with HVACR contracting in New Jersey. To pass the exam, you'll need a score of at least 70% in each of these two areas.
Get a bond
After passing the exam, you must submit a surety bond for $3,000 to the Board.
HVAC license requirements
To get your New Jersey HVAC license, you must fulfill the work experience and educational requirements.
When applying, you must provide documentation to show that you meet one of the following standards for licensure:
Four years in a U.S. Department of Labor-approved HVACR apprenticeship program and one year of work experience
A four-year bachelor's degree in HVACR and one year of hands-on HVACR work experience
A four-year bachelor's degree in a related field and three years of hands-on HVACR work experience
A two-year degree from a trade school, technical school or community college, two years of a U.S. Department of Labor-approved HVACR apprenticeship program, and one year of hands-on HVACR work experience
How long does it take to get your HVAC license in New Jersey?
The State Board of Examiners of HVACR Contractors meets once a month to review license applications. If the Board approves your application, you'll receive a letter as soon as possible after the meeting. This letter will include information on how to schedule your licensing exam.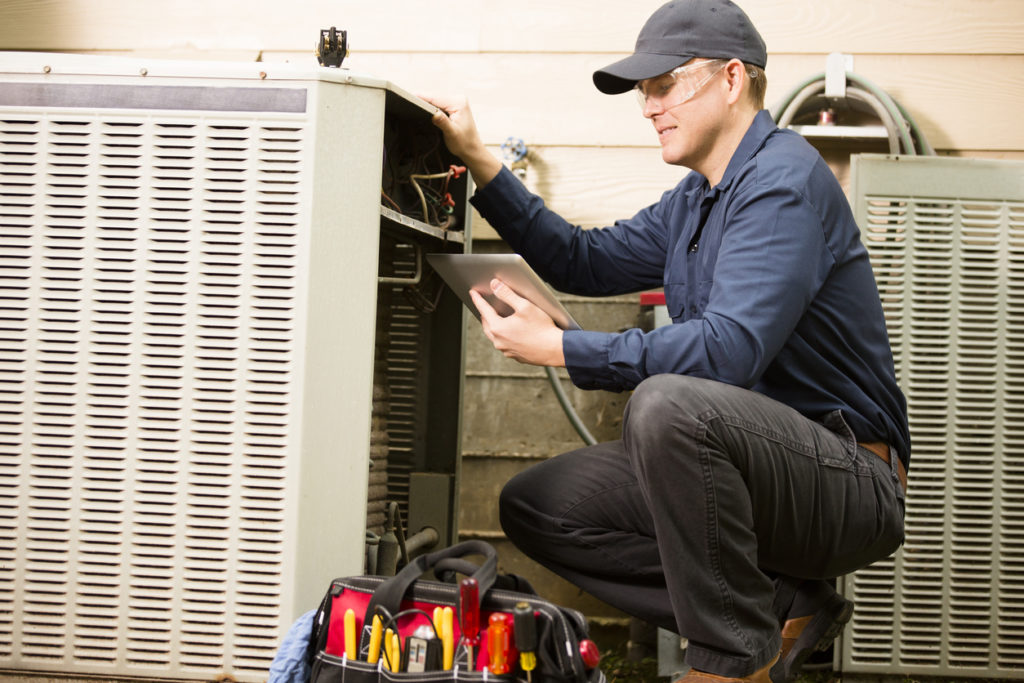 New Jersey license renewal requirements
New Jersey HVAC licenses expire on June 30 of every even-numbered year. Licensees will get reminded to renew approximately 60 days before the expiration date.
The cost to renew your license is $160. During the two-year period between renewals, you must complete five credits of continuing education through a Board-approved course.
HVAC license reciprocity
The New Jersey State Board of Examiners of HVACR Contractors will consider reciprocity for applicants already licensed in other states under certain conditions. The state must have licensure standards the Boards considers equal or comparable to New Jersey's requirements. In addition, the applicant must attach documents as evidence of their qualifications.
The Board has already established that HVAC licenses from the following states do not fulfill the requirements for New Jersey HVAC license reciprocity:4

| | | |
| --- | --- | --- |
| Alabama | Indiana | Oklahoma |
| Arizona | Kentucky | Pennsylvania |
| Arkansas | Louisiana | Rhode Island |
| California | Maryland | South Carolina |
| Connecticut | Nevada | Tennessee |
| Delaware | New Mexico | Texas |
| Florida | New York | Virginia |
| Georgia | North Carolina | West Virginia |
| Illinois | Ohio |   |

What kind of insurance does an HVAC need in New Jersey?
New Jersey HVAC contractors must have a certificate of general liability insurance. Learn more about this requirement and other types of business insurance in New Jersey.
General Liability insurance
You must have general liability insurance in order to get your New Jersey HVAC license. This insurance can help provide coverage for bodily injury, property damage and other accidents that can occur on the job.
Workers' Compensation insurance
All New Jersey employers not covered by federal programs must have workers' compensation insurance.5 If you or one of your HVAC technicians gets hurt on the job, this insurance can help provide coverage for medical expenses, lost wages and more.
Tools & Equipment insurance
Tools and equipment insurance can help cover repairs and replacements for damaged or stolen work gear.
Commercial Auto insurance
Commercial auto insurance can help cover costs related to accidents in a work vehicle, such as medical expenses and property damage.
Commercial Property insurance
If you own or rent property for your business, commercial property insurance can help provide coverage for issues like damage and equipment breakdowns.
What is the certificate of insurance requirement for HVAC contractors?
You'll need to provide the Board with a certificate of general liability insurance to get your license. This certificate of insurance must show coverage for $500,000.
How NEXT supports New Jersey HVAC Contractors
NEXT has helped thousands of contractors by customizing affordable insurance packages to meet their unique needs. If you're an HVAC contractor in the state of New Jersey, NEXT can help you get insurance to fulfill your licensing requirements and protect your business.
Our online services make it easy to get the right coverage. In just a few minutes, you can apply for coverage and obtain a certificate of insurance. Access your account online anytime, anywhere and share unlimited digital certificates for no additional charge.
Keep your cool when it comes to HVAC insurance and get an instant quote online today.
Are you considering taking on HVAC jobs in another U.S. state? View our summary of HVAC contractor license requirements in every state.


Sources
1 U.S. Energy Information Administration
2 New Jersey State Board of Examiners of Heating, Ventilating, Air Conditioning and Refrigeration Contractors
3 New Jersey Division of Consumer Affairs 
4 Application for a Master HVAC Contractor's License by Reciprocity