Many promising fitness pros face an overwhelming menu of PT certification options when figuring out how to become a certified personal trainer. Cost, prerequisites, program specializations, and course time length are key factors.
With many personal training certification options available, this article will give you an overview of one of the most recognized programs in the fitness industry: the NASM personal training certification.
What is the National Academy of Sports Medicine (NASM)?
The National Academy of Sports Medicine (NASM) is among the most well-known and accredited certifications for personal trainers. Established in 1987 by Dr. Bob Goldman, NASM's certified personal trainer (CPT) program specializes chiefly in functional fitness training. It's recognized worldwide for the quality of its trainers and the program's scientific approach to training.
In 2000, Dr. Micheal Clark joined NASM as a partner. He created the Optimum Performance Training™ or OPT model — the first science-based training system in the industry — which has become the foundational methodology for NASM's programs.
Today, NASM has educated over 1.4 million fitness professionals in over 100 countries. Aside from the CPT program, they also offer certifications in nutrition coaching, sports nutrition coaching, wellness coaching, group fitness, and indoor cycling instruction.
NASM certification personal trainer program overview
The standard NASM-CPT program is an online course. It comprises six sections, divided into 23 chapters covering various topics from anatomy to fitness program design. Course materials include learning videos, interactive graphics, exercise demonstrations, downloadable resources and mini quizzes.
While most of the course is through self-study, candidates can get guided help from fitness experts or hands-on experience and mentoring.
After going through the course there is a two-hour certification exam with 120 questions. (However, 20 are research questions that don't count towards your final score.) To pass, you must achieve a 70% or better score.
If you fail to pass the exam, you can purchase a retest. Your program may already include a retest, depending on your selected program.
Prerequisites for getting the NASM-CPT certification
All NASM certifications have prerequisites. To be eligible for the personal training course, applicants must have a high school diploma or GED.
You must also have current Cardiopulmonary Resuscitation (CPR) and Automated External Defibrillator (AED) certification (Which you can also get through the NASM). Candidates can also get CPR and AED training and certification through community education programs or local Red Cross chapters.
If you don't have the CPR and AED certifications, you can still enroll in the personal training program. However, you must have them before you take the NASM-CPT final exam.
How long does it take to get a NASM certification?
The NASM recommends investing at least 15 weeks to complete the NASM-CPT course. However, because the course is self-guided, completion times may vary, with some completing the course in 12 weeks.
Also, 15 weeks isn't the maximum amount of time to complete the NASM certification. Candidates have up to 180 days to finish the online course and attempt to pass the exam.
How much does it cost to get a NASM certification?
NASM-CPT certification costs vary depending on the program you opt into. NASM also offers sales and bundling specials that reduce program costs. Candidates can also pay via monthly installments.
Currently, the basic self-study program costs $999. It includes their exam, lecture videos, access to their exercise library, study guide, practice tests and quizzes and more.
Beyond the basic program, pricier tracks include more benefits and increased personalization and assistance. The most premium option, 'All-Inclusive,' includes access to NASM fitness experts, exam prep, an internship offering hands-on experience with clients, and a job placement guarantee.
Here is the full menu of NASM's personal trainer certification tracks: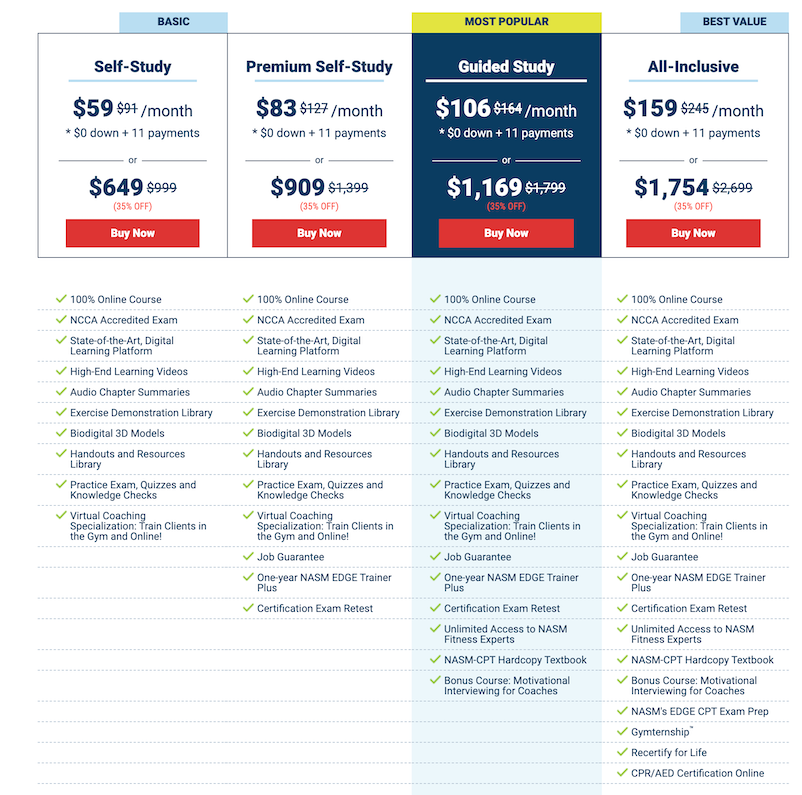 Check NASM's website for the latest prices; they often have sales and bundling deals to help potential trainers save.
Does the NASM-CPT certificate expire?
Yes, NASM certified personal trainers must recertify every two years to ensure they're up to date on the current best practices and skills.
To recertify, trainers must earn 2.0 CEUs (20 hours of continuing education units). This includes 0.1 CEUs from the mandatory CPR/AED certification. CEUs are based on contact hours.
NASM charges a $99 recertification payment every two years or a one-time fee of $399 for lifetime certification.
What happens if you don't re-certify before the NASM certificate's expiration date?
Your credentials will expire if you don't meet recertification requirements by the certificate's expiration date.
However, the NASM will accept recertification applications up to one year from the certificate's expiration date if all continuing education courses have been completed before or within 90 days of the expiration date. (Note: Late fees may apply.)
NASM continuing education and specializations
In addition to their general emphasis on all-around fitness, corrective exercise, and injury prevention, NASM offers various specializations to enhance your professional development. Achieving a specialization in a specific niche sector is a way to increase your value as a personal trainer and broadens opportunities as your career develops.
Here are some of NASM's most popular fitness specialization programs:
Certified nutrition coach (CNC). As a certified nutrition specialist, you'll guide clients seeking to improve their body composition, athletic performance, and health through tailored nutrition coaching.
Certified sports nutrition coach (CSNC). Learn to develop personalized nutritional recommendations for optimal performance and recovery for fitness clients and athletes.
Certified wellness coach (CWC). Help guide, support, and motivate clients to make lasting lifestyle changes through movement (fitness), nutrition, mental and emotional wellbeing and more.
Certified physique and bodybuilding coach (PBC). Learn about physique training programs, including weight training, nutrition, and supplementation techniques for physique athletes and fitness enthusiasts of all levels and experiences.
Stretching and flexibility coach (SFC). Learn the techniques and strategies needed to start helping clients with assisted stretching.
Corrective exercise (CES). Help your clients reduce the risk of injury — showing them how to move, feel and live better.
Weight loss (WLS). Help clients achieve long-term weight loss success through evidence-based nutrition, exercise, and behavioral change strategies.
Performance enhancement (PES). Help your clients achieve optimal flexibility, speed, agility, and overall performance through workouts.
Home gym design (HGD). Provide additional value to your clients by helping them reach their fitness goals by preparing, planning, and installing a home gym.
Virtual coaching (VCS). Learn the skills, tools, and strategies to launch or transition your current fitness or wellness business to a successful online coaching business.
Behavior change (BCS). Identify what motivates your clients most and leverage them to build sustainable results.
Group personal training (GPTS). Working out in groups can be an extra motivator for many people, and group training translates into higher pay rates.
Women's fitness (WFS). Learn how to design safe and effective programming to support women in their fitness and health pursuits across all ages and life stages.
Senior fitness (SFS). Help seniors preserve their independence and stay in shape using exercise programs designed specifically for their needs.
Youth exercise (YES). Help keep kids motivated and engaged in sports, weightlifting, running, and more.
Golf fitness (GFS). Golf conditioning includes corrective exercises and fitness assessments aimed at helping your clients lower scores, improve head speed and prevent injuries.
MMA conditioning (MMA). Take clients to the next level with training techniques and coaching strategies professional mixed martial arts fighters use.
NASM also offers educational courses that aren't fitness niche-related, including:
Business accelerator. Learn about the operational side of running your own business, including marketing, networking, and communication techniques to gain more clients.
Social media fitness influencer. This course has been designed for fitness professionals looking to grow their online presence and client reach using social media channels.
Mental toughness. Mental toughness helps to provide greater awareness and effectiveness in getting performance results by keeping the mind engaged, responsive, resilient, and strong under pressure.
Training the brain. Learn to motivate clients to adhere to fitness plans.
Speed, agility and quickness training. Understand SAQ training concepts and gain the knowledge to help clients increase performance while decreasing the risk of injury.
Fitness trainer insurance
No matter which personal trainer certification and specialization you end up going with, getting insured is essential. NASM has partnered with NEXT as the preferred insurance provider for its trainers and coaches.
There are a few reasons trainers need to become insured.
First, many gyms will recommend, and some will require, you to have personal trainer insurance before you can teach. It depends on several factors, including your employment status with the gym, the kinds of services you provide and local regulations.
Personal trainer insurance can also help protect you from common accidents, injuries and damages associated with your profession. For instance, if you accidentally drop a dumbbell at a client's house and damage their wood floor, general liability coverage would help pay for repairs.
When you have business insurance, you won't have to pay entirely out of pocket to defend your business or solve the problem.
NEXT helps your personal training business succeed
At NEXT, we're committed to helping personal trainers, and every fitness professional thrive. That's why we've made it easy to get affordable, customized insurance to protect your business.
Everything is 100% online, so you can get an instant quote, review options and buy coverage in less than 10 minutes — no calling an agent. You'll have immediate 24/7 access to your certificate of insurance (COI) as soon as you buy your insurance.