Our 1st review in this PT certification series is the
NASM Certification Review
In trying to figure out the road map to becoming a certified personal trainer, many promising fitness pros find themselves facing an overwhelming menu of PT certification options. Cost, prerequisites, program specializations, and length of course time can all be key factors – and deciding which one to go with can itself be a grueling workout. So, we at Next Insurance decided to compile a detailed breakdown and comparison of the most popular PT certifications out there, so that soon-to-be trainers like you can make sense out of the assorted options, and choose the best possible certification program for your goals and skills.
Origin Story
National Academy of Sports Medicine (NASM) is among the most well-known and accredited certifications out there. Established in 1987 by Dr. Bob Goldman, NASM's personal trainer certification specializes chiefly in functional training, and is recognized throughout the world for the quality of its trainers and the scientific approach from which its programs are created. In 2000, Dr. Micheal Clark joined NASM as a partner and created the Optimum Performance Training™ (OPT) model – the first science-based training system in the industry – which has become the foundational methodology for NASM's programs. NASM carries out research into cutting-edge fitness techniques and programs at the University of North Carolina at Chapel Hill., They are partnered with the Athletics and Fitness Association of America, as well as Premier Global in the UK. As a leading CPT certifier, NASM has certainly made its mark: as one example, the vast majority of athletic trainers in the NBA are card-carrying NASM members, with specializations in Corrective Exercise or Performance Enhancement.
Program Tech Specs
The standard NASM certification program is a 10-week online course. Candidates can also participate in a hands-on, live workshop component in addition to the online course. Start to finish, participants can expect to invest in approximately 10-12 weeks to complete the online modules and prepare for the exam. This period culminates in the two-hour NASM exam with 120 questions. With their Exam Prep Guarantee, NASM promises a free retest, so even if you don't make it the first time, you will the next!
NASM Certification Pricing
In terms of costs, 
NASM's PT program cost
 is on the pricier side – but well worth it, as their certification is among the highest regarded, and with an average CPT salary of $44,000, NASM-certified trainers are also among the highest paid. The basic self-study program costs $699 and includes their textbook, lecture videos, access to their exercise library, study guide, and more. Beyond the basic program, there are pricier tracks which include more benefits and increased personalization and assistance. The most extravagant option, 'All-Inclusive', is truly that: it includes tons of benefits and study aids, and even features a live workshop, ongoing CPT development programs, and job placement guarantee! At $1999, this is definitely a premium option – but well worth it if you are operating on that kind of budget. Here is the full menu of NASM's personal trainer certification tracks:
Self-Study Program

$699 NCCA Accredited Exam, Textbook PDF (20 chapters), Lecture Videos, Exercise Library, Correcting Form Videos, Practice Exams, Quizzes, Study Guide
Advantage is its flexibility, with no set schedule

Premium Self Study Program

$999
Includes all benefits listed above, with additional Anatomy Memorization Activity, Learning Activities, Flashcard Bundle

Guided Study Program

$1,299
Includes all benefits listed above, with additional Reading Material/Exam Readiness Webinars, Correcting-Form Videos, Access to Coach and Mentor, Discussion Questions, Live Workshop, Exam Prep Guarantee

All-Inclusive Program

$1,999
Includes all benefits listed above, with Retest Voucher, Job Guarantee, CPT Development Program
Prerequisites
All PT certifications have prerequisites, and NASM's are fairly standard. Applicants must be 18 or over and have a high school diploma or equivalent. They must also have current Cardiopulmonary Resuscitation (CPR) and Automated External Defibrillator (AED) certification. Conveniently, you can get a
CPR/AED certification
with NASM. These certifications are not required to purchase the CPT package, but must be obtained prior to sitting for the exam. CPR and AED training and certification can be done through community education programs or your local Red Cross chapter.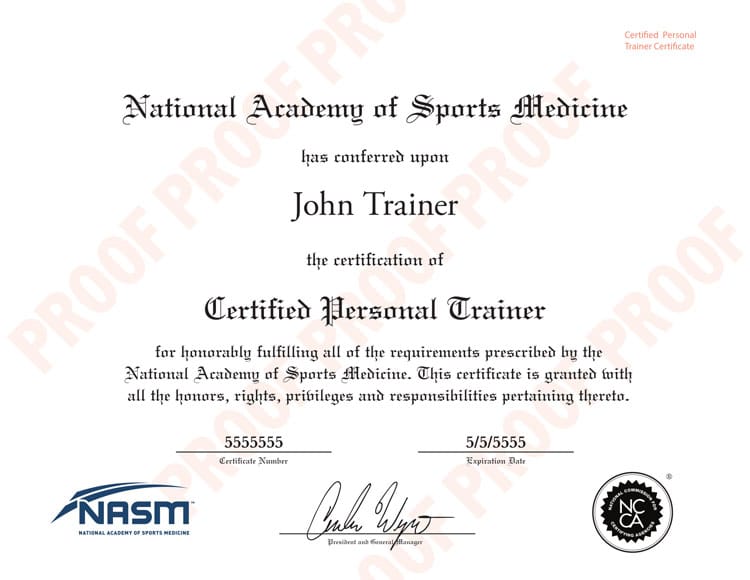 Specializations & Continuing Education
In addition to their general emphasis on all-around fitness, corrective exercise, and injury prevention, NASM offers a large variety of specializations, too. Beyond the NASM-CPT credential, trainers can continue their education by adding specialties in areas like Corrective Exercise and Nutrition. Achieving a specialization in a specific niche sector is an excellent way to increase your value as a PT, and opens you up to broader opportunities as your career develops. Here are some of NASM's most popular specialization programs:
Corrective Exercise. Learn a variety of static and dynamic assessments to identify imbalances and use the results to design effective programs for your clients.
Performance Enhancement. Help your clients achieve optimal flexibility, speed, agility, and overall performance.
Behavior Change. Learn the skills to get deep into your clients' health and fitness habits in order to correct and improve flawed learned behaviors.
Fitness Nutrition. Understand and teach the essential dietary habits for optimal weight loss and management, including metabolism, caloric needs, portion sizes and general healthy eating habits.
Group Personal Training. Working out in groups can be an extra motivator for lots of people – and group training translates into higher pay rates for you, the trainer.
Weight Loss. Help obese and overweight clients gain the dietary and exercise confidence and knowledge they need to lose the weight – and keep it off.
Women's Fitness. Focus on training women of all ages, including younger, pre- and postnatal, and older women, using NASM's proprietary Optimum Performance Training model.
Youth Exercise. Work with kids on fitness and nutrition to improve their sports skills, increase their physical activity, and lose weight – all while having fun.
Senior Fitness. Help seniors preserve their independence and stay in shape using exercise programs designed specifically for their needs.
Golf Fitness. Golf conditioning includes corrective exercises and fitness assessments aimed at helping your clients lower scores, improve head speed, and prevent injuries.
MMA Conditioning. Take clients to the next level with training techniques and coaching strategies used by professional mixed martial arts fighters.
Re-certification
Periodic re-certification is required by all organizations, each with their own terms. Every certification type requires continuing education credits (CECs), and while they are all generally similar in recognizing conference attendance, specialized courses, and accredited webinars as CEC units, the actual requirements vary for each certifying organization. NASM requires 2.0 CECs (20 hours of continuing education credits) within two years, which is also the length of time after which re-certification is required. NASM charges a fee of $99 per year to re-certify, or $299 for lifetime certification.
Insurance
No matter which certification you end up going with, 
becoming insured as a personal trainer
 is essential, both per regulations of most gyms, and as a way of making sure you're protected in the unexpected event of client injury, client dissatisfaction, or other such scenario. NASM has partnered with Next Insurance as the preferred insurance provider for its trainers and coaches. Next Insurance is an online provider of simple, comprehensive, and inexpensive insurance coverage with policies specifically geared for personal trainers. To become employed at a gym and start building up your name to attract private clients, you basically can't go wrong with NASM certification. It is on the pricier side, but that cost is offset by becoming certified through one of the most respected and universally well-regarded standard PT certifications out there. Best of luck!