We gave more than $2 million back to small businesses in 2020 and experienced phenomenal growth with our business
Typically, to start the year, we like to look back at our business milestones from the previous year and share details on our company's growth.
2020 was far from typical. We experienced phenomenal growth, but as soon as the pandemic expanded globally, we knew we had to double down on our commitment to helping small businesses.
We're thrilled to report that despite unprecedented challenges, we were able to support small business owners by putting more than $2 million back in their pockets.
We led the industry by being the first insurance company to provide a 25% reduction in premiums to policyholders. We also reallocated $250,000 from our marketing budget to launch Built By Business, a program that put small businesses back to work as the economy sputtered in the early days of the pandemic.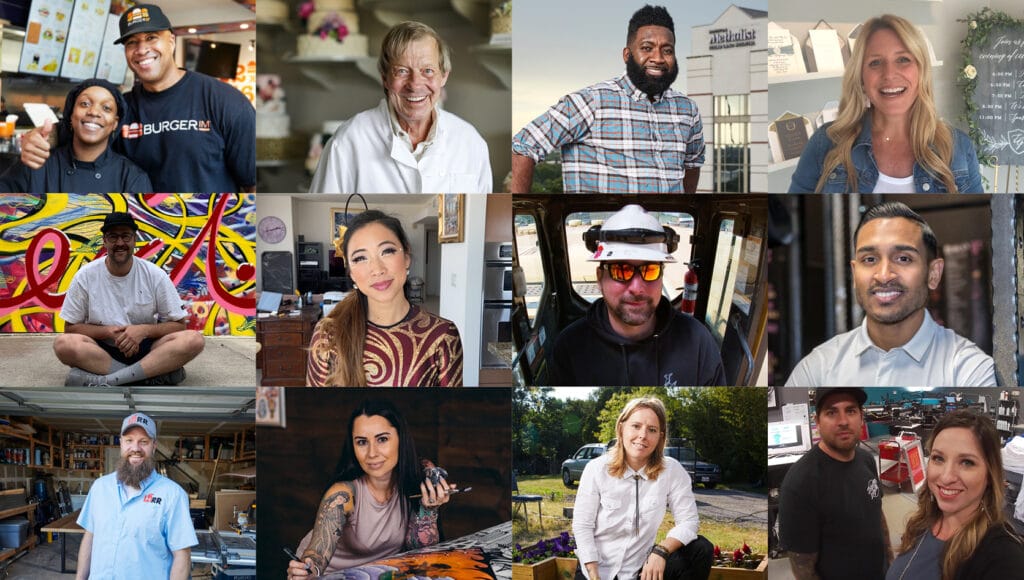 We're thankful to be in a position to help our community during uncertain times. We also realize that there's much more work to be done.
As we move forward into 2021, we'll continue to introduce innovative ways to help small business owners while delivering a painless and seamless option for small business insurance.
Small businesses love our customer service
Providing excellent customer service is an important part of helping small businesses. It's something we strive for 24/7, and we've recruited a team of licensed insurance advisors to help us deliver on our promise to make insurance easier for small business owners.
Customer feedback shows us that we're on the right path. We're happy to report that we continue to maintain 4.8 out of 5 stars on Google reviews (we're working hard to close out those last 0.2 percentage points) and a 74 NPS rating.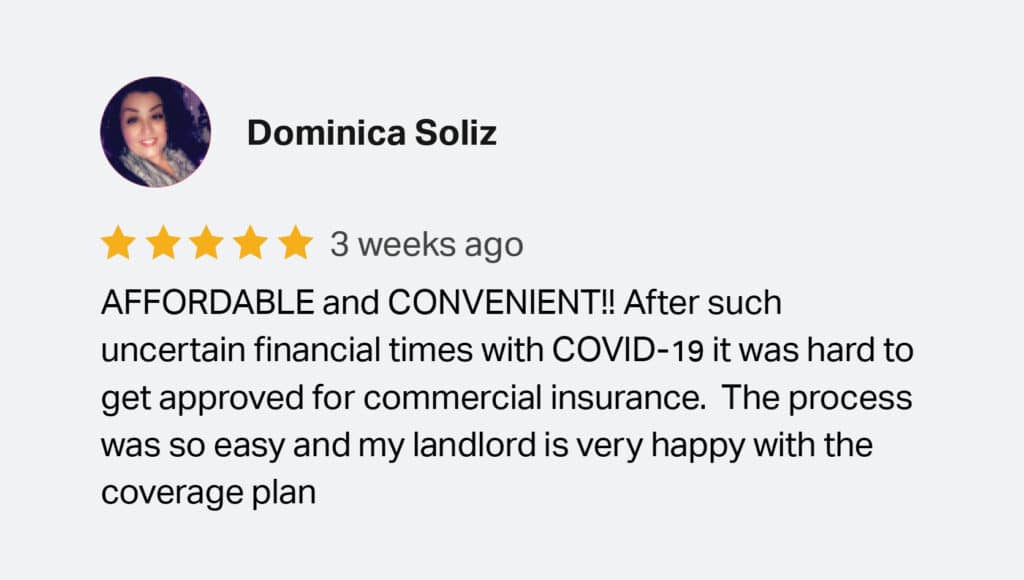 Insurance claims are disruptive to the small businesses we serve and they can be a source of anxiety for all involved parties. That's why we work to resolve them as soon as possible.
In 2020, we processed most of our claims in-house to create a better experience, more efficient experience. Our team now handles 82% of claims, an increase of almost 5x. We aim to make claims decisions within 48 hours.
We also launched the new mobile progressive web app to make it even easier for our customers to access their certificates of insurance and documents from anywhere.
Our growth at Next Insurance
We're excited by the growth we experienced in 2020 and we're grateful for our team's contributions while working remotely during a challenging year with the pandemic. They are truly unstoppable.
Here are some of the highlights from last year:
130,000 customers and 2x gross written premium
More than 130,000 small businesses and self-employed individuals have worked with us to find the insurance coverage they need. The number of customers with more than one type of coverage increased by 10x.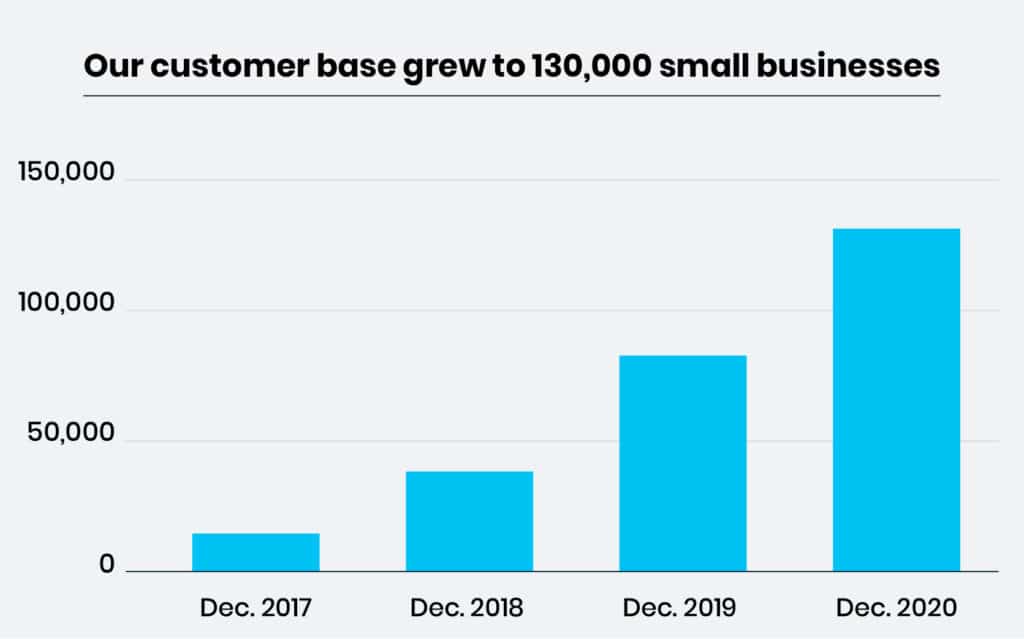 Despite the economic challenges with COVID-19, we continue to break our sales records. We sold $1 million in written premium in a single day for the first time — a huge jump over our $360,000 record in 2019.
Our run-rate also doubled over the past year and is now at $240 million. This shows the volume of premium sold per year based on the number sold in a given month. It's an important data point that many people in the insurance industry follow.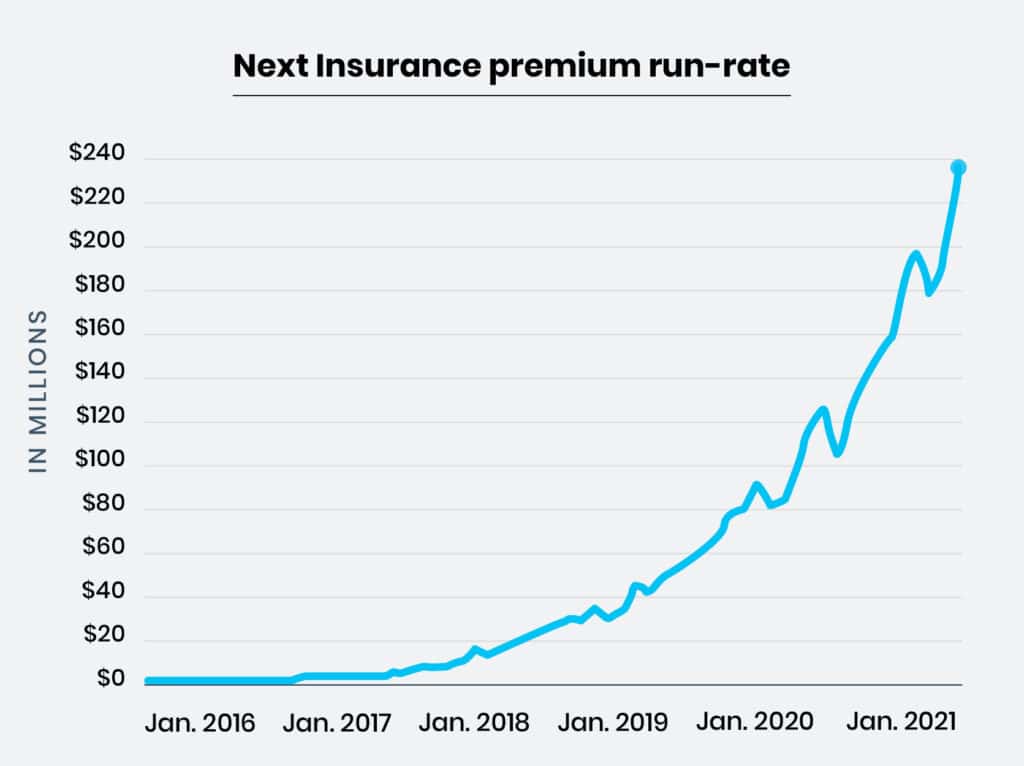 We're thrilled by this growth and — more importantly — the opportunity to help more small businesses get the protection they need so they can focus on running their business.
New products and expanded Workers' Comp coverage
We made significant headway in growing as a one-stop shop for small business insurance and offering more customized options for our customers.
Our first property insurance coverage (tools and equipment insurance) was launched in 2020. We will continue to expand and enhance our commercial property offering in 2021.
Workers' compensation is another important area of growth for us. We now offer coverage in 32 states — up from just five at the end of 2019 — and we're planning to have workers' comp in almost every state by the end of this year.
We also launched hired and non-owned auto coverage as an optional addition to our commercial auto insurance product.
Agent partners drive 'Next for Agents' growth
Insurance agents are continuing to turn to us for help serving their clients who own small businesses.
Our Next for Agents business doubled in 2020 as we added more services, including an enhanced agent partner portal with upgraded self-service tools. Agent partners also have direct access to generate certificates of insurance and a modern portal that helps them save time.
We're excited about this area of our business and we're looking forward to working with more agents across the country in 2021.


'Built By Business' creates small business opportunities
Celebrating small businesses is integral to our culture at Next.
In addition to giving more than $2 million back to small businesses affected by the pandemic, we wanted to help small businesses in a unique way that would showcase their talents to the world.
We did this by hiring 50 business owners to work on special projects for us during the early days of nationwide shelter in place orders. You might have seen the results in our first national TV campaign. You can learn more about the program on our website.
We also hired Stuzo Clothing, a gender-free, black-owned clothing company in L.A., to design our Next-branded hoodie. Every Next employee literally wears our commitment to small businesses and economic equality.
Juniper Labs joins Next, our first acquisition
To close out 2020, we announced our first-ever acquisition, Juniper Labs, to strengthen our omni-channel customer experience and drive new customer experiences.
Juniper Labs leverages open data and machine learning to build tools for streamlined data collection and automated underwriting.
We'll continue to utilize this technology to create better insurance packages for our customers at the best possible price. Our customers will only pay for the coverage they need for their unique business risks without getting charged extra for any unnecessary insurance.
$250 million in Series D financing led by CapitalG
We're honored to be backed by some of the biggest names in the investment and insurance communities.
In September, we announced our Series D round of funding — a $250 million investment led by CapitalG, an independent growth fund associated with Google.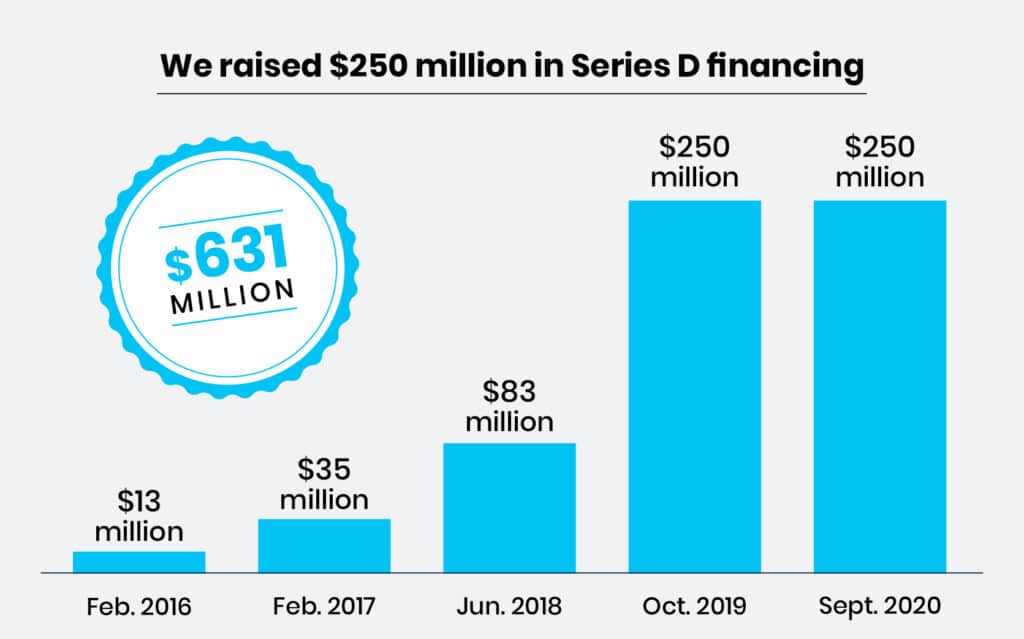 This new funding will allow us to develop new products, improve our existing coverage and continue to enhance what we believe is one of the best customer experiences in the insurance industry.
What's Next?
We're excited about what we were able to accomplish in 2020, but we still have more work to do to serve our small business community.
We'll continue to push the industry forward in 2021 with business insurance and customer service that delivers meaningful results to 1,300+ types of small businesses and self-employed professionals.
Look for more exciting news soon.


Join our amazing team at Next Insurance! We're hiring for numerous roles at our offices (currently remote) in California, Texas and Israel. Learn more: https://www.nextinsurance.com/careers/