Being a janitor is a
challenging job
which can require a lot from a professional like you. Having the best janitor tools and equipment makes your job easier and your time more productive. There are so many janitor tools on the market that it can be confusing, so here is our advice on choosing the best janitor tools and equipment.
What Janitor Equipment Do You Really Need?
There are lots of specialist cleaning items and supplies that you don't really need. It's best not to invest in them unless you're working somewhere that requires them. But no matter where you work, you'll definitely need these items:
Mop, bucket and wringer. Even if you have an autoscrubber there will be areas of floor that can only be properly cleaned with a mop.
Cleaning cloths. Microfiber cloths are far better than cheap cotton ones and last longer, too.
Long-handled toilet cleaning brush. Wherever go, there'll be toilets to clean. A long handle means you don't have to get too close to the bowl.
Broom and a dustpan. A dustpan with a long handle will save your back.
A duster with an expandable handle to reach high up and low down.
Cleaning supplies. A good all-round multi-purpose cleaner is vital, and you'll need glass cleaner, toilet bowl cleaner and disinfectant.
Safety signs, such as those to warn people of a slippery floor
Maintenance tools like a plunger, screwdriver and monkey wrench, if you are responsible for maintenance as well.
A janitor's cart with enough shelves, hooks and holders to hold all your janitorial supplies, your mop bucket and a trash holder.
Janitor Apps and Software
In addition to all of those essential items, there is plenty of software designed to help janitors like you keep on top of your jobs.
Simple business apps
like Timely help you schedule your jobs and produce invoices faster. Vagaro does all this and manages your bookkeeping too. You'll also need accounting software like Wave or Xero to keep on top of expenses and cash flow.
Specialist janitorial apps
like Cleanbid make it easier to gather information and estimate cleaning times so that you can bid for cleaning jobs faster. Swept helps you manage your employees' time better, stay in touch if someone will be late or out sick, track supplies and send instructions.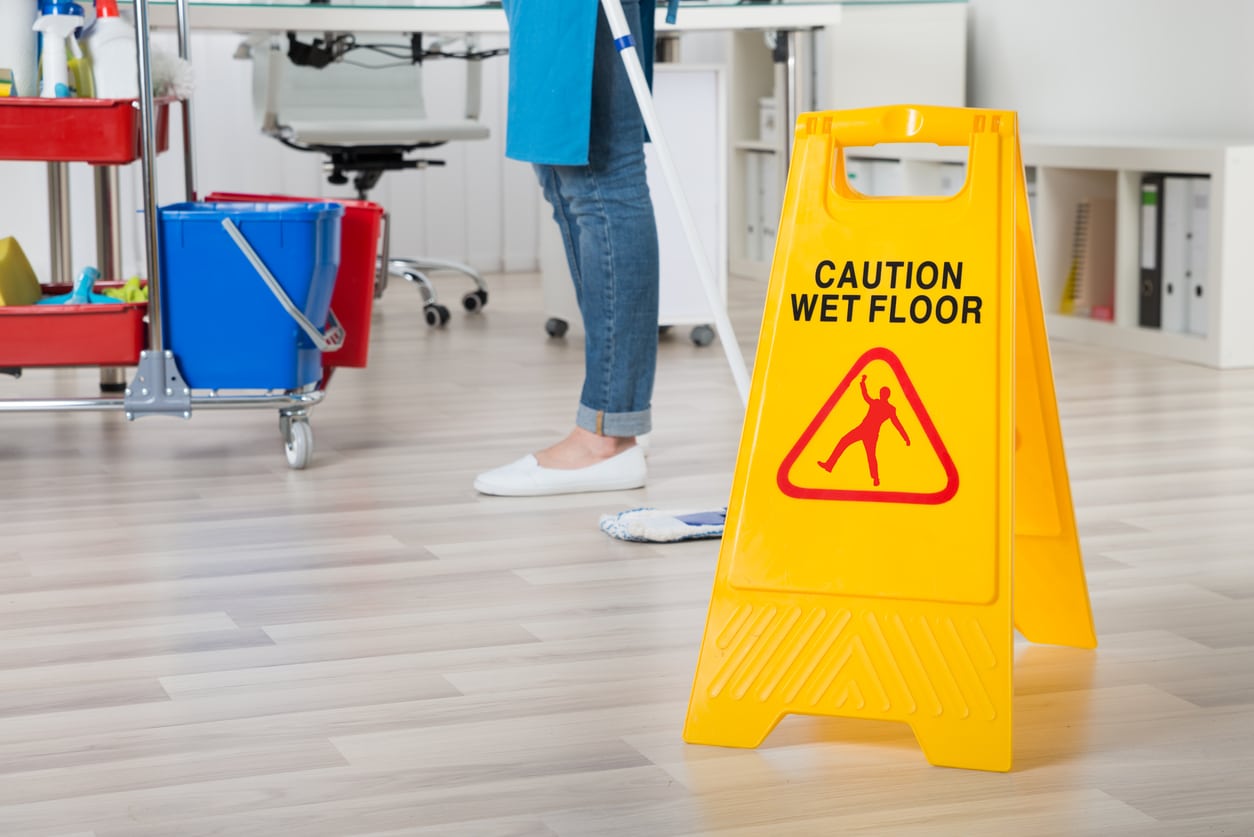 What Really Matters When Choosing the Best Janitor Tools and Equipment
Durability
Durability and quality are far more important than looks when it comes to janitor tools. While some consumer brands like Rubbermaid have a reputation for good quality, don't pay more just because of the brand name. You may be able to find an off-brand item of similar quality for a much better price.
Industrial Strength
Commercial janitorial supplies are not the same as household supplies. Commercial cleaning supplies are made to be much more powerful than household versions and will work much better for you in your janitor business. An industrial mop and bucket is also much more hard-wearing and long-lasting than a household mop and bucket, even if it's made by the same brand.
Portability
You need to be able to take your favorite janitor equipment with you on jobs, since your equipment is better quality and will help you to do a better and faster job than on-site items. Look for sturdy wheels that won't wobble and mop buckets that are not too heavy.
Warranty
Your bigger janitor tools like a carpet cleaner or floor polisher are expensive to fix or replace and very important for your job. If you're planning to buy, rather than rent tools like that, look for janitor tools with a solid warranty that covers realistic issues that could develop in your equipment. You might want to get
tools and equipment insurance
instead of an extended warranty, so that you'll be covered for theft or intentional damage by a third party.
Where and When to Shop for Janitor Tools
There are two types of janitor equipment you'll need to buy - tools that you'll keep using for many years, and consumable janitorial cleaning supplies that you'll keep replacing as you use them. Janitor tools can be bought online or from a bricks and mortar store that specializes in janitorial equipment. Whichever way you choose, pay attention to issues of warranty and expert advice, including from employees of a store, or reviews online. You can also buy your supplies from wholesale stores and online stores like Amazon and eBay, but make sure you're getting authentic commercial products. There is no particular time of year that is the best time to buy janitor supplies and tools. Although prices can dip at spring cleaning time, commercial cleaning supplies have steady prices all year round, so there's no point waiting to stock up on your janitor equipment. Along with your janitorial supplies and equipment, one of your most important tools is your customized and affordable
janitor insurance
. Make sure that you have the right insurance policies to protect you, your employees and your tools if things go wrong.