Wondering where to base your HVAC business? Consider ranking Massachusetts among your top contenders. This New England state hits both the highs and lows required for ample HVAC usage with frigid, snowy winters and hot, humid summers.
Another big draw is the fact that Massachusetts HVAC technicians can earn significantly more than the national average salary for this profession. As of 2021, the average annual salary for Massachusetts HVAC technicians is $65,460.1
But before you can start working as an HVAC contractor in Massachusetts, you'll need to make sure you have the correct license. Learn more about what it takes to start working as an HVAC professional in this state, including:
Do you need a license to be an HVAC technician?
HVAC contractors in Massachusetts only need a license if their work involves refrigerants. Any technician who performs refrigeration work with a capacity of 10 tons or more must have a Massachusetts refrigeration license.2 This type of work is typically limited to commercial areas and industrial sites.
How to get an HVAC license in Massachusetts
The Division of Occupational Licensure Boards of Registration oversees the licensing of refrigeration technicians and contractors in Massachusetts.3
To obtain a license, you must submit a license application and pay a non-refundable processing fee of $75.
Upon approval of your application, you'll need to pass a written exam by answering at least 70% of the questions correctly.
HVAC license requirements
You'll need to fulfill the following requirements to get a refrigeration technician license in Massachusetts:
Identification information and materials
You must be 18 years old to apply for a refrigeration license. Submit the following with your license application:
Social security number
Copy of high school diploma or GED certificate
1" x 1.25" passport photo
Proof of certifications
You'll also need to submit copies of two certifications:
Certificate of Completion of Apprenticeship from the Division of Apprentice Standards4
Universal CFC Certification from the Environmental Protection Agency (EPA)5
Documentation of work experience
You must provide documentation from an employer to verify your work experience as a refrigeration apprentice. The minimum number of hours required is 2,000, though you may need more hours depending on the amount of educational coursework you've completed.
Documentation of education
You must also provide documentation of your completed refrigeration education. Your courses must cover practical shop-related work, refrigeration theory and code and Massachusetts electrical code training.
The less work experience you've acquired, the more education you'll need to show and vice versa. Applicants must fulfill one of the following requirements for work experience and education:
2,000 hours work experience and 1,000 hours refrigeration coursework
4,000 hours work experience and 500 hours refrigeration coursework
6,000 hours work experience and 250 hours refrigeration coursework
How long does it take to get your HVAC license in Massachusetts?
About four to eight weeks after submitting your refrigeration license application, you'll receive a notification from the Division of Professional Licensure Boards of Registration.
If you receive approval for your application, you can then schedule your exam.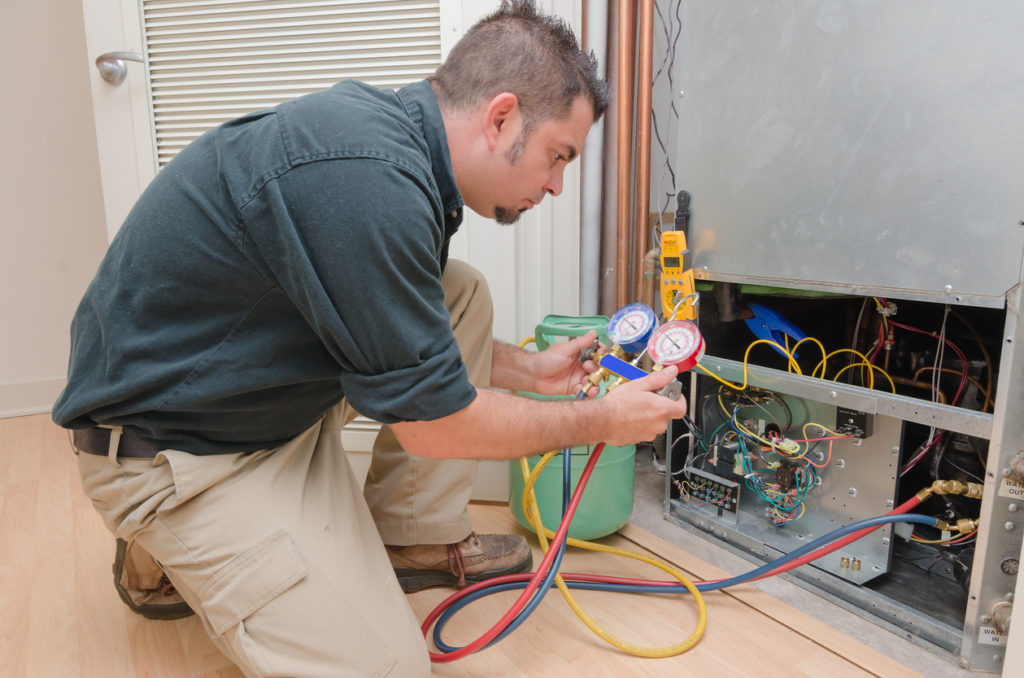 Massachusetts license renewal requirements
You can renew your refrigeration license online through the Office of Public Safety and Inspection (OPSI) Licensing. Refrigeration technicians must renew their licenses every two years.
Massachusetts HVAC license reciprocity
Massachusetts does not have reciprocity agreements with other states for refrigeration licenses. Those with a refrigeration technician license from another jurisdiction must provide a copy of their license with their application.
However, they must still fulfill the same work experience and education requirements as all other applicants.
What kind of insurance does an HVAC need?
When working as a refrigeration or HVAC technician, the following types of Massachusetts business insurance may help to protect your business.
General Liability insurance
General liability insurance can help provide coverage in case of an accident, such as damage to someone's property or a customer injury. Some clients may request proof of liability insurance before hiring an HVAC contractor.
Workers' Compensation insurance
If you're an employer in Massachusetts, you're required to have workers' compensation insurance.6 This insurance can help provide coverage for medical expenses, lost wages and other costs related to on-the-job injuries.
Tools and Equipment insurance
Tools and equipment insurance can help provide coverage when you need to repair or replace your work gear due to damage or theft.
Commercial Auto insurance
If you or an employee gets into an accident in a work vehicle, commercial auto insurance can help cover related costs, such as property damage and medical expenses.
Commercial Property insurance
Massachusetts commercial property insurance can help cover damage, vandalism and other incidents involving business property that you own or rent.
How NEXT Insurance supports Massachusetts HVAC contractors
When you need insurance for your HVAC or refrigeration business, NEXT is the best place to turn to. Our specialty is small businesses, so we're ready to help you find the right coverage to protect yourself, your employees and your work essentials.
It's easy to apply for coverage and get a certificate of insurance in just minutes. By keeping our services online, we're able to offer more competitive rates to help you save on insurance coverage.
Get an instant quote online today to protect your HVAC business with NEXT.
Looking for details on HVAC licenses in other states? Visit our guide to HVAC contractor license requirements in every state.


Sources
1 U.S. Bureau of Labor Statistics
2 Massachusetts Refrigeration Licensing
3 Massachusetts Division of Professional Licensure Boards of Registration
4 Massachusetts Division of Apprentice Standards
5 Environmental Protection Agency
6 Massachusetts Workers' Compensation Insurance Requirements